We often get questions within our Sweet Life Fitness Community about getting results without closely following the diet. By all means this doesn't mean you shouldn't be eating healthy and following a nutrition schedule; however what if you still have some cheat meals and enjoy life a bit while still moderating: will you still get results? Well check out these incredible Focus T25 Results without Diet by Coach Alfredo.
Alfredo is seriously inspiring and a great testament to someone who remains focused on his goal. Let's rewind first to where it all began:
Focus T25 Results Without Diet – See Alfredo's Story
Alfredo is a 34 years busy father of 3 with a full time job in finance. He struggled with his weight for almost all his adult life. Every day he looked at himself in the mirror, and he knew that it was not ok to be this heavy and always waited for "tomorrow" to finally do something about it. When his unhealthy habits started interfering with his family he knew that was it. That's when he finally decided to turn to Beachbody. With the help of a coach he started working out with Focus T25 and turned his life into a "healthy" life.
T25 helped shed a staggering 35lbs in a relatively short period of time, and with the help of Hammer and Chisel he lost 9 more and started toning his body.
Alfredo has a long way to go to reach his final goal, but he's on the right path, and without spending 1 minute in a gym he was able to lose 44lbs and turn his unhealthy life around.
So can you really get Focus T25 results without diet or without being INSANE with having to focus on nutrition day in and day out?
Prepare to be amazed: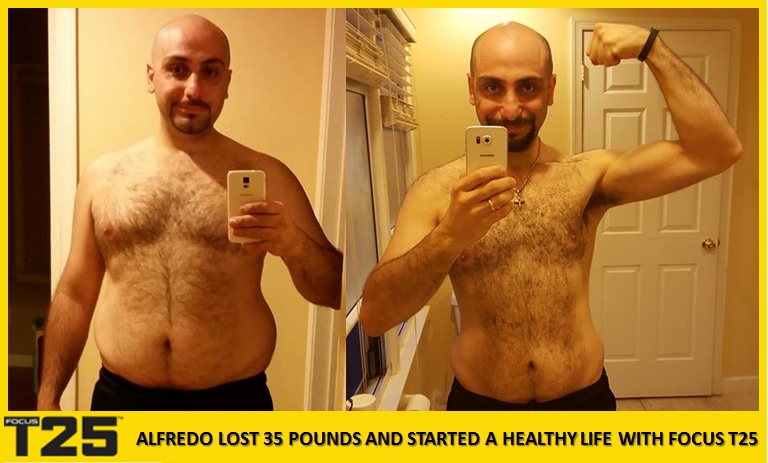 Unbelievable right???
BUT THAT IS NOT THE END OF THE STORY!!!!!
Alfredo had a huge problem pop up after his Focus T25 results!!!
He continued on his Beachbody journey. And this problem occurred, from his own words:
Another season, new problems.. Need a whole new summer wardrobe as well…
So now Alfredo has to go out and get new clothes. Dang it!
Well, a good problem to have…right?
Want to get great Focus T25 Results? You can now FOLLOW Alfredo and get amazing results like he did, while also talking with him one-on-one throughout your journey. This will also get you access to the entire Sweet Life Fitness community for free!! Just be sure to indicate Alfredo as your coach upon checkout:
Great job Alfredo!!!!!!! Show him some support by LIKING and Sharing this post today!