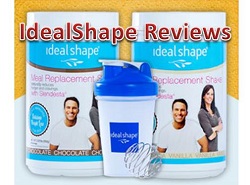 Are you looking for some information on IdealShape Reviews? Welcome to Sweet Life Fitness! Today we are discussing the details on IdealShape reviews. We'll examine their meal replacement shake that are sold.
Are they truly a great meal replacement in regards to the other competitors on the market? How can we be sure?
Today I'll share some of the success stories and comparison charts on the IdealShape shake. Let's get rolling!
IdealShape Reviews – How Does it Compare to Competitors?
If you have ever stopped by this site before, you'll know I'm an avid Shakeology user. While both IdealShape and Shakeology are considered a form of meal replacement shake, you'll see the comparison below (and stay tuned for my IdealShape vs. Shakeology post soon).
See this chart for the difference of competition between the meal replacement shake market: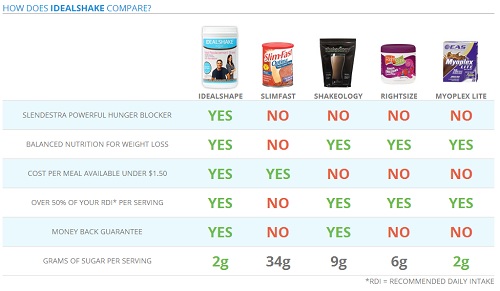 As you will see in the IdealShape reviews chart above, there is something called "Slendestra Powerful Hunger Blocker". This is an extract of natural potatoes. The cool thing about this is that it can help suppress hunger. This is the number one reason people cheat and eat too much!
Another benefit is that IdealShape only has 2 grams of sugar per serving. This is a huge win, especially because sugar is a prime candidate for fat storage. I would recommend steering clear of SlimFast shakes, as you can tell from the chart above. The only benefit of SlimFast is the cost. Not worth it in my personal opinion!
IdealShape Reviews – What are the Success Stories Like?
The main component of IdealShape Reviews is to see if anyone really had any good results. After all, why spend the money on IdealShape meal replacements if there are no PROVEN success stories, right?
Let's check out a few stories right now. First is from Kimberly L. She lost 100 pounds using IdealShape shakes*.

Another great IdealShape Review comes from Brittina who lost a remarkable 55 pounds with IdealShape.
By replacing a meal a day with IdealShape, you can start focusing on a healthier diet. As I mention here on Sweet Life Fitness, it is important to maintain a healthy lifestyle if you want to look and feel great. Sure, from time to time you can enjoy McDonalds or Pizza. BUT, keep in mind the lifestyle should primarily be foods that help you prosper!
It's Time for You to Decide – Can IdealShape Reviews Benefit You?
Have you tried IdealShape before? Are you considering IdealShape for your weight loss success story? If so, click the link below to learn more about this powerful shake.
While you're there, be sure to see the good prices they provide for the shakes. I have found that IdealShape has one of the best prices considering the power behind their shakes.
If you have your own IdealShape reviews, comment below and let us know your experience with IdealShape.
Yours in Success,
Coach Bob Sharpe