You know it's not a legit INSANITY Max 30 MAX OUT CARDIO Review without starting off with the most INSANE power move that will greet you half way thru today's workout….say it with me:
GENIE JUMPS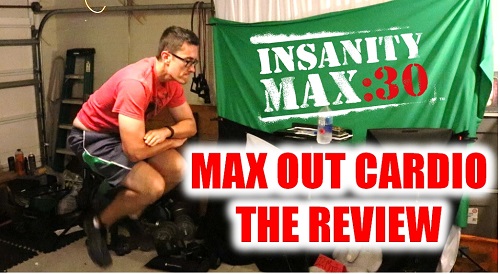 Unlike the Month 2 equivalent "Cardio Challenge", INSANITY Max 30 MAX OUT CARDIO takes it up a level. Sure, it's still only 30 minutes long. BUT, before every break, you are greeted with a one-set power move!
Keep reading on to learn more about Max Out Cardio and the fun that comes with this incredible workout!
INSANITY Max 30 MAX OUT CARDIO REVIEW – The YouTube Review
Check out my YouTube review of this incredible workout!
What do you mean "You don't have INSANITY Max 30 yet"? What gives! GET YOUR Max 30 at the best price!
INSANITY Max 30 MAX OUT CARDIO REVIEW – Some of The MOVES!
Let's talk about the warm ups that you'll encounter within INSANITY Max 30 Max Out Cardio:
The Warm-Up
Med Ball Twist – my favorite! The first move you see in my video above
1-2-3 Soccer Juggle – the second move you see in my video!
Hop Hop Runner – a classic move from month 1, now in the warm-up.
You will repeat this for a total of 3 times (yes, that is one time more than the month 1 warm-ups!!)
POWER MOVE: Plank Jack Front Raise – in a plank, you jack your feet in and out, and raise your left and then right arm simultaneously. This move
ROUND #1
Balance Kick Back Right & Left – while balancing on your left (or right) leg, you kick your opposite heel back. You'll switch from right to left leg in each pass of this round.
Speed in & Out Abs – check it out in the video above. In plank, you bring your legs in and out.
Low Plank Side Punch – a similar move to the Ab Attack 10 workout, you are in low plank as you punch your arms side to side.
POWER MOVE: Genie Tuck Jumps – here they are folks! 🙂
Want to see more? Then join em on the INSANITY Max 30 journey today!
If you don't have it yet, GET IT, and if you already have it, Join me for Free!
Questions? Comment below and let's chat!
Yours,
Coach Bob