I have officially completed all four weeks of INSANITY Max 30! This means that I've progress from Day 1 of the Cardio Challenge to the final day (before starting the big boy MONTH 2!!). Today I'm giving my INSANITY Max 30 Cardio Challenge Review along with what I learned and my tips for YOUR success!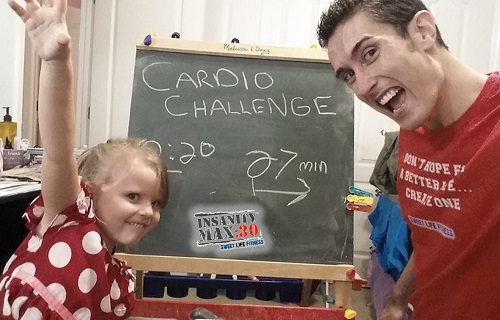 I really see this program as a bit more focus (and at times, more intense) than the Original INSANITY program. The idea of maxing out (i.e. taking your first break) is brilliant. As your fitness increases over the week, you can improve your Max Out times with increased fitness and endurance.
INSANITY Max 30 Cardio Challenge Review YouTube Video
Check out my INSANITY Max 30 Cardio Challenge Review from my YouTube channel. It's also fun that my little 3 year old is getting so involved in these programs. While she doesn't follow the program to a T (c'mon, toddlers will be toddlers lol), she does have fun with it!
INSANITY Max 30 Cardio Challenge Moves and Reviews
As far as the program itself is concerned, there are some similar moves to the original INSANITY, and quite a few new ones too.
The big focus is that there isn't a lot of stretching and breaks as there was in the original INSANITY. I highly recommend doing some stretching, especially hamstrings, if you are tight prior to starting Cardio Challenge.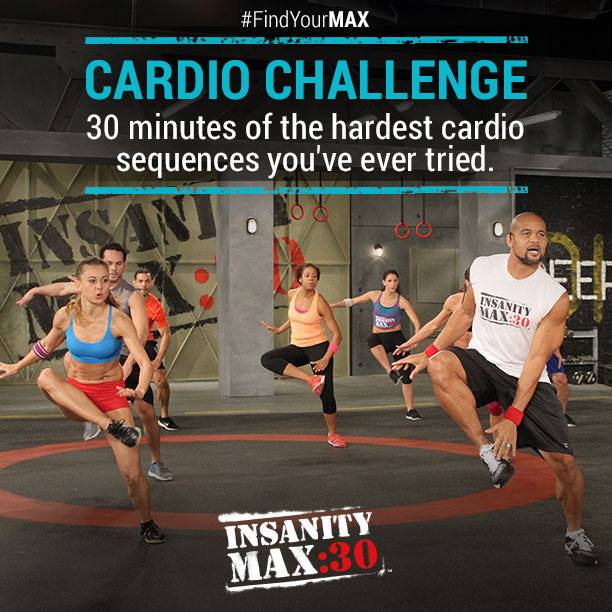 Warm-Up
The warm-up starts with moves such as:
Chest Opener Jack
Jack Uppercut
1-2-3 Knee (I actually enjoyed this one a bit!)
Cross Jack
High Knee Jab (this one whoops my butt every time)
You'll repeat these moves twice through and then you'll start the actual workout 😀
The MOVES
Check out my video I created for Day #1 that involves everything about my INSANITY Max 30 Review on Day #1:
Some of the many other great moves you'll see in the INSANITY Max 30 Cardio Challenge include:
Squat Kick (right and left): Squat then kick up the right (or left) leg. When you are kicking up your leg, hop on the opposite foot. Rinse and repeat
Pike-Up Spider: Do a pike-up and then jump back into a spider lunge with your left leg back and right knee in the front. This one is a great killer of the lower abs!
Medicine Ball Twist: One of my favorites – this one is when you do a jack and put your arms up and over your head and then when your legs are in the open-jack position, your hands are either twisted to your right or left.
Plank Jack: Another core monster. You jack your feet while in the plank position and then do in & out abs.
4 Jab and 4 High Knees: Pretty straightforward move, but the 4 high knees are another great workout for those lower abs and hip flexors. Don't ignore these types of moves because they will pay you off well when your body fat reduces to show your abs!
Plyo Power Knee: Unlike the typical power knee in INSANITY, this new move has you hopping on your resting foot as you bring your knee up.
Scissor Stance Jack: I personally don't like this move. Not sure why, but it makes me mad lol. Squat, then jump up and scissor the feet while you are in the air.
Want to JOIN me and the Team Sweet Life Fitness Crew on your INSANITY Max 30 journey? Get the Program at the Best price now, or, if you already have the program, JOIN SWEET LIFE for Free!
INSANITY Max 30 Cardio Challenge Max Out Times
My first week of INSANITY Max 30 Cardio Challenge didn't go as well as I thought, but my max out time was 6 minutes, and 36 seconds!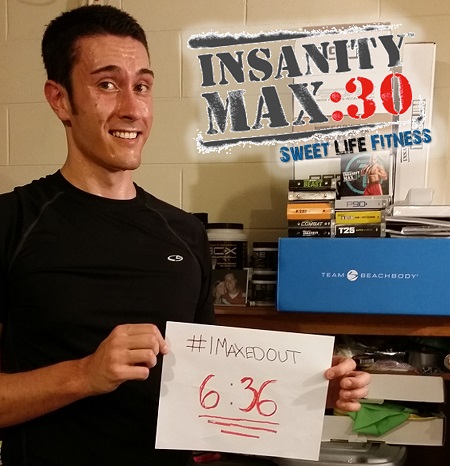 My Max Out time did improve over the weeks from 6:36 to my most recent of 24 minutes during week 2. Then, for the final week I pushed it up a level. My goal was to NOT max out at 30 minutes, but actually push my endurance to a whole new level.
So once I pushed myself a bit harder (meaning: better form, faster, deeper into the moves), my Max out time went from 24 minutes in Week 2 to 17 minutes in week 3!!
And that is NOT a bad thing!
Remember the goal of INSANITY Max 30 is to MAX OUT. So do your personal best and beat that every single time. If you max out at 30 minutes doing the modifications for Cardio Challenge, then for the next week try to go full board until your Max Out time.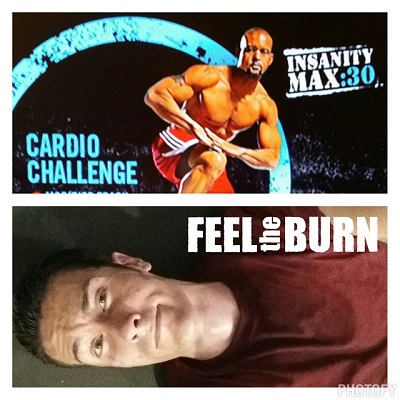 That is my INSANITY Max 30 Cardio Challenge review in a nutshell! Be sure to Follow my Journey for more updates along the way. You can also check out my INSANITY Max 30 Full Review, or, if you're up for seeing how much I really did like INSANITY Max 30 Cardio Challenge, you can check out Day 1, ROUND 2 (yup, another round done!)
Yours in Success,
Coach Bob
P.S. – I'm looking for people who want to get inspired and inspire others. Learn more about earning an income while getting fit as a Team Sweet Life Beachbody Coach!