If you are looking for an example of INSANITY Max 30 Women Results, look no further! Quinn was an amazing challenger in our recent INSANITY Max 30 Sweet Life support group, and is now an amazing coach as well. Check out her story and results after she MAXED OUT!
INSANITY Max 30 Women Results – Quinn MAXED OUT!
Check out Quinn's results and her story that follows!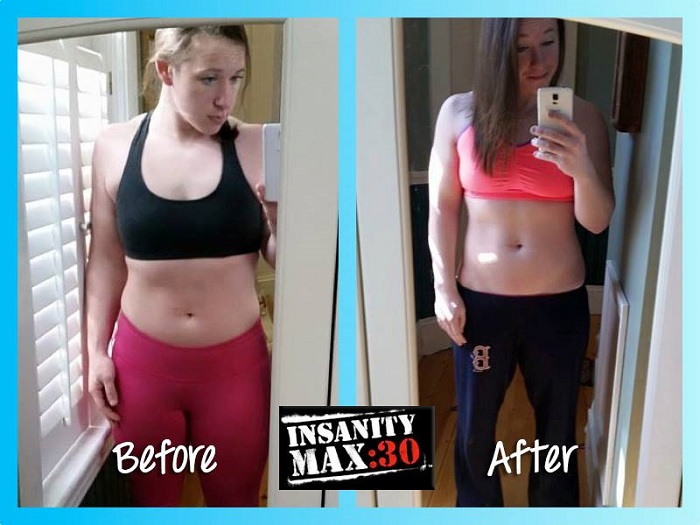 I started my fitness journey with Insanity after college. I loved the intensity of it, however I found after a couple of weeks my knee hurt. I have had 3 knee surgeries on my left knee. I think just the intensity of Insanity and the time just made it hurt. I actually had to stop doing Insanity because of that. I went back to the gym. February 2014 I put myself on Weight Watchers because I was losing control of my weight. I lost 20 lbs. and went to the gym everyday. I was taking whey protein every morning. Then I gave up on weight watchers, I went through a break up with a guy I was with for 6 years, that took a huge toll on me and my food consumption and drinking alcohol. I was depressed, I didn't want to do anything. I had a hard time managing that along with graduate school and working full time.
I saw the info commercial for Insanity Max 30, and I knew I had to get myself back together. I started it, and I loved everything about it. I continued to stick with it everyday. I watched my nutrition (not as much as I should but better than before). Then I went into the March 30 Challenge group that you brought me into (click here to learn more), I did a little bit of 21 day fix extreme, which is where I really watched my nutrition, I did the competition countdown meal plan, and threw in a few of my remaining insanity max workouts. I took shakeology regularly during this month and it helped with my dessert craving, I don't crave it anymore when I LOVED dessert.
I didn't do my measurements before Insanity Max 30, I did for the challenge though. In that 1 month I lost 2 inches in my waist and 1 inch in my chest, and 5lbs.
There you have it, folks! Another incredible SWEET RESULTS story from Quinn, who is absolutely rocking it with INSANITY Max 30 Women Results. Be sure to join her on your Max 30 journey by checking out the program below:
Thanks for checking out this INSANITY Max 30 Women Results post. Comment below with questions!