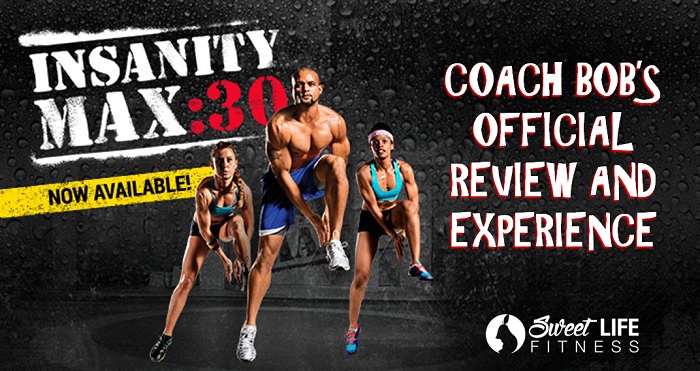 For the last 60 days, I have endured the crazy INSANITY Max 30, and now I want to give you my review. You would have assumed that after Shaun T perfected the balance of time and fitness in Focus T25 that he would revisit the original INSANITY and make us all go INSANE in a shorter period of time too. Welcome to INSANITY Max 30! Learn all you should know in my INSANITY Max 30 Review today (oh and please, leave a comment and say Hi below!).
So after a LOT of requests after my recent INSANITY Max 30 journey, I put together the things YOU need to know before you consider INSANITY Max 30. You may have some of the same questions that I had such as:
Is INSANITY Max 30 better than the original INSANITY?
Can ANYONE start with INSANITY Max 30?
Is INSANITY Max 30 all you need?? Is it enough to actually get GOOD results?
What all do you need, and how can you SAVE money on INSANITY Max 30?
These questions plus more will be answered today in my INSANITY Max 30 Review!
The Video Review (including a preview of some of the moves) – INSANITY Max 30 Review
As always I know you all love the video reviews (cuts down on some reading, eh?) – Enjoy it:
What is INSANITY Max 30?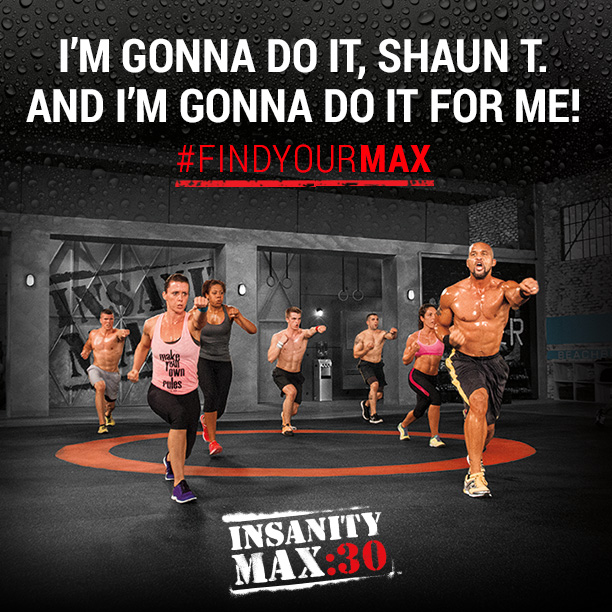 INSANITY Max 30 is a 60 day fitness program created by the fitness guru we all know and love, Shaun T. There is a total of two months of workouts which last for 30 minutes per day.
But INSANITY Max 30 is NOT JUST an "express" version of the original INSANITY workout. There are over 150 brand new moves with a whole new design for getting MAX results in just 30 minutes per day, 5 days per week!
You will no longer have the "max interval training" method that INSANITY introduced. The goal with INSANITY Max 30 is to literally "Max Out". This means going as hard as you can for as long as you can, until you have to take a breath, press the pause button, or get water (outside of the prescribed water breaks). This is your "max out time". In order to give people better results than they got with the original INSANITY, Shaun T had to change up the training method used in Max 30.
To summarize:
30 minutes per day
5 Days per week (hello weekend!)
Different than INSANITY (Max Out to improve your endurance)
150 new moves
Modifier on EVERY single workout to help those who are JUST starting out!
INSANITY Max 30 Review – Will this Actually Help you get REAL Results?
Over the past few months, I decided to do INSANITY Max 30 and follow all instructions to a "T". For me personally, I LOVED the program. I have to be honest though, at first I was skeptical. I personally did NOT like the original INSANITY program, so I was hesitant since day 1. But this program is DIFFERENT. It flows better, it makes more sense, and the modifier helped me a ton.
I decided to do TWO rounds of Max 30 (so basically that means a total of 4 months). Here are my results:
And for the statistics behind those photos:
Weight: 219 pounds – 188 pounds (lost 31 total pounds)
Waist: 39.5 inches – 33 inches (lost total of 6.5 inches).
As far as my total progression from Day 1 of INSANITY Max 30 to the end of round 1 and round 2, here you go: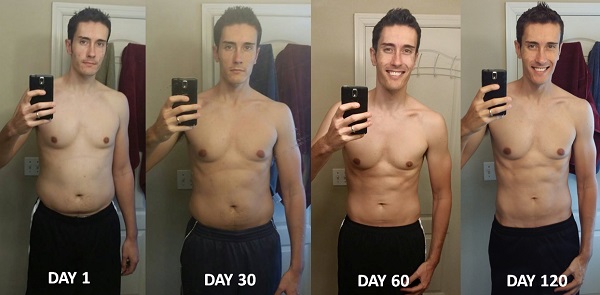 =>Let me help YOU succeed. Get your INSANITY Max 30 and let's rock this thing together…Click Here<=
Ok…Can just about ANYONE (including overweight people) do this thing?? – INSANITY Max 30 Review
Ever wonder if INSANITY Max 30 will be worth your time and money if you can't do it? Like, what if you start it and realize it's too difficult? This is why this section in my opinion is the most important out of this INSANITY Max 30 Review.
INSANITY Max 30 has a different approach:
Shaun T does a great job of motivating you each workout
You don't need a lot of equipment
You can MODIFY every SINGLE move! In fact, if you are just starting out, you can modify EVERY move for EVERY workout with the on-screen modifier!
The on-screen modifier can be frozen in place so you can follow along every step of the way. In fact, see my INSANITY Max 30 Modifier post where I share what happened after I followed the modifier from start to finish.
As you get better at the program, you can keep up with Shaun T. Once you Max Out, you can step into modification mode until you feel strong enough to go full force again. This program can literally help you from the start of a fitness journey to the super ripped class!
Who should NOT do INSANITY Max 30?? – INSANITY Max 30 Review
This program is NOT for everyone. Let me just say this: "If it was easy…everyone should do it".
This program is not for you if…
If you are looking for quick fix or quickly make up excuses. INSANITY is the name of this program, and that says a lot right there. If you thought being in a straight jacket was INSANE, wait until you do this program. It takes a good mindset and the willingness to WIN no matter WHAT happens.
You MUST follow the INSANITY max 30 nutrition guide for the best results. Don't try to come in and be the next big thing by trying to "beat" the nutrition guide and going to McDonalds instead. I've tried it in the past, it does NOT work. Eat clean, cut sugar, and drink water. What is more important? Looking and feeling great, or that cheeseburger?
This goes along with the excuses, but if you aren't serious about getting results, this program may not work for you. I want you to get the value out of the money you spend. If you so badly want amazing results like I did when I first started, then let's ROCK this thing together. BUT, if you are thinking "well, let's see how this works" – you might as well just not buy the thing. You MUST MUST MUST have an "ALL IN" attitude to succeed with an INSANITY Program.
You use your own bodyweight for the exercises which is AWESOME (because you don't need to buy a bunch of equipment). But with that in mind, don't expect to become the next Arnold. This program is aimed and body fat loss and athletic endurance, not bodybuilding. If you want a bodybuilding alternative, try Body Beast.

INSANITY Max 30 Review – The Workouts
INSANITY Max 30 comes with an incredible 12 workouts (and if you are serious about results and get the Deluxe Kit, you'll get the killer abs workouts too).
You start with the FIRST month to get you warmed up (hehe). Then you progress to the SECOND MONTH which is all about kicking your butt, taking your name, and making you cry to mommy on a daily basis.
INSANITY Max 30 Month 1 Workouts:
I normally burned around 400-600 calories PER WORKOUT (remember, only 30 minutes) during Month 1. It was remarkable!
INSANITY Max 30 Month 2 Workouts:
This month saw averages of 500-700 calories burned per workout!! In fact, Max Out Sweat hit a record of 838 calories burned in 30 minutes. WOW! Keep in mind it all depends on your body, your age, and also how hardcore you are bringing it…but this = success.
How to get the BEST Results with INSANITY Max 30
By now you've seen my results, you've pondered the idea of stepping into the Insane Asylum, and now you wonder: "But how can I get the BEST results possible with INSANITY Max 30????"
Rest assured, my friend – here is my "cheat sheet" to help you conquer the Max Out program. It is honestly my PASSION to see other people succeed with these programs, and I've already helped over 70 people (and counting…) change their life with this program. I hope you will trust me in helping YOU succeed as well.
Here are my tips to success:
MAX OUT Daily – Whether you are barely keeping up with the people on the video, modifying 100%, or following Shaun T like a beast…make it your GOAL to max out daily (learn more about what Maxing out with INSANITY means). You need to set your VISION and your GOALS on getting incredible results. Think about what you will look like and feel like once you conquer the program. Make that MORE important than slacking off, MORE important than cheating on food, and MORE important than any BS excuse.
DO MORE than You THINK You Can – I had to really push my mind during my journey with Max 30. There were times I felt like I did just enough….but honestly "just enough" is never enough. Push so far that you think you may just be better off dying (sound crazy? Remember…this is INSANITY!!!). The more you do this, the better your body will perform, and the better results you'll get. How you can track this is by making sure your heart rate is at the best rate for your current body and that you are burning a great deal of calories per workout.
EAT CLEAN – This means for at LEAST 60 days, put your foot down and visualize what you will look like if you succeed. This will prevent you from eating the cookies and donuts. For my Max 30 journey I cut out ALL processed (fake) sugars. The only sugars I got were from natural whole food sources such as fruits/veggies/and my daily Shakeology vitamin shake. I also aimed to eat foods that only had about 1-2 ingredients. Don't buy the stuff that has multiple ingredients on the label (especially if it's hard to pronounce, chances are it's a great BODY FAT producer – stay away!).
SLEEP WELL – I aim for at LEAST 7 hours of sleep, if not 8 hours. The body does some amazing things when you rest and recover. I found out that when I start sleeping around 8.5-9 hours per night, my body fat was reducing at a faster pace…so bring on the ZZZZZZ's.
BE PREPARED – Shoes? Use a cross trainer shoe (not a running shoe). Clothes? Something you are OK with sweating in and that is not restrictive to your moves.
BE OK with ROUND 2, 3, 4? – For some people who are just starting out in fitness, repeating INSANITY Max 30 is NOT a bad thing. Heck, I did 2 rounds and I feel I could and should keep on going (why stop?). You may not get mind blowing results in the first 60 days….perhaps it might take longer? Instead of focusing on just the first 60 days, focus on the MAX OUT Lifestyle! That will keep you looking and feeling your best for LIFE, versus just for a month or two. Bottom Line? Never, ever, ever give up.
Where to buy INSANITY Max 30 workout? – INSANITY Max 30 Review
This workout is still highly popular and often sells out. You can get it directly from Beachbody through my site (which includes FREE access to our private support groups where I show you more steps on how you can get the best results). If you are from the UK you can click here.
You'll get, in your base kit:
12 workouts plus a FREE workout for ordering through this site.
The nutrition guide, fitness guide, and workout calendars for Max 30
Online support including additional access to our private challenge group
A FREE T-Shirt when you finish!
30 day Money Back guarantee.
Here are the differences in the package deals:

The INSANITY Max 30 Review Wrap-Up
Will this program work?
Yes
Can you get abs with this program?
You bet your butt you can (wait until you try the Ab Attack:10 – WHEW!)
Do I recommend?
Yes I do. I don't like the original INSANITY as I mentioned in the above video. But as for this program. BOOM. Legit AND Insane for your
I hope I answered all of the questions that you had in this INSANITY Max 30 Review. Above anything, this program DOES work and I feel it has been one of my best journey's to date in the fitness world (and trust me, I've tried a LOT of different programs). You don't need a bunch of shenanigans. 30 minutes per day and you'll be well on your way to the best results of your lifetime.
Now it's your turn to MAX OUT!
Comment below and Say Hi, keep me posted on your progress, and ask any questions you may have about INSANITY Max 30 review.
Yours,
Coach Bob