Here we are! LIIFT4 Week 8 is in full motion! Today I am providing my full LIIFT4 Chest and Back Review.
Wait…Chest and BACK??
Yes!
You'll remember Week 1 was the Chest and Tris Review. But now, in good fashion we are changing it up!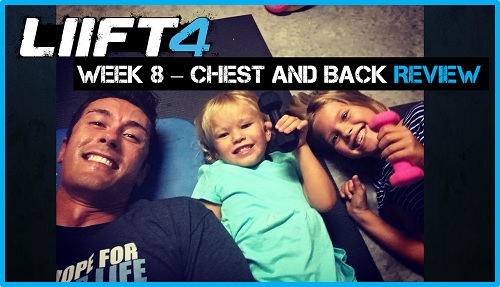 LIIFT4 Chest and Back Review – THE MOVES!
So you may have come over here by way of my YouTube Channel (cool! oh, but please be sure to subscribe!).
BLOCK 1
In the first block, you'll do a circuit of 4 moves, repeated 3 times:
Rotating Chest Press
Decline Press
Pullover
Wide Row
BLOCK 2
Chest Press (Traditional)
Chest Fly
Traditional Row (for the Back)
Reverse Fly
BURNOUT
Of course Joel has to torment us with a burnout…
Regular Pushups
Back Extensions
Wide Pushups
CORE
Dumbbell Prayer Crunches
Straight Leg Bridge
LIIFT4 Chest and Back Review Weight Progression
Here is my WEEK 1 vs WEEK 8 Progression. Remember…it's not about trying to compete with me. Your competition is YOURSELF. So, the goal is to continue to evaluate and heavy up the weights as you progress thru LIIFT4 as long as you maintain good form.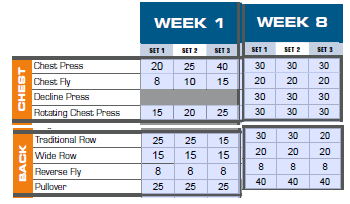 Now, keep in mind that during week #1 I was using a progression set, so Week 8 I've kept a consistent pace in my weights.
LIIFT4 CHEST AND BACK YOUTUBE VIDEO REVIEW
GET ON THE LIIFT4 CHALLENGE GROUP! Click here now!
Yours,
Coach Bob