Here we are already! Week #4 of LIIFT4 and still I am loving this program. You may have stopped by here after watching one of my YouTube videos (psst…you better be subscribed!). Today I'll give you my full LIIFT4 Chest and Triceps Circuit Workout review within Week 4. You'll also see the exact weights I've used for Week 1, 2, 3, and now 4.
Oh…and I'll also explain why I say this one is Horrible!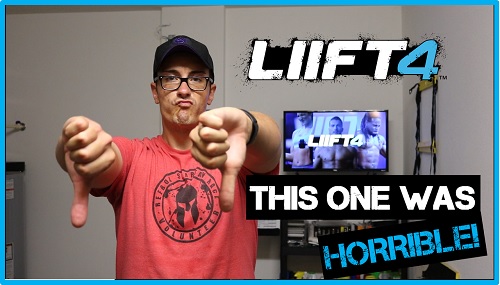 LIIFT4 CHEST AND TRICEPS CIRCUIT WORKOUT REVIEW – The Video
If you haven't yet seen my YouTube video, here it is now. Watch this for a preview of the different moves within Chest and Triceps Circuit along with why I think this one was horrible.
What are you doing?? Get LIIFT4 now!!
LIIFT4 Chest and Triceps Circuit Workout Review – My Weighted Results
Below are my weighted results for the chest and triceps workout for all 4 weeks that we've completed LIIFT4 so far.
By all means, do not use this as a sense of competition. Instead, use it as a guide and be sure to focus on YOU. Do not worry about whether you go up or down…only worry about consistently challenging yourself to the next level!

Ever since the days of B4 LIIFT4 Chest and Back, I have really enjoyed every workout. But then…after you go through 2 blocks of 4 workouts in Week 4….THIS HAPPENS:
THE BURNOUT!
You'll do the burnout three times through, and honestly I couldn't do it even on my knees. After gassing myself with the beginning of the workout, this one was definitely a burnout!
The moves:
Wide Push-Ups
Triceps Push-Ups
After the burnout, as always, you'll focus on your CORE and ABS:
Reaching Sit-Ups
Bicycle Twists
And there you have it folks!!
I focused on my LIIFT4 Nutrition along with ensuring enough water today and sleep (8hr 25 min).
Onward and Upward!
Coach Bob