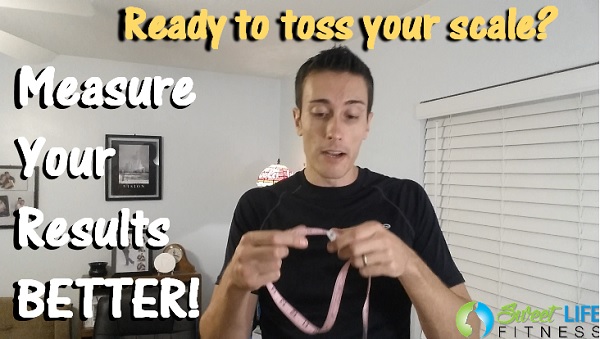 Throw away that DANG SCALE!!!
Wait. Just kidding, you don't have to. I'm sure it cost a lot of money.
Today we are talking about how to measure your weight loss correctly with these THREE simple tips.
Have you ever had a similar experience like Cristen and I, where you work SUPER hard all week? Like, I mean: CLEAN eating, great food, amazing workouts ONLY to find that you haven't moved a single pound on the scale, or even worse, you GAINED WEIGHT!?!?!
Yes – it can happen. It happened during my P90X3 journey, my INSANITY Max 30 journey, and even Cristen's 21 Day Fix journey.
From our Sponsors:
Measure your Weight Loss the RIGHT Way – Three Simple Tips Video
Check out today's video on how to measure your weight loss the RIGHT way (and yes, smack your scale in the face!!).
Let's rock the Sweet Life of Fitness TOGETHER!! Join SWEET LIFE for FREE today, and let Coach Bob & Cristen help you out!
Let's recap the three simple tips as I explained in the video above. Before we get to it, be sure you Subscribe to my YouTube channel for more tips, vlogs, updates, and more coming from Sweet Life Fitness!
Measure your Weight Loss – Tip #1 – The BASICS
The basics of any weight loss is a typical lecture from Coach Bob 🙂
Are you drinking enough water (see: drinking water to lose weight). I recommend a gallon a day (spaced out throughout the entire day) for men and women.
Are you truly giving it your ALL in your workouts, or just "getting by" with the minimum?
Are you eating clean without garbage cheat meals and sneaking foods? (P.S. – This is the BIG #1 failure of a lot of people…even just a bit of sugar can wreck havoc).
If you promise yourself that you are doing the basics, you have mastered Tip #1!
Measure your Weight Loss – Tip #2 – CONSISTENT Measuring of the Scale
So the scale…woman's and man's worst friend and sometimes the best friend. Let's get it to a point where the scale is always your friend.
Measure CONSISTENTLY.
Throughout the day, your body is known to fluctuate it's overall weight (in pounds or kg). Things that cause weight fluctuation throughout the day include:
Not drinking enough water
More sodium in your diet as normal
Stress throughout the day or week
For ladies: that time of the month
Foods that add water weight throughout the day.
Coach Bob's Preferred Time to Weigh-In: I recommend weighing in weekly (if you want more dramatic results, then bump that to only MONTHLY weigh ins). Weigh at the same time of the day (morning, after you go to the bathroom).
Then don't even dare touch the scale until your next weigh-in!
Measure your Weight Loss – Tip #3 – Rock the Seamstress Tape!
Depending on your body mass (muscle), you may not lose any weight on the scale right away! As your body adds lean and toned muscle, your BODY FAT may still go down, but the scale will not budge a single pound.
What does that mean?
Measure your waist! Measure your hip! These things matter!!!
You'll start seeing inches drop and lower (if not, spend a lot of time on Tip #1). As these inches drop, you'll be more and more motivated to keep ROCKING your workout.
Speaking of rocking a workout…if you haven't yet, be sure to start up with one of our 30 Day Challenge Groups.
How do you like to measure your results? Comment below and let's chat!
Yours,
Coach Bob