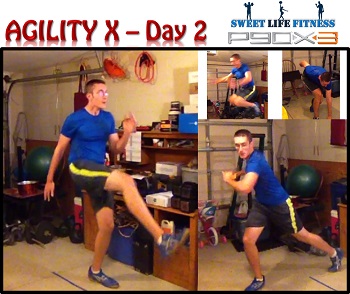 I made it! P90X3 Day 2 Agility X is in the books. What an awesome workout this was (let alone a big calorie burner too). I also hit a maximum heart rate of 181 beats per minute!!
Today I'll share how the workout was, some details on how to do this right, and of course, my nutrition for the day.
P90X3 Day 2 Agility X – Heart Rate Maximizer
I wasn't sure, at first, if Agility X would give me a good cardio-based workout or not. What I can tell you now that it's been a day since I started, YES it can! Not only that, I'm sore in the chest and triceps as well. The soreness is temporary, but it reminds me that my muscles are growing – woo hoo!
As I mentioned above, my heart rate peaked at 181 beats per minute (according to my Heart Rate monitor). For my age, my aerobic heart rate should be around 105-162 beats per minute. I averaged at 154 during this workout which is right on target.
Even if you can't keep up with the moves, do what you can to keep you heart rate in the desired zone (even if you have to go to light jogging) – in time, as the weeks progress, you will get better as long as you stick with it!
To calculate your target heart rate, I found a good calculator at this site: http://www.active.com/fitness/calculators/heartrate# This site also has calculators for BMI and body fat too, if you're interested.
P90X3 Day 2 Agility X Moves and Review
To begin Agility X, you will need to have two pieces of tape. I used blue painter's tape that I've had for ages. I put my tape about 3 foot-lengths across. Looking back, I think I will do 4 or even 5 next week (I'm taller so my stride is bigger, do what works for you!).
I absolutely love how this workout uses the targets on your tape for a majority of the workouts. This reminded me of both P90X Plyometrics and INSANITY the Asylum Agility mixed.
Here are some of my notes from the first day:
IMPROVEMENT AREA:
Balance – I need to improve my balance significantly. If you're like me, here are a few things that I'm doing to work on improving my balance over the next three weeks of Agility X:

Taking it much slower. This to some people is pretty obvious. But instead of trying to keep up with the people in the video, I'm remaining as focused as possible to let my muscles build up to the balance without jumping too fast and losing balance.
Keeping my Eye on a Spot. This I found helps a ton. If you keep your eye on something in particular as you're jumping from X to X in Agility X, you can focus your balance better.
Building up the Core. Balance has a lot to do with your core (abs, glutes, chest). As I focus on P90X3, as my core rebalanced from taking a year away from P90X, balance should (and will) improve.
Overall, I loved P90X3 Day 2 Agility X. A great calorie burner and I think it will help me with balance and, well…agility!
P90X3 Day 2 Agility X Nutrition
As I mentioned on my P90X3 Day 1 review, I'm getting used to the increased calories thanks to the P90X3 Nutrition Guide recommendation (my plan is 2700 calories per day). Be sure to add me on MyFitnessPal.com (screen name:CoolRunLT) so we can keep each other accountable! This is where I track everything for P90X3.
Today was much better! As for workout calories, I drank an E&E Pre-workout Drink and post-workout drank a P90X Results & Recovery formula.

How did you do with P90X3 Day 2 Agility X? Don't do it alone! Be sure to join Team Sweet Life with your FREE Team Beachbody Account today!
Yours in Fitness Success,
Coach Bob Sharpe