If you are starting P90X3 soon, be sure to follow the P90X3 Nutrition Guide correctly! In this post I'll guide you through the TWO steps to get started right with the P90X3 nutrition plan.
Luckily, the P90X3 nutrition guide is simple and to the point. This is good considering most people HATE the idea of nutrition. Keep in mind however, if you skip the nutrition guide, you might as well throw P90X3 away. The nutrition guide is an integral puzzle piece to the big picture.
As always, if you have questions about the P90X3 nutrition guide, comment below and let's chat!
P90X3 Nutrition Guide – Step 1 – Find out Your Plan!
In the guidebook that comes with the program, this is the first step! You need to figure out how you need to eat. Use my handy calculator below to see which plan you need to follow. After you fill out the form, look below to see your guide depending on the plan that fits You!
Be sure to fill out this form exactly as the instructions mention to ensure you get the accurate plan calculated. Click inside the Gray boxes to fill out each question:
Got your plan calculated? Great! Check out this guide below to see how many calories, protein, carbs, and fat you need each day: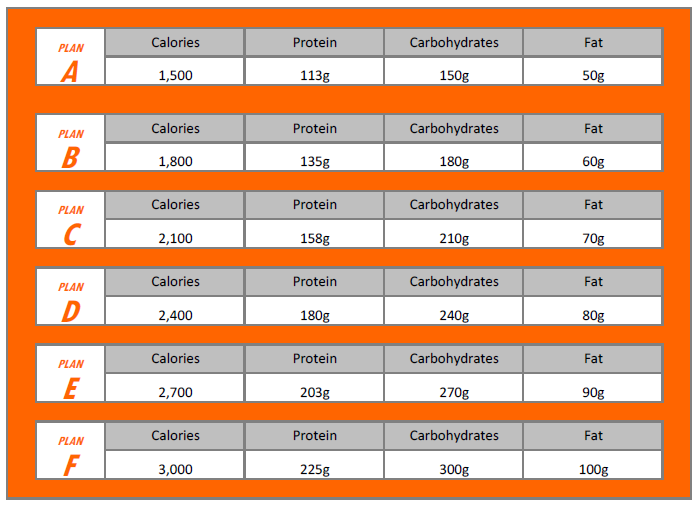 HOLY CALORIES BATMAN!!
Don't worry, there is a reason for the added calories, protein, carbs, and fat in most plans. In fact, here is an interesting point: P90X3 took more time and research to develop than P90X AND P90X2 combined! Just check the test group results. This integral part of the plan is key if you want results. Follow it to a "T". Don't worry about the P90X Fat Shredder Diet, or the INSANITY elite nutrition guide (or any other nutrition plan). Follow the proven course on this one. If you want to read more, see my post on the P90X3 Diet Plan.
P90X3 Nutrition Guide – Step 2 – Make Life Easy and Track IT!
Intuitive eating may work for some, but it's tough. If you want to get a ballpark idea of how you're doing: Track IT! Even though we can't know every single macro-nutrient in everything we eat, we can at least have a guide.
How do we do that? Through MyFitnessPal.
You can literally plug in the suggested plans listed above into MyFitnessPal. Then, throughout your day, you can track everything you eat! There is an app, and an internet version. The absolutely best part is that it is 100% FREE!
So now the next step for the P90X3 Nutrition Guide is: Take your Plan above and click here: How to Use MyFitnessPal. Oh, and be sure to add me (Coach Bob)! My screen name is CoolRunLT.
P90X3 Nutrition Guide General Guidelines
So after you follow the two steps above, here are some other important General Guidelines to never forget.
X3 Hydration Schedule (Water): Drink 8-12 oz. of water 15-30 minutes prior to exercise. Drink 4-8 oz. of water every 15 minutes during exercise. Then, throughout your day, drink your body weight in ounces. This is done by taking your current weight in half. (172 pounds = 172/2 = 86 ounces of water per day). Want a special secret? Drink 8-12 oz immediately in the morning before you drink or eat anything else!
SIMPLICITY: Just plug and play, literally. Don't stress out about what to eat, just eat! Just keep in mind that if you have bad processed food, fat will happen immediately. Cut the Cola and cookies and eat well.
Meet Your Macros: At the end of the day, if you still have carbs and calories left in your MyFitnessPal bank, get excited! Have a banana, apple, or something good! Have Shakeology, whatever you can fit into your daily plan. Just don't go for that cake and you'll be fine.
Adjust for Victory Week: Stay the course with the numbers and guide listed above for your P90X3 journey. Once (and ONLY once) you reach Victory Week (aka the last week of P90X3), things change. Check out the P90X3 Victory Week post to be prepared (and get excited!).
I hope you found this post on P90X3 Nutrition Guide helpful. If something still makes no sense, or you have questions, comment below and let's chat! Be sure to also get your Free Team Beachbody account. I'd love to have you on our team and help support your goals with P90X3 and all health and fitness.
Yours in Fitness Success,
Coach Bob