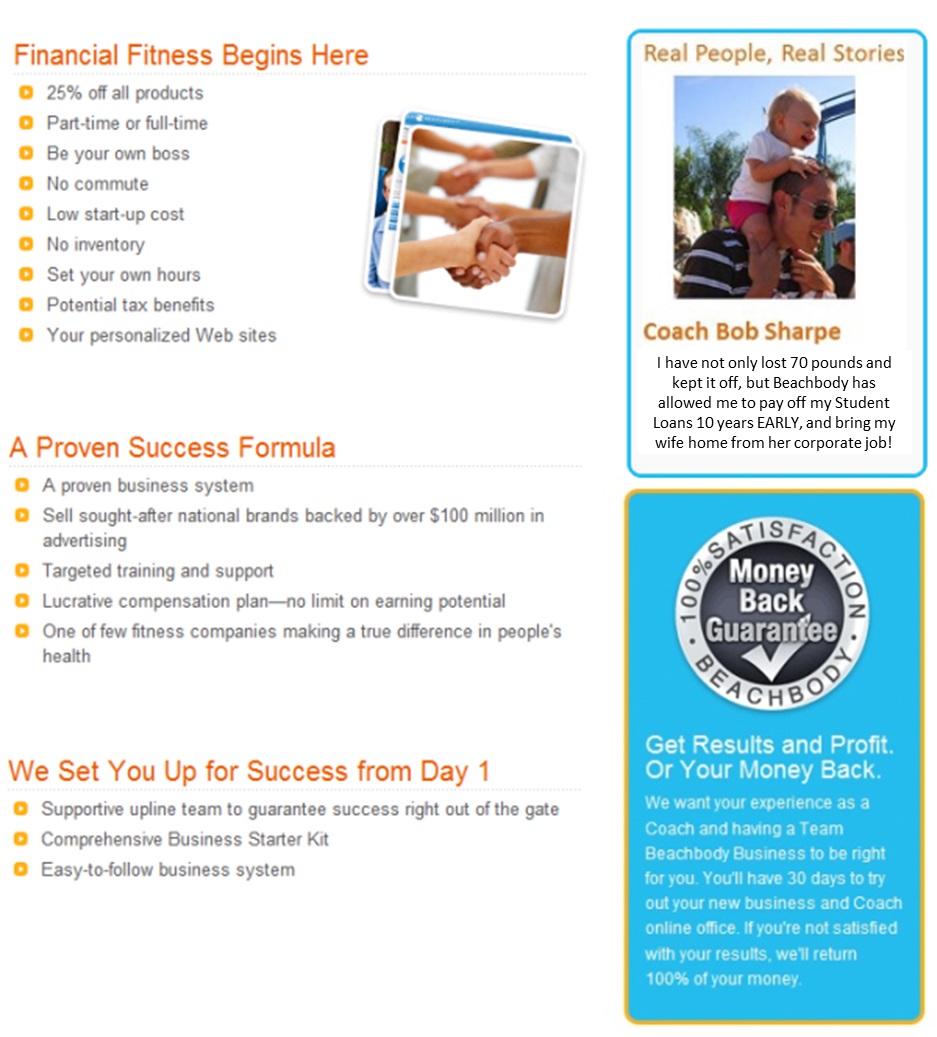 My name is Bob Sharpe. Just a few short years ago I was 70 pounds overweight and over $50,000 in consumer DEBT! Flash forward to today as a Beachbody Coach:
I have paid off all debt
Lost 70 pounds with P90X, and
Helped inspire over 1200 people that have joined the Team Sweet Life Coaches Empire!
Team Sweet Life is part of Team Beachbody, and if you've ever heard of P90X, INSANITY, or any other program – Guess What? You have an opportunity to work at getting fit AND getting paid too. This is achieved by becoming a Team Beachbody Coach.
I'm a Diamond Level Team Beachbody Coach. I LOVE having fun as a Team Beachbody Coach and I am proud and honored to work with such brilliant leaders on Team Sweet Life Beachbody Coaches.
If you have seen success with the Beachbody Programs, or are currently using them on your journey, I urge you to take action to improve both your physical and financial fitness with our team.
You can truly make income out of helping others achieve the results they deserve and sharing your own fitness journey. I know because I have done it myself as I will share with you shortly.
Benefits of Working with me and Team Sweet Life as a Coach
I have been a Beachbody Coach for over 2 years now. I have learned a lot, attended a lot of training, and pass along my learning to the team (we even have a fully functional Coach Private Training Site).
I give all of my Coaches on Team Sweet Life personalized attention. I do NOT just throw you out there without giving you the support to succeed.
I HATE sales and being annoying. If you think that Team Beachbody Coaching = Annoying Salespeople, head for the door. Team Sweet Life Beachbody Coaches promote team bonding, fitness success, and helping those who want to be helped (NOT selling to them).
I hold incentives, prizes, and share with you how you can take this business to a $40, 50, even 100,000 per year business based on your goals and commitment.
I LOVE this Community. Team Sweet Life, as well as Bob's Support has made me gain great faith in this business. This past week I was able to help 3 new people achieve 10 pounds of weight loss each, and my efforts has paid my electric bill – LOVE IT!!

-John S.
WHAT IS "TEAM SWEET LIFE"?
We are a strong and growing team within Team Beachbody Coaching. We don't just talk about the "Sweet Life", we live it daily with our fitness and team. In fact, feel free to Meet our Coaches and see who makes up the community of Team Sweet Life!
With our team, when YOU succeed, I succeed, and vice-versa. Unlike a corporate job where you can never earn more than your boss, in this business you can EARN MORE than me. In fact, it is my PASSION to help all Coaches who join Team Sweet Life achieve their goals (including you!).
How do we succeed as a TOP Beachbody Coach Organization:
Exclusive Training Website: Learn from the top Beachbody Coaches within our team with full access to our private training page exclusive for Team Sweet Life Fitness Coaches (see it here for yourself). You'll learn how to succeed without being a SLIMY SALESPERSON (I hate selling to people). Real training on how you can use social media, including Facebook and Instagram, to grow your income and business without talking to friends and family.
Access to a Growing Market: As a Beachbody Coach in either United States or Canada, you have access to a growing line of popular workout programs and supplements. Beachbody spends millions per year on advertising P90X, INSANITY, T25, and more for your benefit.
My Support: I absolutely love our team and Team Beachbody as a whole. As a Coach on Team Sweet Life you get my support anytime. YOUR dream is MY Dream, and I'll show you the way and help you along every step.
Weekly Training Calls: and also Personal Training Calls to help you live your desired SWEET LIFE.
I've had phenomenal success as a Beachbody Coach. My dream has come true, and yours can too!

Finding a good team when you become a Beachbody Coach is important. I looked around a lot and was trying to figure out who I should work with. I decided to partner with Coach Bob and his team. I'm now a PROUD Team Sweet Life coach, I'm Emerald, and I cannot wait to see what the future will bring!

-Paul T.
=>Click here to find out how you can get started as a Team Beachbody Coach<=
What you should KNOW as a Beachbody Coach
Deciding to join the team as a Beachbody Coach can seriously transform your life. Retire you from corporate prison. Heck, keep you looking and feeling GREAT with Shakeology and the fitness programs.
But…
This is NOT a get rich quick scheme!
Learn a bit more about what to expect in: "The TRUTH Behind Beachbody Coaching" (this will open in a new window so you can check out the rest of the below info!
REAL REWARDS:
Not only have I lost 70 pounds with Beachbody workouts and stay committed to fitness, a lot of other cool rewards were achieved. My wife and I are super excited to go on an all-expense paid trip to Cancun, Mexico's Moon Palace Resort in April 2015. The prizes and rewards are great motivation for all of your hard work. Below are the rewards that have been achieved thanks to hard work as a Beachbody Coach:
2015 Cancun Mexico Success Trip (All Expenses Paid)
2014 P90 program for free
2014 P90 poster autographed by Tony Horton
2014 Brought my Wife Home from her Full Time Corporate Career!
2014 Paid off ALL Student Loans with Beachbody Income 10 years early (I thought these loans would haunt me for life)
2014 Earned S.S. Beachbody Cruise to Cozumel and Grand Cayman Island:
These rewards truly are exciting, especially as you aim to live a lifestyle of freedom should you want to make this a full time career. The key is to come in to our team and apply our training. For those who come in and take action, you'll get the same (or better) results. The best part is that you don't have to spend hours and hours to do this effort. I built up this business and Team Sweet Life while working a full time career as an executive Director. Finding balance can really make great and exciting things happen based on your goals.
REAL INCOME
It's the number one question. I understand why people ask this: Is Beachbody Coaching going to pay off and be worth it??
Here is my answer: It depends on you. Let me be super clear, this isn't a get rich quick scheme. There is some effort and focus that needs to be put into everything that you do. While you won't be an overnight success, time, effort, and following our training will get you to the top with hard work. But I will share this as a reassurance that consistency and never quitting pays off (part-time).
This is some recent paychecks of mine. Keep in mind this is paid out weekly through Beachbody:

And even today the income continues to grow:

Meet Coach Bob! Check out this video recapping my first experience with Beachbody Coaching:
=>Click here to find out how you can get started as a Team Beachbody Coach<=
What are the Benefits of a Beachbody Coach?
Get Paid to Stay in Shape: As a Beachbody Coach you get paid to get and stay fit by sharing your story and inspiring others to do the same!
25% Commission or more: on all Retail Sales and Challenge Packs
25% Discount: on all Products for your own purchases.
NO Inventory: you do not need to stock your house up with a bunch of products from Beachbody. They handle all of the shipping, delivery, and storage for you!
Access to a Growing and Interested Market: Beachbody spends up to $125 million per year on radio, print, and TV advertising. Brands like P90X, INSANITY, and 21 Day Fix are recognizable which makes it a great conversation starter as you continue on your fitness journey. Brand exposure leads towards growth of your business and income!
No Special Education Required: You do NOT need to be a fitness or nutritional expert. This business is for anyone who has a will to succeed and has the passion to rock and roll each day to live their desired Sweet Life.
Who Should Become a Beachbody Coach?
Someone who wants to commit to a healthier lifestyle with like minded people.
Someone who has passion of working at home to inspire others to take their fitness journey.
Someone who wants discounts on their Beachbody products.
Someone who wants to stay motivated to get and stay in shape.
Someone who has seen results with the Beachbody products.
Who should NOT Become a Beachbody Coach?
Someone who has no desire to get in shape or stay in shape.
Someone who is not interested in helping others achieve the results they deserve.
Someone who thinks this is an overnight get rich quick scheme. This is far from a scam or pyramid scheme (see Beachbody Coach Scam).
What is the Cost to Become a Coach?
Remember when I mentioned that Beachbody handles all inventory for you? With that in mind, there is a small cost associated with doing that (thinking about it, these inventory and website maintenance issues are what every true Business Owner dreads! Luckily you won't have to worry about it). As a Coach there is a one-time startup cost of $39.95 (which can be waived if you see below). It is then $15.95 per month to keep your websites running and inventory rocking and rolling. See a screenshot of what the three websites look like:

How can I get the Start-Up Cost Waived and Receive the BEST Benefits?
If you haven't yet started with a Beachbody program, or you are looking for your next fitness program, then a Challenge Pack is the best way to go! A Challenge Pack includes a fitness program of your choice PLUS Shakeology. Getting a challenge pack will save you up to $60 depending on the program that you get and also waives the $39.95 start up cost. Once you start up the Beachbody Coach Application you'll have the option to get a Challenge Pack directly on the website. Here are just a few of the benefits of getting a Challenge Pack while you apply to become a Coach:
FREE Beachbody Coach Cost – The $39.95 start up cost will be completely waived. On the second month of a coach the $15.95 will all you need to pay for the Coach fees.
FREE Shipping – All challenge packs include free shipping.
DISCOUNTED Shakeology Shipping for Life – Shakeology is the nutritional shake that comes with all challenge packs. A lot of people ask about this shake, and it's good to at LEAST have Shakeology for your first month so you can honestly speak to it when people ask about the benefits. You can keep it shipping each month to you and receive 25% off all orders.
This IS the smartest way to get the most for your money when becoming a Beachbody Coach if you are serious about getting started the right way and saving the most money.
Other Important Beachbody Coach FAQs:
Do I have to Buy Stuff to be a Coach? Absolutely NOT. This is not a company set to rip you off. The ONLY cost that is required as a Beachbody Coach ongoing is the $15.95 per month. See more in my Beachbody Coach Cost post.
Do I have to stock inventory of the Beachbody Programs? Nope! Beachbody handles all shipping, billing, returns, and customer service for you. You just earn the 25%+ commission on all sales.
Beachbody GIVES me Customers? That is right! Once you are ranked as an Emerald Coach or higher you get free customer leads. Beachbody receives on average 50-60,000 customers per week that are assigned to active Emeralds or higher. You also earn commissions on any repeat orders that the customers make!
International? Right now Team Beachbody Coaching is only available in U.S. and Canada. Definitely contact me and I can put you on my list for when we start expanding internationally.
Can I Cancel at Anytime? You can cancel at anytime. Within 30 days you can cancel and get a refund on the coach sign-up fee if you find this is not right for you.
Join Team Sweet Life as a Beachbody Coach Today
If you see the DREAM of Living your Desired Sweet Life as I did when I started as a Coach, I urge you to take action today. I will personally reach out to you within 24 hours of filling out the below interest form.
Why?
Because I do not work with everyone. Team Sweet Life is an exclusive part of Team Beachbody, and I want to be sure you that those who take action get my support and attention so that they can achieve their goals!!! This means I want to get to know you first before you become a coach on the team!
Call me if you have questions! (352) 432-8032 Message Me On Facebook
Still not sure if becoming a Beachbody Coach is right for you? Click here to view the webinar to see what Beachbody Coaching on Team Sweet Life is all about.
See More posts:
Record Beachbody Coach Paycheck
Emerald Beachbody Coach
Why Beachbody Coaching does NOT Work
My Personal Beachbody Coach Review
I'll see you on the Inside of the Sweet Life,
Coach Bob Sharpe & the Team Sweet Life Coaches
Team Beachbody® does not guarantee any level of success or income from the Team Beachbody Coach Opportunity. Each Coach's income depends on his or her own efforts, diligence, and skill. See our Statement of Independent Coach Earnings for the most recent information on the actual incomes of all our Coaches.