Week 1 complete for The Perfect Storm Hybrid. Whether you are following along with me each day, or you are doing this hybrid in the future (hi!!), be sure to comment below and let me know how you are doing with The Perfect Storm Hybrid!
Just to remind you, The Perfect Storm Hybrid is the mix between Body Beast and INSANITY Max 30. The goal? Ultimate athletic build and performance. The pure mix of stripping down body fat while building up some lean hard muscle.
If you aren't yet doing this hybrid and are serious about getting results (you better be!), get on the list to follow my documented journey of The Perfect Storm below the video.
The Perfect Storm Hybrid Week 1 Review
I am back and sharing Week 1 RESULTS! Check out the video for the details on my Week 1 Review, along with a BONUS chat on being "Skinny Fat"
Join me with the Perfect Storm Hybrid – get your calendar today.
The Perfect Storm Hybrid Week 1 Review – The RESULTS
Let me be SUPER clear here: I am not after QUICK FIX holy smokes type of results, especially in Week #1.
Fitness should be a lifestyle, and not a quick fix. This is Sweet LIFE fitness, not Sweet QUICK fitness. Quick results often end in quick failure.
WEEK #1 RESULTS:
Weight: Down 4 pounds
Chest – Down 1 inch
Waist – Down 1 inch
Hips – Down 1 inch
Why are you LOSING??
Because I have body fat. This is working exactly to how I was hoping it would work. Muscle burns fat, and as I focus on resistance training, my chest and waist should drop down pretty good (I'm reducing body fat!).
The Perfect Storm Hybrid – Let's chat SKINNY FAT
As I mentioned in the video above, often times we deal with issues of "skinny fat". People will see you, and when you mention a workout program/etc, they will say: "You don't need to workout, you are skinny!"
But deep down, you know you are skinny fat! Not toned, fluffy, and disappointed.
The solution?
THE PERFECT STORM!
You need to balance of resistance and cardio. If you are only focusing on cardio based programs (running, stair climbers….or other boring things like that), you won't get the results you deserve.
Here is my example. In the first photo I focused only on cardio-based workouts (this is from about 2 years ago). The second photo is a mix of resistance and cardio, similar to what I'm experiencing in the Perfect Storm. Any questions?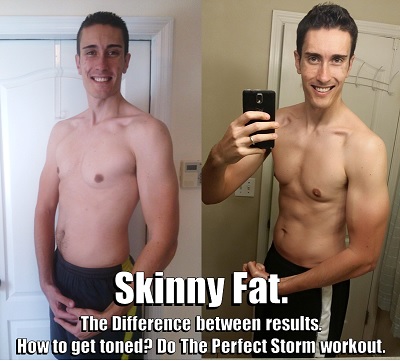 I hope you enjoyed checking the Perfect Storm Hybrid Week 1 update and review! Continue to follow me on my journey by subscribing here and getting YOUR Perfect Storm calendar.
Want more? Join Beachbody on Demand
Yours in Fitness Success,
Coach Bob