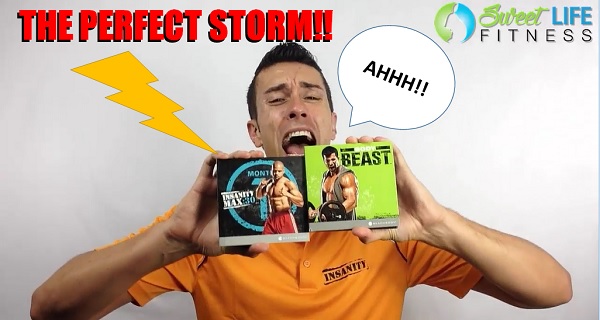 Yes, the Body Beast Max 30 Hybrid is here! Ever see two workout programs and think to yourself: BOOM! This is the recipe for ultimate badassery!!!
Well, that is what my Body Beast Max 30 Hybrid is set to do. I am so pumped up about this that I am offering some of the best deals, info, and tips then ever before. Ever since my INSANITY Max 30 Results, I've been searching for a good hybrid to do, in order to take my results to the next level!
I will be completing the PERFECT STORM hybrid over the next 10 weeks, and I encourage you to join me! Throughout my Body Beast Max 30 Hybrid perfect storm, I'll be sharing:
My FULL stats along every step of the journey
The access to my FULL Body Beast Max 30 Hybrid calendar for you to download and follow along
Valuable tips on how to gain the most out of building muscle while losing body fat (YES – it can happen and you'll learn how to do it).
Nutrition Tips that make it EASY to master.
My Meal Plan! I never share meal plans or create meal plans, but now…with the Perfect Storm…it's all yours!
My full supplement line that I am taking, including timing of these supplements
Discounts and deals for those who want to join me on this incredible journey.
Ready to get the Body Beast Max 30 Hybrid Perfect Storm?? Fill out the form below and you'll get it all!
Body Beast Max 30 Hybrid – Can you Burn Fat and Build Muscle at the Same Time?
Check out this video as I kick off my Perfect Storm hybrid!
Ready to follow my journey, get my tips, and get the tricks? Enter your name and e-mail below and let's get rocking!
WARNING! WARNING! This Body Beast Max 30 Hybrid is "Different"
I have to throw out a very important warning about the Perfect Storm Hybrid Calendar. This workout is for those who only want the BEST RESULTS out of fitness. It is non-stop, with the only rest day being a day of "Yoga".
Yes folks, that means 7 days of workouts and 7 days of pure nutritional focus.
But I am here to help you. I want to see you get the results you deserve. So let's join in – and if you don't have the programs yet, DEFINITELY subscribe to the insider information on my hybrid journey for a deal so awesome it's almost insane:
So again, why am I doing the Body Beast Max 30 Hybrid?
I want to get ready for what the new Hammer & Chisel Workout program will be like.
I want to continue to work on my physique. Not just a skinny guy. Not just a bulky fat guy. An athletic superstar. See my original Am I getting Fat with Body Beast post!
I want to help others who have the goal of losing body fat and building muscle. How can I help without doing it too??
Are you ready to get in the best shape of your life?
Got the guts?
Join me today! Say BYE BYE to the Mom, or, Dad Bod!!
Yours in Fitness Success,
Coach Bob
Check out my latest Body Beast Max 30 updates: