Just when you thought Shaun T went to sleep somewhere, he comes back with a FIRESTORM! And this firestorm is what I think will be a continuation on the success of INSANITY Max 30. Welcome, my friends, to the SWEAT that never ends: TRANSFORM 20 by Shaun T.
Read on. Sign-up. And let's CONQUER OUR MIND and TRANSFORM OUR BODY.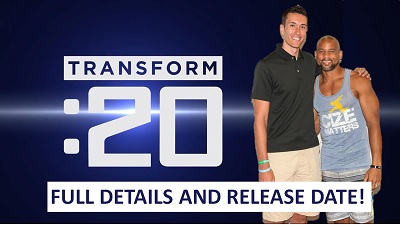 Transform 20 by Shaun T – Full Release Date Details and Comparison to INSANITY Max 30
If you're here from my YouTube video, then let's not mess around – FILL OUT the details below with your name and email to get on the INSIDER LIST for TRANSFORM 20 by Shaun T. You'll get free bonuses, exclusive sneak previews, and be the first to know when TRANSFORM 20 is available (plus more!)
What are the details of TRANSFORM 20 by Shaun T?
Trainer: Shaun T
Time: 20 Minutes per day, 6 days per week
Equipment: Step riser needed
Who can do this program: ANYONE – Conquer your mind!!
When will this be available? On sale December 2018. VIP Access January 2019. Full launch April 2019. Get on the list for the insider access details!
For more details on Transform 20 Release Date, see my YouTube video:
If you heard about INSANITY Max 30 (or you've done that program), or even FOCUS T25, this new program will take you to all new levels (literally…thanks to the step riser!)
Let's work on this one together and make it happen.
Yours in Conquering the Mind,
Coach Bob
PS – IF you aren't interested in getting on the Transform 20 list above but still need support, join me for free and let me help!