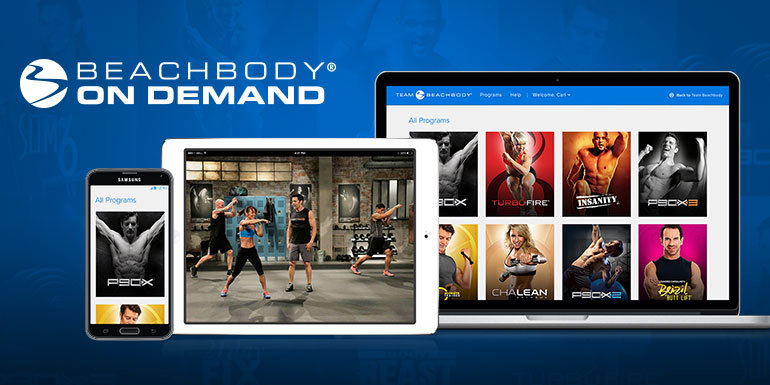 If you haven't heard yet, Beachbody on Demand is now available. If you aren't sure what the heck that means, think about this: in the past, we all used to have to buy the programs like P90X3, INSANITY, or whatever DVD system we wanted. We paid anywhere from $80-120+ for the program that included the DVDs and Fitness/Nutrition guides (and this is just for ONE program).
Now that Beachbody on Demand is available, I am going to share TWO reasons WHY Beachbody on Demand makes sense (versus buying the programs separately from Beachbody). If you are a fan of saving money, getting out of debt (hello Dave Ramsey fans!), and not being stuck with JUST one workout program – read on!
What is Beachbody on Demand? See my Insider Sneak Peek Video
WHY Beachbody on Demand makes sense – Reason #1
Pardon me while I get a bit frustrated. As a Coach with Beachbody, I have purchased a LOT of the programs over the years. P90X, P90X2, P90X3, Body Beast, INSANITY, etc. etc. Let's not even get into the discussion of how much all of this cost me. Now that I have access to Beachbody on Demand that only costs $2.99 per week (or rather, $38.97 every 3 months), I get sick realizing how much money I could have saved (if this feature was available 3 years ago!).
But anyway, reason #1 on WHY Beachbody on Demand Makes Sense is because you save SIGNIFICANT money.
My suggestion is to get the Challenge Pack. You'll get access to our exclusive online challenge group with Team Sweet Life Fitness, get your first month of Shakeology, and get Beachbody on Demand for just $140. When you compare the $140 to the amount of programs you can stream unlimited, you save over $1500. That is nuts: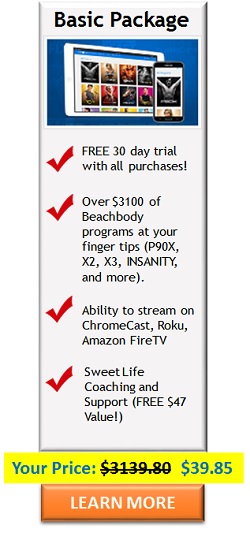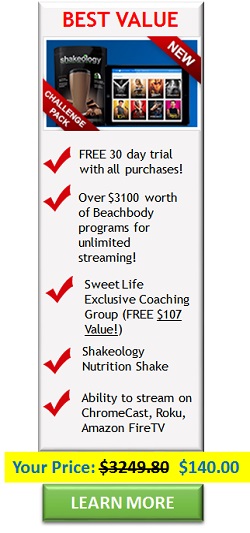 WHY Beachbody on Demand makes sense – Reason #2
Traveling to a hotel? Traveling to the Bahamas? Want to rock out P90X3 Ab Ripper in your office?
Done.
Beachbody on Demand literally streams from ANYTHING with a valid connection. Even if you have a SMART TV, you can watch and follow along with the programs. And if you are in the middle of New York City, fire up your phone and do some INSANITY in the middle of Times Square #NOLIMITS when you stream Beachbody workouts.
There were a few other concerns I had about Beachbody on Demand, so I will share them with you now. Just in case you are like me, and wonder if some of these concerns are TRUE or FALSE.
WHY Beachbody on Demand makes sense to Become a Coach
You can become a Beachbody Coach for free when you get the Beachbody on Demand Challenge Pack! Becoming a coach does NOT mean you have to sell stuff or be annoying. In fact, you can become a Coach just to save 25% on your Shakeology! Beachbody Coaches will get:
25% discount on ALL Beachbody programs and the monthly Shakeology
Access to premium content from Success Magazine
25% Commissions on Products and 40% commissions on Beachbody on Demand (if you want to – there is no requirement to do this, but earning an income on the side is always nice).
=>Click here to Become a Beachbody Coach<= (just select the Beachbody on Demand challenge pack during the application process and you'll gain all of this access!)
I look forward to seeing you inside the club!
Coach Bob