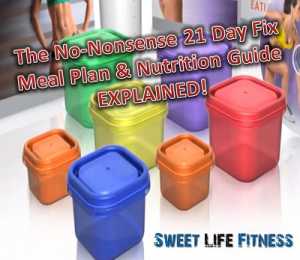 If you are thinking of starting the 21 Day Fix anytime soon, be sure to follow the 21 Day Fix meal plan and nutrition guide for best results. As Coaches for this program, both Cristen and I are highly impressed with how well this program is put together (aka – NO calorie counting, which you'll see what we mean below).
In this post we will share exactly how to calculate your 21 Day Fix meal plan needs alongside of good foods to eat (and what not to eat). Enjoy, Like, and Share if you find value in this post using the buttons at the bottom!
21 Day Fix Meal Plan Step #1 – Calculate your Calorie Level
Using this handy form, plug in your current weight. The form will automatically let you know your Calorie Target so that you can go into Step #2 of the 21 Day Fix meal plan! I recommend doing this calculation each time to start the 21 day fix (for example, if you do a second round of the program, recalculate based on your new weight).
*Note* – If your calories show up LESS than 1200, round up to 1200. If your calories are MORE than 2300, round down to 2300.
21 Day Fix Meal Plan Step #2 – Use the Containers that Fit Your Needs
Using the calculated calories in Step #1 of the 21 Day Fix Meal plan, you will want to determine how many containers to eat per day. So here is what we recommend:
Take your Step #1 Calorie number (calculated automatically above)
Use the picture below to how many of each container color you will eat per day
The number of each color is how many of the specific container you will eat per day.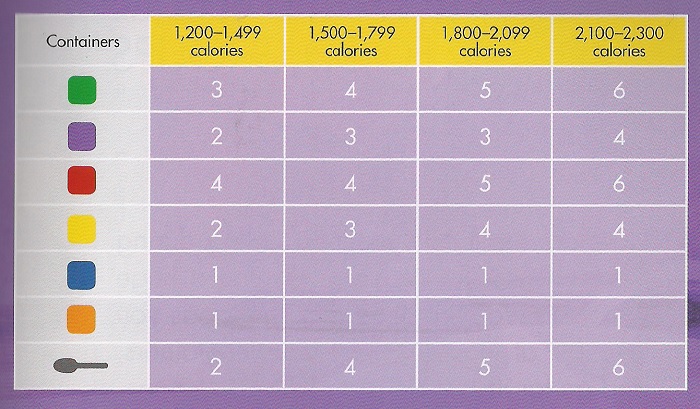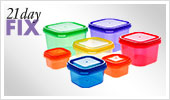 Need more containers or replacement containers? Get them as a separate order! Click Here to Order Containers. When you go to check out, if you don't already have Coach Bob or Cristen as your Coach, be sure to choose a "New Account" for FREE Value-added Coaching from the Sweet Life Fitness community.
I recommend spreading out your containers through the day. There are two suggestions that the 21 Day Fix meal plan discusses which includes:
The Energy Balancer– spread your eating across three meals and two snacks, roughly 2-3 hours apart. Utilize the variety of containers with your three meals, and then use what containers you missed in your snacks (HINT: This is why meal prep ahead of time is key to success).
The Fat Burner– spread your eating across six meals, two hours apart. Keep things balanced and be sure you eat all of your purple and yellow container foods before 6:00 PM each day.
If you need the tally sheets to track your containers each day, you can find them in our 21 Day Fix workout schedule post.
Thinking of joining us on getting results in just 21 Days? CLICK HERE to get your 21 Day Fix program. When you purchase, be sure Coach Bob or Cristen is your coach to get FREE coaching and motivation from the Sweet Life Fitness community, including access to our private Facebook group too!
21 Day Fix Meal Plan YouTube Chat
Check out the 21 Day Fix meal plan video on the nutrition guide and containers from Coach Bob & Cristen of Sweet Life Fitness:

So what in the WORLD do I eat in these Containers??
On pages 25-39 of your 21 Day Fix meal plan guide (that is included in the program), it provides you with a comprehensive list of good choice foods. If you are looking for tips on incorporating 21 Day Fix when going to a restaurant, see our post on 21 Day Fix while Eating Out.
What I like best about the 21 Day Fix nutrition plan is that it doesn't restrict your eating. You can eat a bit more flexible without counting the calories and macro nutrients. If it fits in the container, you are set for success!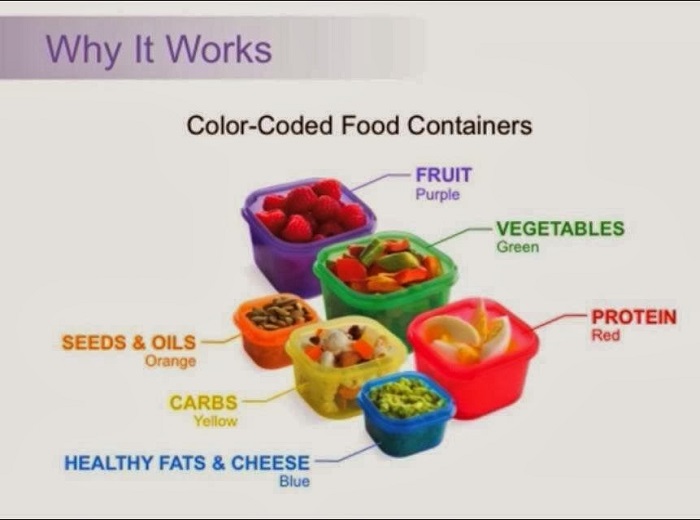 If you are looking for a sample 21 Day Fix Meal plan, check out Coach Cristen's plan from her Week 2 experience:
What are some good Supplements to take during the 21 Day Fix?
According to the 21 Day Fix meal plan, there are two major supplements to consider:
Shakeology – At first look, this is a pretty expensive shake. But one thing to think about is replacing it with your Starbucks or any unhealthy treat (McDonalds/etc) that you may have grown accustomed to. In that case, Shakeology is only $4.33/day.
ActiVit Multivitamin – This is the overall wellness vitamin supplement that the fix recommends. Personally I don't think you absolutely need this one if you have Shakeology (because the Shake provides this PLUS necessary things you don't always get in your diet). However, if Shakeology is out of your question, then this is a good alternative to consider.
I hope you enjoyed and found value out of the 21 Day Fix Meal Plan. It doesn't end here though! Comment below if you have questions. Like, Share, and Tweet this post with others. Most importantly, if you already have the 21 Day Fix Program, join us for free! If you don't, get your program today at the best price!
Yours in Fitness Success,
Coach Bob