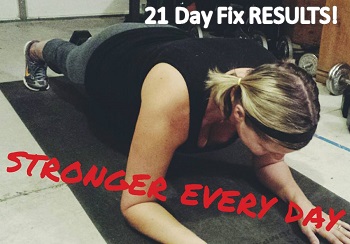 Today I'm excited to share my 21 Day Fix Results with all of you. I finished my first round of 21 Day Fix with great results beyond what I was expecting!
The way the meal plan is set up with a workout every day makes it easy to shed the unwanted pounds. I enjoyed most of the workouts afterwards, even if I gave her an evil glare during the workout itself LOL.
Let me take you through my last 3 weeks with this program to show how you can get awesome results like so many others have.
OH and by the way – before I get to my 21 Day Fix Results…I have to be honest. I have TRIED to do P90X. I have TRIED to do things like INSANITY, TurboFire, and even T25. Nothing worked for me, until I found the Fix. Read all the info below and you'll see why I found this one as my soul mate workout!
21 Day Fix Results – How Did I Do?
I started this journey with the mindset of all or nothing. I knew I needed something to change. I was no longer happy with the way my body looked and didn't feel comfortable in any of my clothes. I want to be able to shop and buy what I like and all the cute dresses and tops and not be worried if it makes me look fat or pregnant!!! I hold most of my fat in my core and around my stomach (can you relate? Isn't it SO annoying?)
So here are my beginning and ending stats from my first round of 21 Day Fix.
• Starting Weight: 187.4 pounds
• Ending Weight: 181.9 pounds
• Total Loss: 5.5 pounds
• Starting Inches: Waist 45", Hips 44", Right Thigh 27
• Ending inches: Waist 42", Hips 41", Right Thigh 26
• Total Loss: 7 inches
This is the fastest I have ever seen results from any of the programs I have tried in the past. It makes it easier when the meal plan is set for you and you can still have some of your favorite foods, just better versions.

I am proud of the results I have so far and noticed my clothes fitting a little better, even though the size hasn't changed yet. I have plans to lose about 40 more pounds and will keep at this program until I reach that goal. (See My UPDATED Results after 12 Weeks: 21 Day Fix Transformation)
See my 21 Day Fix Results video, followed by some more tips & tricks on the Fix right below it!

21 Day Fix Results – The Workouts
I noticed by the end of week 3, the workouts were getting easier to do. Or as Autumn says in the one day: The moves don't get easier, you get better. I was able to increase some reps, hold planks for longer times, and have all over better form. After doing the workouts for 3 weeks in a row, you get to know them.
The final week of 21 Day Fix is doubles week. You do two workouts a day, at different times of the day. I was able to fit my first in at my normal time in the morning and tried to get the second on in before dinner but a couple nights it wasn't until my daughter was in bed for the night. I found that the earlier I did the workouts, I had more energy to complete them properly. Here is the schedule for the third and final week, Doubles Week.

21 Day Fix Results – The Meal Plan
I did fail a bit this week (week 3) at meal planning. My snacks were not as healthy as they could've been but still were not as bad as they used to be. I reached for hummus and crackers instead of more protein and veggies. I still hit my containers each day but could've picked better choices. Clean eating is important in gaining great 21 day fix results.
Even with my not as good choices this week, I still managed to lose a little over a pound and a few more inches. Even loosely following this plan you can still get results. I have a new found love for salads and have one almost every day for lunch; easy to make and covers a few containers. Check out in this picture how I was able to use 2 Greens to start the salad. I fill the green container once with spinach and then again with a mix of a few veggies. I then add some grilled chicken (1 red), dressing (1 orange), and sometimes feta cheese (1 blue), and chick peas (1 yellow).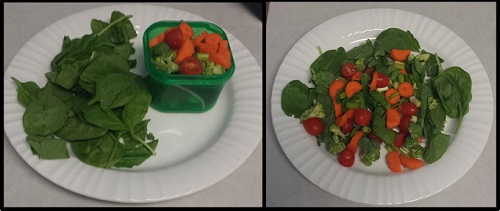 I have to say I am in love with this program! I have plans to continue it until I get the results I deserve. I have the desire to look like I did when I graduated high school. I want to be able to go shopping and buy whatever top or dress I like and not have to worry about it making me look fat or pregnant. I want to be healthier so I can live a more quality life and run around with my daughter more.
Most importantly, I want to show her that, as a woman, you don't have to embrace your post baby love handles and fat and take it as it is. You can look however you desire, as long as it is healthy.
21 Day Fix Results UPDATE – After 4 Rounds
I kept rocking 21 Day Fix, and my next round of 21 Day Fix results included even more weight loss – here are my updated pictures!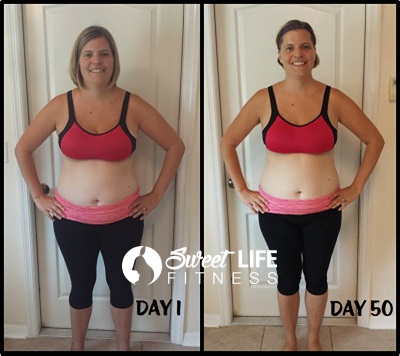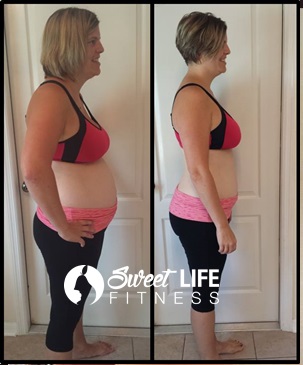 It's YOUR turn – join me, Coach Bob, and our amazing team of people who are doing 21 Day Fix together! Once you get the program you'll also get added to our FREE private support group to help you every step of the way:

I hope I have inspired you to reach for something that you feel you deserve with my 21 Day Fix results update. If this program sounds like it is a right fit for you, you can order your challenge pack to ensure you get the optimum nutrition each day with your serving of Shakeology.
We look forward to talking with you soon!
Coach Cristen
P.S. – If you enjoyed my 21 Day Fix Results post, share it with others who may be inspired! Our goal at Sweet Life Fitness it to help everyone reach their potential and the results they deserve!