After a successful (but over-eating) Coach Cruise on the Royal Caribbean, I knew I had to get back on track. Instead of doing what I normally do (go all-in on a workout program like Max 30), I decided to jump on the nutrition bandwagon. If you're thinking of doing this program, check out my full 3 Day Refresh Review below before you do anything! WHY did I decide to do this dumb thing instead of just what I normally do (workouts). Read on my friend, read on…
3 Day Refresh Review – Not for the Weak
Ok…all BS aside, this 3 Day Refresh program is NOT for the weak. But who are you anyway? You are STRONG, so ignore this disclaimer and master your success.
But seriously, this program does demand 3 days of super-focused intensity and the will and ability to NOT cheat. After all, the program prices vary from $40-160 US Dollars depending on your selection…you certainly don't want to waste that kind of money!
The 3 Day Refresh will ask you to split your 3 days into 3 blocks of eating periods. Within that you'll have a select variety of fruits, vegetables, Shakeology, Fiber Sweep, and Vanilla Fresh protein shake.
3 Day Refresh Review Video Walkthrough
Watch my video review of 3 Day Refresh to get an example of some of the results that I saw, including my 4 pound weight loss!
3 Day Refresh Review – What Was NOT Featured in the Above Video
Because you are awesome and here on Sweet Life Fitness, you get some extra bonus review that isn't featured in the above video.
Within the points of this 3 Day Refresh review, I noticed something happening with my resting heart rate. The resting heart rate is a great measure of your health.
As you know from the video above, we recently enjoyed a great Cruise (with some over-indulgence!). One point that I noticed was due to some recent alcoholic drinks, my resting heart rate was up higher than I wanted. You'll see in the below picture a 68 bpm resting heart rate before the Refresh (courtesy of Apple Watch Sleep Watch app).
Now, check out what my resting heart rate is on Day 2 and 3 of the refresh!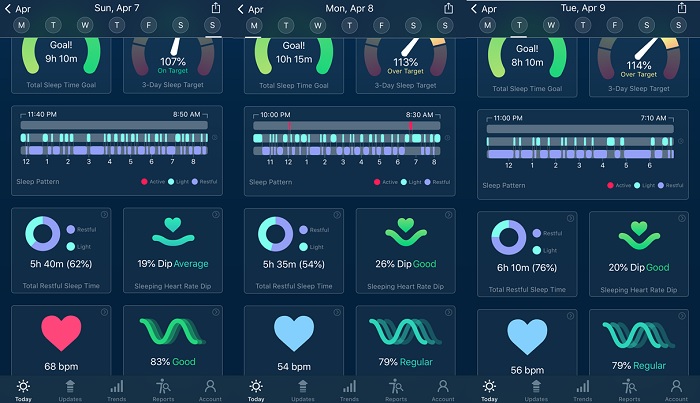 Wow right? Also, if you look near the middle of the chart, you'll also see that my restful sleep (aka deep sleep) increases too. A lot of this, after some research, has to do with not taxing the body with a bunch of food to digest prior to bedtime.
Is this Refresh Worth It? 3 Day Refresh Review
OK, so at the end of the day, is all of this refresh stuff worth it?
If you need a break from bad eating OR a jump start into a killer fitness or nutrition program, than my answer is YES, it is worth it!
If you're already great with clean eating and are either bored or want to try something for fun, than my answer is NO, because you can find other Beachbody fitness or nutrition programs to try out of fun or boredom!
My Results with the 3 Day Refresh Review
To recap this review, my results include:
Losing 4 pounds (229 – 225 lbs)
Improvement on Resting Heart Rate
Deeper Sleep (both during refresh and so far 1 week post refresh!)
Onset to my next journey with the Perfect Storm Workout
If you're up for the 3 Day Challenge, join me, I can help coach you through it (for free).
Next up, my workouts return! See you on the next post!
Yours,
Coach Bob