Do you celebrate your small workout results? Last night I finished my P90X3 Triometrics workout. Throughout the workout I was really getting frustrated with a few of the moves. I felt like I wasn't going deep enough in the squats. Then, I got mad because my balance was thrown off during the Warrior 3 Squats and the Duper Skater moves.
I was totally and emotionally focused on the negative things that I wasn't doing right. These negative thoughts are what cause people to quit, slow down, skip workouts, and not achieve their results.
We ALL want results!! Abs, toned bodies, and weight loss. What separates the Successful from the Unsuccessful are those who:
Trust the Process

Follow the Process

Celebrate their Small Results
Celebrate your Small Workout Results – Throw out the Scale
As a Beachbody Coach that motivates and helps people for 2 years now, I notice a lot of people don't celebrate their small results. This usually leads to people falling off track, quitting, or skipping workouts. In the end, we don't get what we want!
Have you ever used the following to measure your progress, only to get frustrated?
The Scale

Measuring Tape

Your Clothes
These things can give us great data, but so many people let them slow them down or take them off course.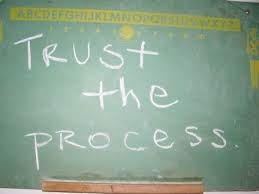 THE SCALE IS NOT TRUSTWORTHY! When you try to lose weight, your body goes through all kinds of changes. While it should be obvious the scale would drop, it doesn't. Muscle Gains, Cortisol, Lean Mass can be some of the many causes why the scale could mislead you. In fact, you could be on the verge of success and the scale is what literally tips you off the edge and lets you quit.
This week, what I'd like you to do is start focusing on FINDING the good things in your workout results.
Here is what made me think of why this is so important. As I was struggling through Triometrics last night, I realized something. My lunges were SO much better. In the past when I used to lunge my legs would hurt, my right side wouldn't balance. During Triometrics they were spot on. But, because I was so focused on what I wasn't doing right I was getting more frustrated than getting excited about what I was doing RIGHT, and then focusing on what needs to be improved.
If you are having trouble finding some things to celebrate, use some of these questions to keep on track. Sometimes we have to dig deep to find the positive – but the POSITIVE will bring forth the success as it keeps you moving through the tough times.
Dig deep and think about these questions:
Are any of your moves getting better?
Have you stayed MORE committed to your workouts than you have in the past?
Are you sweating more or burning more calories?
Have you stuck with your nutrition and eating better?
Are people complimenting you, even if you don't see it yet?
We all want faster results. We all want to be slim and some want to be ripped. We all want to be successful. But in order to be successful, celebrate the small results that lead you through the process of the ups and downs.
Yours in Success,
Coach Bob
P.S. – Need Help? Join our next Beachbody Challenge Group and let's work together to get you the fitness results you want and deserve.
P.P.S. – We are looking for leaders that are passionate about taking their fitness to the next level. Sound like you? Click Here to view our application webinar.