After being a fan of Tony Horton for many years, I was excited to hear Tony was coming back with another workout program! This one, although not another even more extreme P90X workout, encourages family time during workouts! Today on our Beachbody on Demand account, we tried out Double Up, which is a cardio workout (approx 28 minutes long) within the Double Time workout program. Read on to hear about our experience with the Double Time with Tony Horton!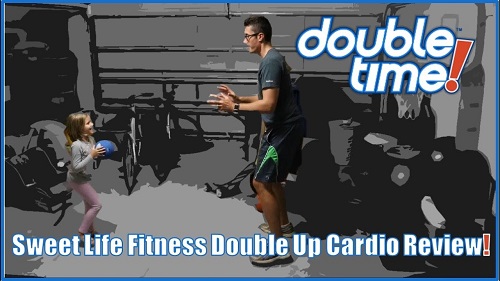 First Off – What is the Double Time Workout?
Tony Horton, creator of the great P90X, P90X3, and 22 Minute Hard Corps workouts (to name a few) is the trainer for Double Time!
Double Time is a fun way to spend more time with people in your life!
Huh? What?? Yeah, it's true – this isn't your granddaddy's workout of just working "alongside" of those you love…this workout RELIES on working out with your partner.
Double Time is Tony Horton's latest collaboration that makes living a healthier lifestyle something you can do with another person.
Who is Double Time for?
Any partner pair you can think of! It's meant for family, spouse, parent, kids, or friend!
Great for all fitness levels – this is a beginner approach to health.
Other Double Time FAQ
Workout Length: 18-32 minutes, 5 days per week – total of 30 days.
Workout Trainer: Tony Horton
Workout Intensity: Beginner
==>Want to get DOUBLE TIME? Click Here to get it included with All Access Beachbody on Demand<==
Let's put Double Time to the Test with Double Up!
I did Double Up workout today twice! The first time was with my 6 year old daughter, and the second was with my wife! Let's check out the details!
You'll need a ball of some kind – either a buddy ball available to purchase on your Team Beachbody account, or, a good alternative (we used the smaller Beachbody Squish Ball).
Check out today's video for the full Double Time Review! If you're interested in joining me and Team Sweet Life on your own Double Time journey, then click the Buy Now link below to get started with your All Access Beachbody on Demand Account (where you get unlimited streaming of all Double Time workouts plus much more like P90X, INSANITY – all included!)

Yours in Fitness Success,
Coach Bob