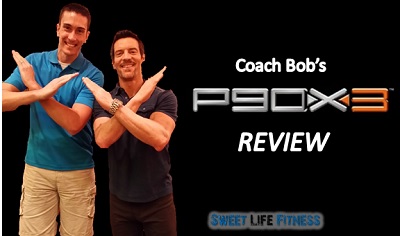 I am so excited to provide this P90X3 review for you today. Don't be fooled by P90X3 – it does not mean it is the third hardest P90X. It really means 30 minutes per day (which is MUCH shorter than typical workouts). Today I'm sharing FOUR important tips you should know about P90X3.
First – My P90X3 Review Story…
This portion of my P90X3 Review is for those of you who are visiting here for the first time (glad to have you here!).
I originally did the first P90X in summer of 2010 and lost weight and felt great. But like any other clown I added some of the weight right back on!!
In this P90X3 review I'll give you what you need to know. While I'd love to help Coach you to results with P90X3 like myself and over 100 others who joined me have gotten, there is one important point I need to make:
What is MORE important to me before you get this program is that you actually USE it and get results. What is the point of buying something if you won't use it? I'm here to help you over every step of the way.
If you are going to buy it, I do earn based on your purchase when you assign me as your coach. That is what powers up sweetlifefitness.net and my time to help you and answer all the questions you have.
But see, if I only care about that and NOT your results and helping you, I really feel I'm not doing my job. So know that if you decide to get X3, when you get it here I'll help you every step of the way as I have for so many others in our Sweet Life Results hall of fame.
Some other P90X3 Review Success Stories Include:
P90X3 Video Review – Let's Chat about the X3!
Check out the review video first on YouTube (if you haven't seen it yet already):
If at any point you are ready to get P90X3 and want to learn more, click here to jump to the options.

P90X3 Review Tip #1 – What Do you Get and Need with P90X3?
What you get with P90X3 depends on how much you want to spend! Personally I got the Ultimate Kit because I wanted to get the biggest discount on the chin-up bar, resistance bands, and P90X3 Elite Block workouts that come included.
Here are the three different package options. As far as what equipment you need for P90X3,
(1) Dumbbells or Resistance Bands,
(2) Chin-Up Bar,
(3) Yoga Mat will be all that you absolutely need.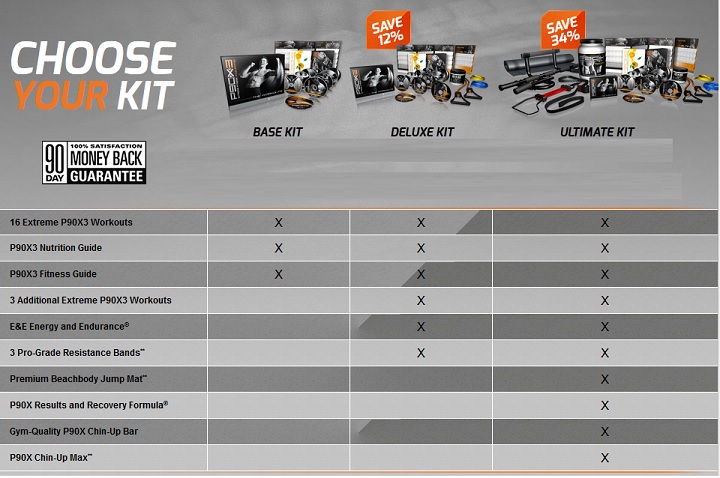 If you want to learn more about them, check out my P90X3 Workouts post.
P90X3 Review Tip #2 – Will it Work for ME?
The big question I get a lot is, who is P90X3 for? Can just anyone do this?
The first part of if P90X3 will work for you is: Shouldn't I do P90X before P90X3? Beyond what I share in P90X vs P90X3, see what Tony has to say about that question:
Your Goals – P90X3 Review
Depending on your GOALS, there are three main calendars that you can follow. All calendars are included with the P90X3 program once you get it, and here are the references:
GOAL: Overall Lean and Strong – If you want to lose weight and get lean and strong, follow the CLASSIC schedule.
GOAL: Build Mass/Muscle – If you are on the skinny side and only care about building up some muscle, follow the MASS schedule.
GOAL: Get Lean with More Cardio – If you'd rather avoid the resistance and focus more on the cardio, follow the LEAN schedule. Personally I followed the Classic schedule, but if you are finding this rotation is too much resistance, switch to lean.
So…will P90X3 work for me?
YES!
Even if you have a lot of weight to lose, the KEY and secret to success as I share in this P90X3 review is the modify. Tony often says: "Do your BEST and Forget the REST". By doing what you can, and not worrying about keeping up with the people on the TV, you'll get results, as I shared in my P90X3 motivation tips video.
=>Click here to Learn more about P90X3<=
P90X3 Review Tip #3 – What about Nutrition?
I am not going to lie to you, the BEST results from P90X3 come from not just doing the workouts, but also nailing nutrition.
You can't drive 100 miles in a car with only 50 miles with of gas in the tank…
The quote above stands true for nutrition with P90X3. You MUST (repeat: MUST) fuel yourself properly.
P90X3 has a well laid out nutrition guide to ensure you have enough fuel. The two secrets to success with P90X3 nutrition is:
Eating enough fuel to help BURN body fat or build muscle (depending on your goal).
Give you the ENERGY to help you BRING IT in your P90X3 workouts so that you achieve your goal.
So many people cut calories too low, and it ends up working against them. After all, if you are after that lean and sexy/toned body, use the nutrition guide to a "T". If you get the program with me here at Sweet Life Fitness or join one of our Challenge Groups, I'll include additional nutritional resources to make it easy to succeed without going on a "zombie diet" that you absolutely hate!

P90X3 Review Tip #4 – How to Get RESULTS
I think what really helps people get success with P90X3 is that it is only 30 minutes per day. This allows you to stay committed without wasting 60-90 minutes a day like you did with the original P90X. Plus, the results are just as efficient!
People in the test group for P90X3 review actually ended up losing MORE body fat over the test period than they did with the original P90X (that should tell you something).
For me personally, here are my results (you can see more of my results here: P90X3 Results).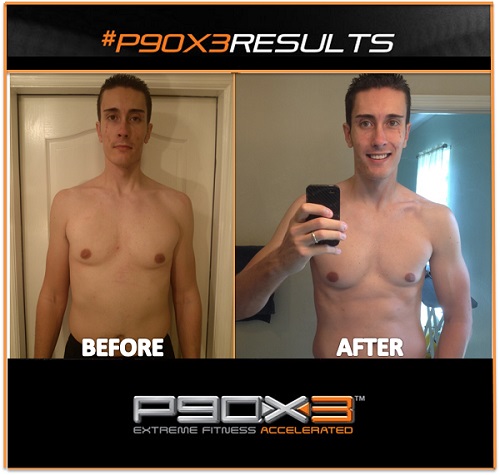 After working with over 100 people on their P90X3 journeys, the secret I have found to success are:
Push Play Every Day.
Master the P90X3 Nutrition Guide, and eat the right vitamins/minerals (Shakeology comes with the P90X3 Challenge Pack option and provides the essentials for good nutrition daily).
Go in with Intensity each day. Don't worry about following the people move-by-move. Worry about pushing yourself out of your comfort zone and doing the BEST that YOU are capable of doing. Doing this consistently brings you to results faster.
Plug in with our Community. Let's face it, questions are going to pop up. When you get the program here you are plugging into a community 1000+ people strong that can help you along the journey. You'll also get invited into my private coaching Facebook group too.
I hope you found value in this P90X3 Review. If you did, share it with others that may find value in it if they are interested in P90X3. Most importantly, if you aren't quite ready to start yet but want to get some support, consider Joining Sweet Life Free before jumping on your P90X3 journey.
Yours in Fitness Success,
Coach Bob
P.S. – Like this P90X3 Review? Press the social media buttons below now to share with others! Want more from Tony? Check out his newer program, Double Time!