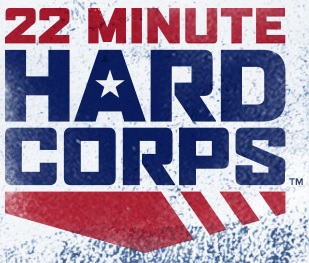 8 weeks of military style training with world class trainer and creator of the P90X-series Tony Horton? GET SOME! The new 22 Minute Hard Corps review is here!
As always I'm excited to share the details and FREE bonuses once you buy. How do you get the insider access? Simply purchase from this site (indicating me, Coach Bob, as your coach within Team Beachbody), and you'll be all set!
22 Minute Hard Corps Release Date – See the Preview Video
Check out the video on 22 Minute Hard Corps by Tony Horton. Be sure to get on the insider release date list right below the video!

22 Minute Hard Corps Review and Information you Need to Know
With the launch of the 22 Minute Hard Corps workout, there are some things you should know!
First, the basics: This is a military-inspired workout with no-nonsense. Not for the beginner, and for those who want to go hardcore for just 22 minutes per day. From recent P90X3 creator Tony Horton, he is taking everything he learned in military bases and bringing it to you at home.
What is the Fitness Goal with 22 Minute Hard Corps?
Inspired by military workouts, this no-nonsense boot camp workout aims to give you mission-ready physique. You can't just GET the workout results, you have to EARN the workout results. You will get the tools and motivation from Tony to go well beyond the limits you THOUGHT you were capable of reaching. The best part? You don't really need a ton of 22 Minute Hard Corps equipment either.
How many Weeks is 22 Minute Hard Corps?
The total program is 8 weeks of basic training boot camp workouts. You can view the calendar here for the full breakdown and when you will do each workout.
How long are the workouts in 22 Minute Hard Corps?
Really? You seriously are asking how long the workouts are? Like…look at the title. Basic Training will not accept this type of question shenanigans. Go back home.

22 Minute Hard Corps Review – RESULTS??
Heck yeah there are incredible results with 22 Minute Hard Corps! Check out just a few here: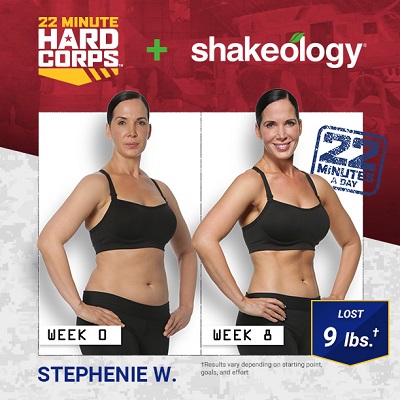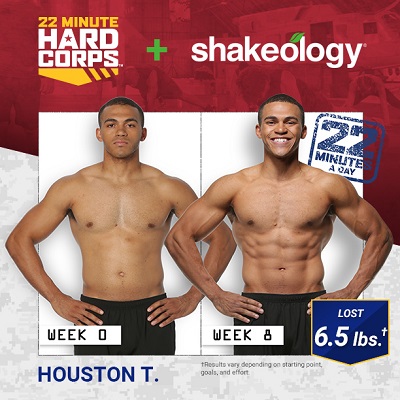 In just 8 weeks of 22 Minute Hard Corps, both Stephenie and Houston are looking badass! It's your turn now too!
Want more 22 Minute Hard Corps info? Check out:

Questions? Just comment below!
Yours in Military-Style Workout Success,
Coach Bob