Just when you thought it was never safe to go back in the water. Get ready. Get set. We FINALLY have a FITBIT WATERPROOF TRACKER!! After the ever popular Fitbit Charge HR and also the Fitbit Flex,we now have a waterproof, swimproof fitness tracker. Today, I'll be sharing all about this new waterproof tracker with the Fitbit Flex 2 Review. As you know, I am a HUGE Fitbit fan, and this one is something I know a lot of you wanted, so check it out today!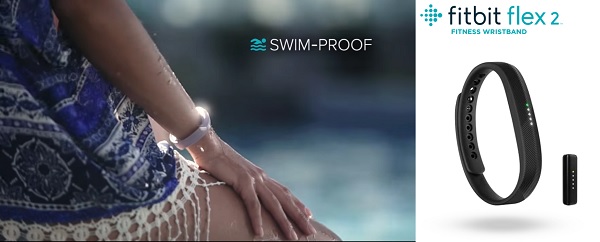 In today's post we will explore the details behind the Fitbit Flex 2 review as we as my video review and how you can get the Fitbit Flex 2 at the best price on Amazon.
Ready to get your Fitbit Flex 2? Then click here to grab it today!
Benefits of the new Fitbit Waterproof Tracker – Fitbit Flex 2 Review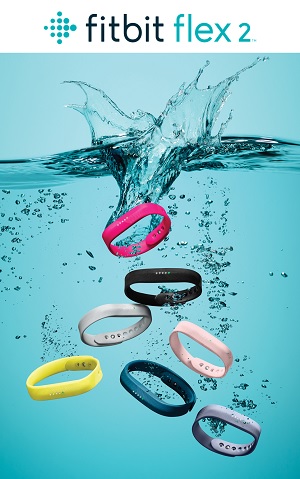 There are quite a few benefits to boot out of the new Fitbit Flex 2. Check them out now!
ALL-DAY ACTIVITY Tracking
Track steps, distance, calories burned, active minutes, and hourly activity with the new Fitbit Flex 2.
SWIM-PROOF and WATERPROOF
One of the biggest benefits out of the Fitbit Flex 2: SWIM PROOF and WATER PROOF. You can wear it in the shower, in the ocean, or in the pool. It will automatically track swimming activity and you can see your swimming details in the Fitbit app.
INTERCHANGEABLE ACCESSORIES
This is a cool feature for those of you who aren't fans of what the Fitbit normally looks like on your wrist. This tracker is slim and removable. You can hide it in a wristband, bangle, or a pendant. Super cool!
 BEST FITBIT FOR THE BUDGET
Of all the Fitbits on the market, this is probably the best bang for the buck option in all honesty.

BAD Things about the Fitbit Flex 2 – New Fitbit Waterproof Tracker
Just with everything good, there is also the bad. Let's talk about the BAD of the Fitbit Flex 2.
Unlike the Fitbit Charge HR and the new Fitbit Charge 2, there is no Heart Rate tracking on the Flex 2. If this is more important to you then the Fitbit Waterproof option, then opt for the new Fitbit Charge 2.
Putting screens in water can be quite a feat, so this Fitbit Flex 2 does not have an on screen display. HOWEVER, it does have a very cool feature: LED display. With the LED display you have the option to know when you are getting: CALLS, TEXTS, REMINDERS TO MOVE, GOAL CELEBRATIONS, and a SILENT ALARM.
Fitbit Flex 2 Review – Fitbit Waterproof Tracker YouTube review
As always, check out my YouTube review of the Fitbit Flex 2. Also, don't forget to Subscribe to YouTube too!

Questions? Thoughts? Comment below and let's chat!
Yours in Fitness Success,
Coach Bob