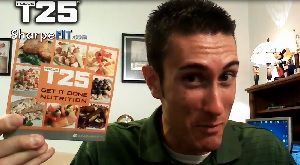 So you have just started (or are thinking about starting) Focus T25. Did you know that nutrition accounts for 80% of your results? OK – maybe that isn't what you want to hear. But today I'll do everything to help make this SUPER simple. By using the Focus T25 nutrition guide the right way, you won't have to worry about "dieting".
Today we'll take a look at how to know how many calories you should eat per day. I'll also suggest a macro-nutrient guide to use to get the best results if you are looking to lose fat with the program.
How to Calculate your Calories with the Focus T25 Nutrition Guide
Luckily they have made the nutrition guide super simple. Below is a 4-Step Calorie nutrient quiz. Follow the instructions, and from there you will know how many calories you should eat per day. (Note my disclaimer below too!)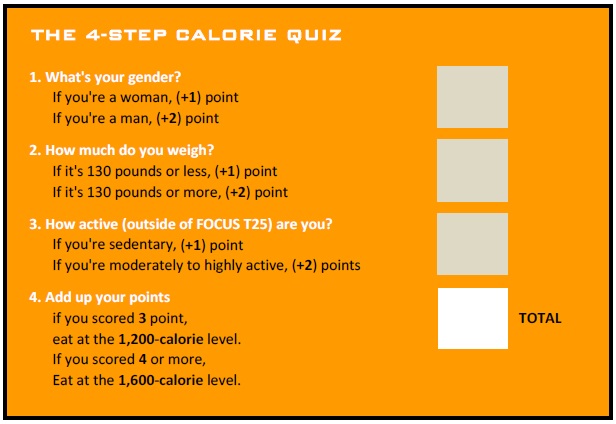 Pretty simple, right?
DISCLAIMER: There are some important things to know about operating at such a low calorie intake. See below:
FIRST: If you are already in good shape, or have decent muscle mass, eat more! I would recommend 1900 for Women and 2100 for Men. This is my own recommendation, but if you find yourself getting hungry, this could be why.
SECOND: Listen to your body!! Space out your calories as I describe below. BUT, if you are still hungry, adjust your calories to ensure you aren't experience a bonk (complete exhaustion) during your T25 workouts.
SPACE OUT YOUR CALORIES
So many people "Wait until they get Hungry" to eat.
What you need to do is avoid being hungry. Do whatever you can to space out your calories as the below image dictates. By doing this, you keep yourself well fed. This keeps your metabolism producing high instead of going into a starvation mode. Combine that with a calorie-deficit as mentioned above, and the fat will melt off (as long as you do the workouts!)
Keeping Yourself Fed + Calorie Deficit = FAT LOSS!

Again, listen to your body! If you find that during Snack #2 you are DYING for food, adjust as necessary. As you lose fat and gain muscle with the program, you might find yourself doing this, and that is OK! I ended up adjusting Snack #2 to have 300 calories once the weight and fat were reduced.
What Macro-Nutrients Should you Eat with Focus T25?
I wish that the Focus T25 Nutrition guide shared more of this information. I get a lot of questions about macros, so here was my personal mode of operation each day.
Macro-nutrients are the proteins, carbs, and fats we eat each day. We need a blend of all three of them to get results.
For Focus T25, I suggest:
40% Protein / 30% Carbs / 30% Fats
This means 40% of your calories would come from Protein; 30% from Carbohydrates; 30% from Fats.
YOUR NEXT STEP: Track the calories and macros the right way. Check out my post "How to Use MyFitnessPal" to plug in these numbers. Doing this consistently will put you SO much further ahead of those people who might not get results with Focus T25.
Remember to focus on GOOD Carbs (Oatmeal, Whole Wheat Breads, Bananas, Apples). For proteins (Chicken, Lean Beef/Meats, Protein Shakes like Shakeology and Whey Protein).
You are not alone! If you have questions about the Focus T25 Nutrition Guide that I didn't talk about above, comment below and let's chat!
Yours in Success,
Coach Bob