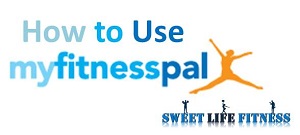 If you are looking for how to use MyFitnessPal correctly, look no further. Today I'm going to take you through a few steps that I have learned using MyFitnessPal daily. After all, it is one of the BEST (if not the best) calorie and diet trackers out there today. I use both the online version via MyFitnessPal.com and the Mobile App.
When to comes to losing weight and tracking calories, it comes down to the plan! Today I'll show you how you can get an easy plan (or follow one I've used before), and plug it into MyFitnessPal. At the end of this post I also have a few tips on how to get the most out of this program too.
How to Use MyFitnessPal – Step-by-Step Walkthrough
The first step before watching the video is to determine your plan. If you are doing one of our Team Sweet Life challenges, you should follow the nutrition guide that came with your program. Some of the best nutrition guides I have seen are the P90X Fat Shredder Plan and the P90X3 Nutrition Guide.
For example, the P90X Fat Shredder plan calls for a split of 50/30/20 split. This means 50% of calories should be Protein. 30% should be Carbohydrates. 20% should be Fat. In P90X3, the optimal plan is 30 P/40 C/30 F split.
Check out this video for the full walk-through on How to Use MyFitnessPal. Even if you aren't using P90X or P90X3 as an example, using the same macros I listed in the last sentence can help you with any exercise plan.
=>Click here to get your Free MyFitnessPal account (Add me! My screen name is CoolRunLT)
To recap the video, here are some tips on how to use MyFitnessPal correctly:
1. Use a Plan! – Whether it's the P90X Fat Shredder diet of 50% protein / 30% Carbs / 20% Fat, or your own macro-nutrients, solidify that plan.
2. Plan your Plan! – A day in advance, at least outline your food game plan to avoid eating off course. If you eat a different type of dinner/breakfast/etc, just do the necessary adjustments. I recommend using the App
3. Stay Consistent! – If you want the abs and/or the weight loss, you have to follow a plan for more than a few weeks (or months). My recommendation? At least 90 days of consistency. Do that and you'll not only feel amazing, you'll look amazing too.
Last but not least, add me to MyFitnessPal! My screen name is CoolRunLT. Come see what I eat everyday (I do not claim to be a perfect eater, so you'll see when I cheat too!). Join me and let's hold each other accountable to living a healthy, fulfilling life!
Here are a few nutrition guides that you can use alongside of MyFitnessPal:
Coach Bob
Want the ultimate package of fun and fitness success? Join me on Team Beachbody for Free!