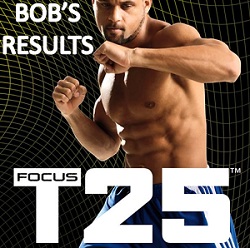 Today I'm sharing my personal Focus T25 Results. I started Focus T25 with the intention of losing some of the belly fat I gained. After my P90X Results, I put on some weight again (as mentioned in the video below).
One of the things I hate the MOST is having belly fat. I feel uncomfortable, unhealthy, and disgusting (ever have that same feeling)? That is what led me to my GOAL with Focus T25 Results: Lose that Belly Fat!
Focus T25 Results – Defining My Goal
If you don't know about Focus T25 yet, it is structured around 25 minutes per day (that's it!). It also doesn't require a whole lot of equipment, and is made by the INSANITY trainer Shaun T.
My Goal was to lose belly fat. I wasn't really focused on getting ripped with this program (although you can absolutely use it for that purpose if you wish). Here were my top three goals with Focus T25:
Lose Belly Fat – I wanted to lose around 10 pounds to melt that belly fat.
Complete All 60 Days – Alpha & Beta phases of Focus T25 are 30 days each. I wanted to complete this program in full.
Eat Healthy – My goal was to follow the Nutrition Guide but also focus on eating healthy. I tracked my nutrition through MyFitnessPal. I actually used the P90X Fat Shredder Diet (1900 calories, 50% Protein, 30% Carbs, 20% Fat). You can easily plug these into MyFitnessPal's free app to stay on track.
As a Coach, I can help you no matter what your goal is with Focus T25 Results. Whether you want to lose weight or get ripped, I'll give you free support. Learn more by Joining Sweet Life Fitness through Team Beachbody (Click Here).
Focus T25 Results – Video and Picture Review
So did I achieve my goals that I discussed above? I did! I lost 11 pounds and around 3 inches off of my waist.
This picture shows the biggest difference, where you can see that belly fat blasted off: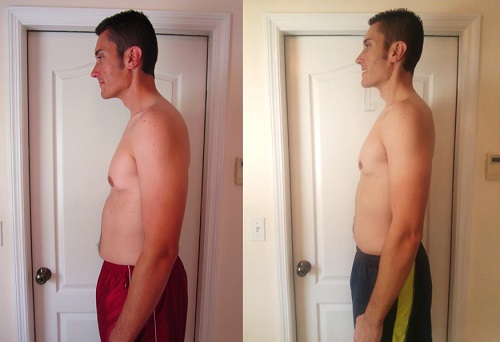 Also, check out my YouTube video on the Focus T25 Results achieved:

How YOU can get the Same (Or BETTER) Focus T25 Results
Here are my top suggestions for achieving good Focus T25 Results yourself:
Follow the Workouts Each Day – After all, it's only 25 minutes, and it does work! Follow the plan day-by-day and give it your all. I always advise the Team Members of Sweet Life Fitness to push until failure. Yes – you want to fail! This means you are pushing yourself outside of the comfort zone (where the results live).
Follow the Nutrition Plan (and Plan Ahead) – Use MyFitnessPal or another calorie-tracking app. This will keep you on target with your nutritional goals.
Connect with Sweet Life Fitness – Get your Free Team Beachbody account and the Sweet Life Fitness Coaches can help you achieve great Focus T25 Results. Reach out to us with questions, advice, tips, tricks, and much more.
I hope you enjoyed checking out my Focus T25 Results. Comment below and say HI, and let me know if you have any questions. Feel free to also check out my Focus T25 review for more information on the program.
Yours in Fitness Success,
Coach Bob Sharpe