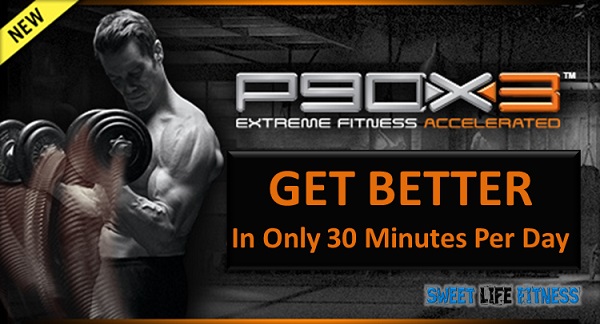 One of the common frustrations that I hear from my team members is why they aren't seeing fast, washboard abs popping up faster than your morning toast. Trust me – I'm right there with you! After you progress through theP90X3 program, you'll start noticing your weak spots. Today I'm sharing my own journey as well as some tips on how to get better at P90X3.
First Issue: Why do some get FASTER and Better Results – While you Get NOTHING!
I assume you already eat clean by following the P90X3 nutrition plan, get minimum of 7 hours of sleep per night, and BRINGING IT every day.
OK, who is with me on this one: you work your literal butt off as hard as you possibly can. You press play, you BRING IT, and you eat clean. You see some progress, but probably not as fast as you want. Then, some other person in your challenge group posts pictures that blow everyone away (GRRR).
It's OK! Here is some interesting information I learned from the one and only Tony Horton himself:
Don't freak out if you don't see results in the first 45 days. The 90 in P90X stands for 90 days, not 90 minutes. Some folks will see results the first week-bastards! Others will have to wait a little longer, based on age, body weight, how out of shape they are, flexibility, balance, athletic background. Be patient. Your body will adapt, and you will be amazed at how you look and feel. –Tony Horton
Wow! That makes me feel like a champion now!
Those people who get the faster results may have a story that you don't know about. Perhaps they had an athletic build back in High School or college. Maybe they have the flexibility and balance to go deeper in the moves right out of the box.
Does this mean all is lost for you? Absolutely not! The difference between those who succeed and those who fail is really just one concept: CONSISTENCY. Never quit until you get
what you want.
I have always struggled in my quest to get the almighty washboard abs. I also had balance & lower back issues. When I pushed on my stomach (before I started P90X3) it would be harder to feel abs. I basically said "SHENANIGANS" to everyone who says "work on cardio hard so you show those abs". If I only focused on cardio and not ab development, all I would have is a sickly flat stomach. NO MORE!
Within the last 3 weeks, and especially over these last two weeks, I have focused on my abs much more. The best part: They are starting to shape and grow. My lower back issues are also practically gone.
This is why we need to focus on our WEAK SPOTS! If you have troubles with your legs, your back, or your abs – your focus needs to go where it is uncomfortable. If you ignore the spots that need more work, you won't see the results you want in those areas. But – Don't get me wrong! I'm not suggesting that you add a bunch of extra workouts into your schedule, I am only suggesting digging a bit deeper into those weak areas. I'll discuss more in my video below.
Get Better at P90X3 by Focusing on your Weak Spots
Check out my video where I discuss more about focusing on your P90X3 weak spots. You can totally get better at P90X3!
How have you focused on getting better at P90X3? Comment below and let us know!
If you want more support with X3, be sure to Join Sweet Life Free. Once you are on board with Team Beachbody I'll add you to our exclusive X3 Support Group on Facebook.
If you want to go even deeper with your X3 results, regardless what your body size is, check out the details on joining us as a Team Beachbody Coach and get your products discounted as you help inspire others to earn some side income!
Yours in Success,
Coach Bob