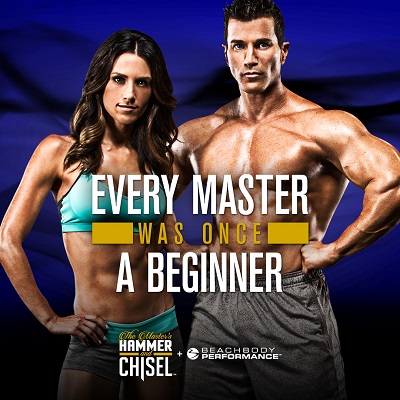 The Master's Hammer and Chisel combines the Master expertise of 21 Day Fix Creator Autumn Calabrese with Body Beast Creator (and bodybuilding legend) Sagi Kalev. Within the program there are THREE different Hammer and Chisel Calendar and Schedules that you can choose to follow. Lucky for you, these calendars are all available on this page for you to download and use immediately.
When you start out with your Hammer and Chisel calendar, use the 60 Day Schedule FIRST. After your first 60 days, you can decide to do a 30-Day Hammer Schedule or a 30-Day Chisel Schedule. In fact, I will be following this exact program this year (60 Day H&C, 30 Day Hammer, 30 Day Chisel). You can follow my entire journey over on the Hammer and Chisel Blog posts.

Hammer and Chisel Calendar and Schedule Downloads
Below you can grab your PDF copies of the H&C Schedule, the Hammer Schedule, and the Chisel Schedule.
Simply click on the images to be taken over to the PDF of your choice. Also, check out the info below for specific workout details for this program.
Hammer and Chisel 60 Day Calendar
This is the one you want to start with when you first start out with The Master's Hammer and Chisel program.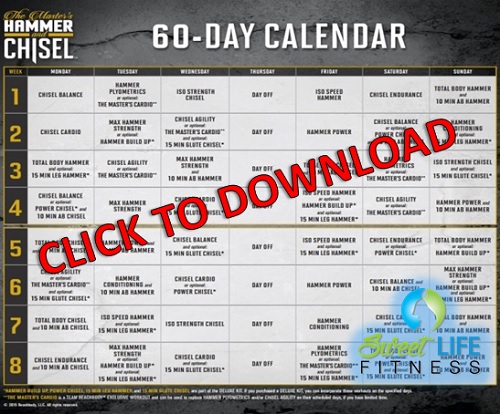 The Master's Hammer 30-Day Calendar
After completion of the 60-day program, you may use this program to focus on building muscle, strength, and power. Use it to achieve a more specific goal, or just to change the landscape of your current workout schedule.
The Master's Chisel 30-Day Calendar
After completion of the 60-day program, you may choose to follow this program to achieve greater endurance, stabalization, and maximum definition. Use it to achieve an even more specific goal, or just to change the landscape of your current workout schedule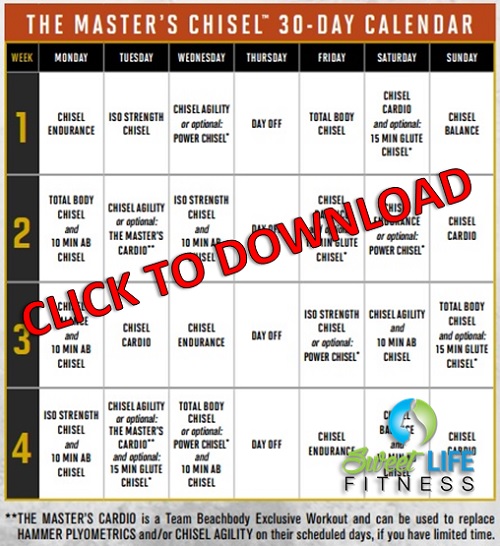 Hammer and Chisel Calendar Details – Workout Timing
So Coach Bob, how long are the workouts in this program?
Well, I'm glad you asked.
There are a total of 14 workouts on 6 DVD's.
Chisel Balance – 41:05 – A total-body workout creating stabilization, muscular endurance, and core strength.
Iso Strength Chisel – 36:39 – An intense resistance workout using isometric holds and flexibility to increase strength.
Chisel Endurance – 36:55 – Increase muscular endurance and strength in this time-under-tension workout.
Chisel Cardio – 39:00 – this cardiovascular resistance routine will increase heart rate, circulation, and burn an intense amount of calories.
Chisel Agility – 38:29 – A challenging cardio workout that will help you move quickly, improve coordination, and create greater stabilization.
Total Body Chisel – 36:04 – This full-body resistance workout focuses on creating lean muscle and strength.
Hammer Plyometrics – 26:29 – This jump training workout will use your entire body to create force, speed, and unquestionable power.
Iso Speed Hammer – 24:11 – A tempo training workout that uses speed and isometric holds to create strength and grow muscle.
Total Body Hammer – 43:48 – A hypertrophy workout focused on pyramid-style sets to maximize strength and muscle growth.
Max Hammer Strength – 36:53 – start with pre-fatigued muscle, finish with maximum lift. Increase strength, power, and muscular development.
Hammer Power – 39:10 – This intense powerlifting-inspired workout will increase speed, reactive strength, and power.
Hammer Conditioning – 30:42 – this workout is based on compound movements that will improve stability, coordination, and strength.
10 Minute Ab Chisel – 10:56 – This core-crusher will transform your midsection, without ever getting on the floor.
10 Minute Ab Hammer – 12:29 – Carve definition into your core while strengthening your entire ab complex.
Are you fired up by just reading some of them? I know I sure am!
What Equipment do you Need?
For the Hammer & Chisel, the most you need are a set of dumbbells, workout bench OR stability ball, chin-up bar OR resistance band with a door attachment. Also, I recommend getting a core comfort mat or yoga mat, especially if you workout on hard surfaces.
Yikes…Seems Intense – Can I keep up with the Hammer and Chisel Calendar?
If you are feeling overwhelmed I completely understand. In fact I felt the very same way when I first got started with Beachbody fitness programs.
But I am under the mindset that ANYONE can complete these programs. So don't be worried by the intensity. In fact, I want you to check out this motivational video I did on "Am I Too Fat for INSANITY" – Click here. While it's about the Insanity Workout Review, it applies to Master's Hammer and Chisel and much more.
YOU GOT THIS. Stand in your Power. Join me and let's rock this thing together (If you order through the link below you'll also get other free bonuses including my support and access to our private support groups).

Do you have questions about the Hammer and Chisel Calendar? If so comment below and let's chat!
Yours,
Coach Bob