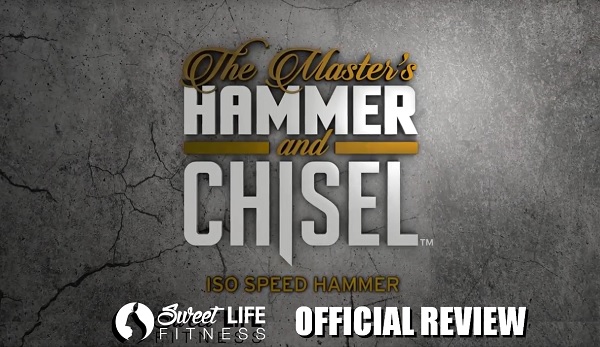 The new Master's Hammer and Chisel workout program is coming in full steam ahead! I was able to preview the two workouts with Sagi and Autumn, and today I'm sharing my Iso Speed Hammer Review.
The Hammer workouts feature Sagi Kalev, and the Chisel features Autumn Calabrese from 21 Day Fix.
The goal of this entire program? To get strength, power, and definition (build muscle and lose fat – BOOM!). Check out more at my Hammer and Chisel Review page.
Hammer Iso Speed Hammer Review Video
Check out my video as I walk you through the details of my Hammer experience today. Below I'll also share some other cool points about this particular Iso Speed Hammer workout.

What Equipment do you Need for Hammer's ISO Speed Hammer Workout?
You will need a few things to get the most out of your Iso Speed Hammer experience:
BENCH OR STABILITY BALL – I have both and actually go back and forth between them based on the move and my comfort. Personally I love the stability ball for some workouts because it helps use your core too (and it's less expensive for those of you on a budget).
WEIGHTS (Dumbbells) – I recommend getting 5s, 10s, 15s, 20s to get started right. The BEST bang for the buck is to get some type of adjustable dumbbells (big investment up front, but saves you TONS of $$$ in the long haul of buying everything separately, especially as you get stronger and need a heavier weight).
BLINES RESISTANCE BAND (or towel) – Towels are lame in my honest opinion. Do yourself right and get BLINES resistance bands.
CHIN-UP BAR (OR Resistance Bands with Door Attachment Kit) – If you suck at pull ups like I do, either get the Chin-Up Max to assist you, or get the resistance bands, which I feel do a great job on building your lat and shoulder muscles as they should! Check out my tips for pull-ups here.
In the beginning of the workout Sagi also mentions that you should use the Supplements. I do use Beachbody Performance Hydrate (and energize for the pre-workout) to help me get the most out of the energy I need in the workouts. Check out more on the Beachbody Performance Stack here.
The Moves of Iso Speed Hammer Review
First off – you MUST take some time to listen to the Hammer (aka Sagi Kalev). The dude has such subtle, but HILARIOUS, lines in this thing. Like in the warm-up as he talks about making sure you don't mess up your hair during the move…lol
The Warm-Up is focused on the resistance bands. Even using the red band (which is the lightest resistance) is beastly!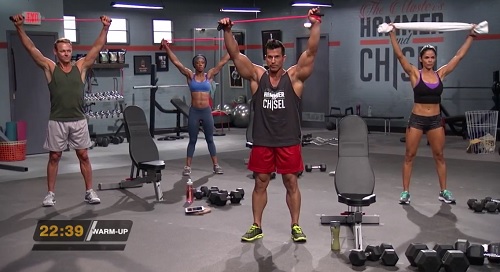 Let's pause here for a second before we get back to the Iso Speed Hammer Review. Just look at Sagi up there…he's making ALL KINDS OF GAINZ (Hodgetwins, anyone?)! Seriously though, those muscles are why he is called "The Beast", or "The Hammer". Would you want muscles that big? Comment below and let's chat.
Iso Speed Hammer Review – The Moves!
You start off with Round 1 doing Push-Ups. You start off with 10 reps of push-ups where you go down slowly on three different levels. After you are finished with the 10 reps, you do 10 fast reps without the levels!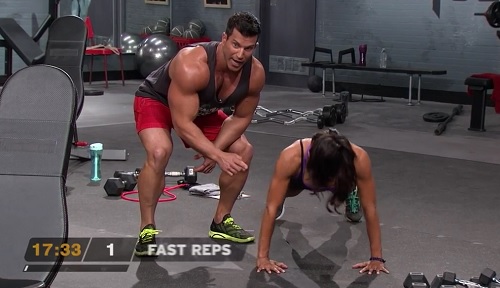 The next move is a Static Lunge, both on your left and right legs. You do the same system of 3 levels of slow lunches, followed by 10 speed lunges.
For the next move you either need a pull up bar or resistance bands. You'll be doing Chin-Ups. Basic? Simple? Not quite – you still have the 10 reps on three levels followed by 10 speed chin-ups!
The next coming moves are:
Deadlift
Side Lateral Raise
Sumo Squat
Rear Delt Cross Fly – for this move you use the resistance bands. Choose your resistance wisely!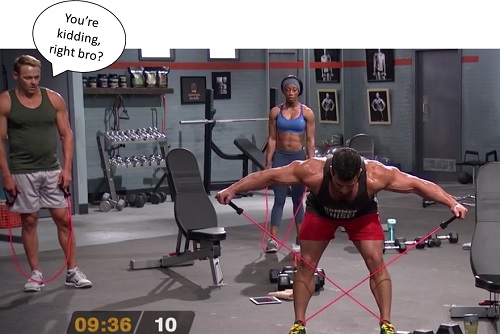 Pistol Squat (both left and right legs)
Curl Face Down (time for biceps)
Calf Raises
Tricep Kickback Twist
And then…it's COOL DOWN TIME!
Don't be a fool! Preview this thing for yourself by getting Beachbody on Demand with a Free 30 Day Trial!
Ready to get Hammer & Chisel?

Did you enjoy this Iso Speed Hammer Review? Give it a LIKE and Share below! Also, comment below and say HI!
Yours in Fitness Success,
Coach Bob