You've seen the advertisements and have thought (or maybe even had nightmares) about it: THE INSANITY WORKOUT!
This workout seems effective but may also be some type of plot to kill the world. Ever feel like that?
As a former fat guy myself, I wanted to HELP you today in answering the question: ARE YOU TOO FAT TO START THE INSANITY WORKOUT?
I hope that this post and video helps you out today. In fact, be sure to comment below with questions that you might have in regards to the INSANITY Workout, or even the newer 30 minute Insanity Max 30 workout.
Are you Too Fat to Start INSANITY Workout – Coach Bob's Video
See the video where I explain two tips on my opinion about the INSANITY Workout review.
I am passionate about helping others succeed. I've been there. I've done that. I (at the time) was too fat for the T-Shirt! But together we WILL succeed. Check out the fitness programs, or if you already have one, get my free support.
It's not about WHERE you start – it's where are you are going to GO with the INSANITY Workout…
There are two things that will kind of SUCK when you start the INSANITY Workout (just speaking real…and I know some of you will agree with me on these):
You will feel like you cannot keep up with the people on the disk. Your chubby bits flapping around will hurt, and it will be frustrating.
You will think this is TOO MUCH for you to handle (probably because you are trying to keep up with the people on the video!!)
But there is a way to still succeed. I have found the way and now it's YOUR turn to succeed. I have faith in you, I have seen others achieve greatness (see our Sweet Results page), now it's YOUR TURN my friend!!!
Before I dig into my two INSANITY Workout tips, you have to realize that the people who show their 60 day results that make you go "WOW" aren't always just 1 round. Some people do 2, 3, 4 rounds of the program (1 round = 60 days). So even if it takes you longer than others, stay focused on the goal of success!
Tip #1 – INSANITY Workout Review – You Don't Have to KEEP UP!
We get into this mindset that we have to keep up with the DVD.
You start and realize you are like….8 moves behind where Shaun T is. You get frustrated. You pause. You try to jump ahead.
Then he throws in the satanic move known as "Burpees"
You push the stop button.
You punch your TV in the face.
You throw some choice words at Shaun T.
You go to the fridge and enjoy some ice cream.
OK not lying…I have done that before. I had the idea that if I wasn't at least keeping up with the DVD somewhat, even after 2, 3, and FOUR weeks – I was failing the program.
But THIS IS NOT TRUE…..
Let me say that again: Not…True…
Your goal is to make sure that you do the BEST that YOU can do…even if that means super power turtle speed. Who cares! You WILL get results as long as you:
Tip #2 – Modify the Modifier. Do the BEST that YOU can Do!
What I like more about INSANITY Max 30 vs the original INSANITY is that Max 30 has an on screen modifier.
Don't believe me? Then check this out: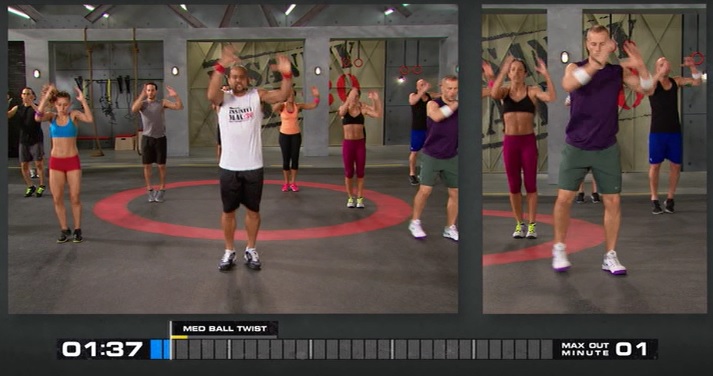 See how it is split screen with the guy on the right? He is modifying the entire workout! BOOM!
But what if you can't even keep up with him???
Then modify the MODIFIER! Yes…you can do that (just be safe, use good form, and listen to your body).
Your Goal: Within the INSANITY Workout, focus your efforts on challenging yourself with each move. As your modified move becomes easier, push yourself to do more of the real version of the move. NEVER let yourself get comfortable with a move. As you start feeling comfortable, push yourself to the next limit. The success you want lies right outside of your comfort zone.
My Final Thoughts – INSANITY Workout Review – Are you too Fat?
No one is too fat. Each day our lives get shorter, so make this day count, because EVERY DAY MATTERS!
Are you ready to get started? Choose INSANITY or INSANITY Max 30 (click the link to see the major differences). From there I'll be here to support you every step of the way.
What would I choose? Personally, I'd choose INSANITY Max 30:


Questions? Comment below and let's chat
Yours in Fitness Success,
Coach Bob
P.S. – Never begin this or any fitness regimen without first consulting with your Doctor or health professional. Certain body types may need constant supervision by their doctor before and during their INSANITY Workout experience. I am here to only motivate, but all health related concerns and issues that may arise from attempting any program falls under your own responsibility with your health professional. Be smart and be successful.