Eating clean does NOT have to be a difficult disaster!!! So many hippies and fit freaks surely make eating clean seem like some rocket science experiment. Funny enough, when trying to figure out how to eat clean, it really is one of the most simple things to do!
FOUR Simple Tips. That is what I'll share with you today, so that you can make eating clean as simple as brushing your teeth.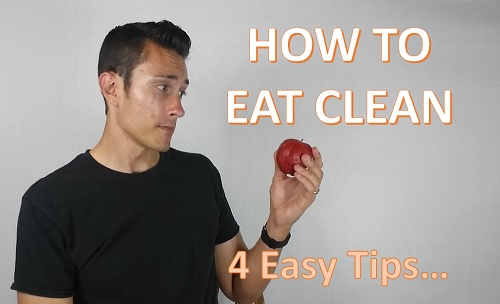 How to Eat Clean – The 4 Easy Steps to Clean Eat like a BOSS!
If you were to ask me which of these 4 tips make the MOST impact for the avid beginner, I'd recommend Step #1 and Step #3. The reason for that is, it can be applied TODAY with the stuff you should have at least somewhere around the place you call your home (and if not, it'll be easy to find at your local supermarket without a lot of investment of $$ or time).
TIP #1 – Eat Foods that are Minimally Processed
When you grab that next meal, look at the ingredients!! The ingredients are not the Calories, Fat, Sugar, etc – they are the exact ingredients that went into making the product.
The less ingredients, the more clean it is. This is because it cuts out the artificial additives, untested ingredients, and ingredients that may interact with a known (or even unknown) food allergy that adds unnecessary fat to your frame!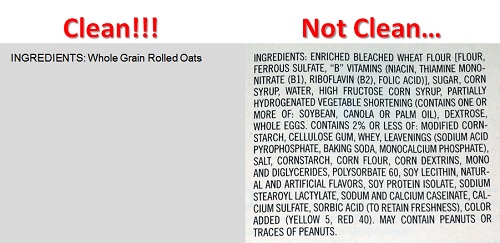 TIP #2 – Eat Primarily Plant Based
There are many studies and also information out there on why eating a plant based diet is better for your health and the environmental health. While I am NOT suggesting that you have to go vegetarian, fruititarian, or vegan…you should aim to have more plant-based than a bunch of red meat constantly.
Also, keep in mind that plants have fiber…fiber helps avoid blockage in your digestion…hello healthy stomach!
TIP #3 – Avoid Artificial Crap!!
Sounds simple but it can be tricky. The FDA and certain governments around the world often approve food companies to get away with some shenanigans on hiding artificial flavorings and additives.
SIMPLE TIP: If you can't pronounce it, don't eat it!
Those long words often mean scientifically creating materials.
Think this is a bunch of BS? I challenge you my friend:
Between 1997-2011 Food Allergies among Children have increased by just under 50%
Mic Drop.
TIP #4 – Eat Organic
This is sometimes one of the more trickier steps for some people; however how I would break down the importance of organic is:
Fruits/Vegetables
Proteins such as meats and chicken
Carbs
Start with the top as your first priority in eating organic, and work your way down.
How to Eat Clean – The Video
In this insane video, myself and some wicked woman explain the details on eating clean
GET MORE Clean Eating Tips and Strategies
This post is just the beginning, my friends. Please check out the other important tips and tricks for how to eat clean:
Clean Eating Snacks – What to eat when you are feeling "snacky"
Clean Eating Recipes – From scratch recipes you can use to start your meals off right!
The 101 Recipe Cookbook – Direct from 21 Day Fix creator Autumn Calabrese, this book gives you a WEALTH of ideas to be successful with eating clean.
Questions? Comment below and let's chat!
Yours in Success,
Coach Bob