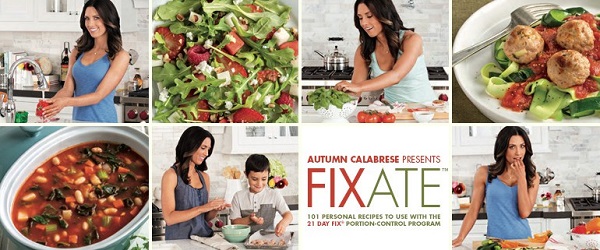 The Fixate Cookbook is now available! Grab your copy now and get 101 recipes to use with 21 Day Fix (and honestly a lot of other programs…).
Do you ever feel overwhelmed with WHAT to cook and how to save the most money?
Do you try to follow the 21 Day Fix Meal Plan or Restaurant Guide and still bang your head against the keyboard trying to figure it out?
Do you want to avoid going on a super secret, underground mission, to find special ingredients for your dinners?
Welcome to the Fixate Cookbook by Autumn Calabrese.
Fixate Cookbook – 101 Personal Recipes to Use with the Portion Control Program
The Fixate Cookbook is something both Cristen and I are very excited  about. To be perfectly honest, during my INSANITY Max 30 journey and Cristen's 21 Day Fix journey, we often resorted to the same old BORING chicken recipe each night.
Sure, it tasted fine, but c'mon people…variety is the spice of life, right?
Seriously, this cookbook has amazing recipes for everyone no matter what diet or lifestyle you choose!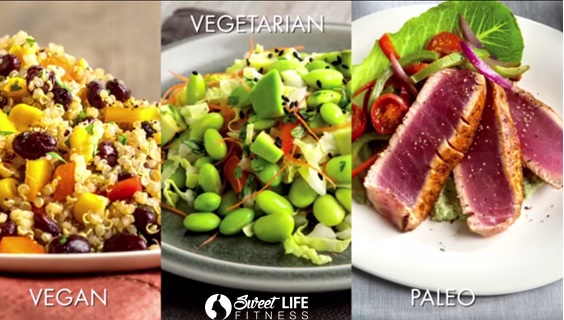 We will be using a lot of the Fixate recipes in the cookbook to have more variety to choose from while eating clean. Beyond just the great recipes, the Fixate cookbook includes options such as:
Vegetarian
Vegan
Paleo
Gluten-Free desserts
Clean Eating
I know this is going to be a HUGE win for our vegan and vegetarian friends. BOOM!
Here is just a sample recipe out of the Fixate Cookbook. I don't know about you, but just this one alone is making my mouth water a bit: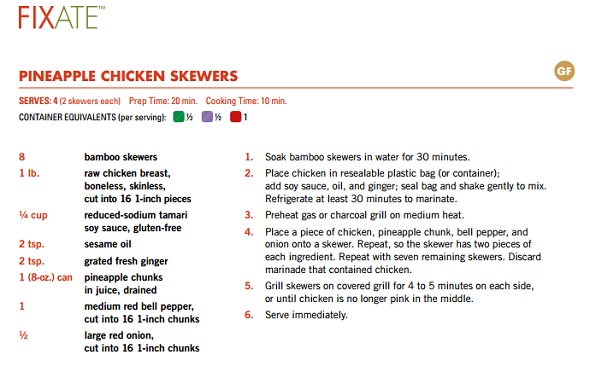 Who needs the Fixate Cookbook??
This book is magic for anyone who is super busy, has a job, school, family, friends, etc and doesn't want to spend 40 hours+ per week figuring out their nutrition. Anyone who is like Cristen and I and are TIRED OF THE SAME MEALS day after day will love the Fixate book.
Fixate is for people who…
Are BUSY and need an alternative to eating same old boring foods
Vegetarians and Vegans
People following a paleo lifestyle looking for new options
Want great tasting food that doesn't taste fake
Needs help with Meal Prep and meal planning
Gluten-Free options
Are SICK of the lifestyle of food that makes us sick
Want easy, efficient meals
Check out the video from Autumn regarding the new Fixate Cookbook:
Your Price: $25.00 $19.95

Fixate – Container Portion Control!
Fixate includes recipes that have the right portion control and are balanced. If you are focused on losing weight and being the HEALTHIEST you can be, it's important to have the right portion control. After all, you can eat as much vegetarian and/or plant-based meals and still be overweight. The right portions based on your lifestyle and goals is where the secret is hiding, and the Fixate cookbook as it all laid out very well.
Kid Approved Cookbook
I'm looking forward to seeing how our 4-year old likes the meals we will be prepping out of the book. There are kid friendly recipes and meals in the fixate book, and even Autumn as said:
I wouldn't put them in if I wouldn't eat them. My 6 year old son eats them. I'm excited about it. I'm proud of it
How does this Work with 21 Day Fix?
As I hinted at in the beginning of this page, Fixate can be used with more than just 21 Day Fix. Recently, INSANITY Max 30 has adopted the portion control containers with great success. Using the recipes in Fixate along with the portion control containers is a RECIPE for success (lol see what I did there? 😉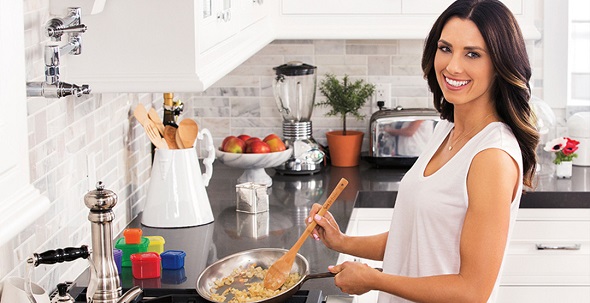 How do I get the Fixate Cookbook?
You can get it directly with the link below over at Team Beachbody. What's awesome is that the price isn't bad ($19 USD), and you can also get the containers if you don't already have them as well over on the site.
Your Price: $25.00 $19.95

Click here to Learn more about Fixate
Once you get the cookbook, stop back here and COMMENT below with your favorite recipe from the book!
Yours in Success,
Coach Bob
P.S. – I am looking for new leaders to help me end the trend of obesity. Work part time in your spare time with something that is FUN – click here to learn more.