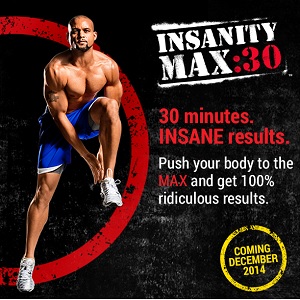 I am excited because the NEW INSANITY program is now available! Are you fired up to try a new INSANITY? In this post I'll be showcasing the INSANITY Max 30 Release Date details and a quick review including a comparison of INSANITY vs INSANITY Max 30 to see if this is right for you based on your goals.
INSANITY Max 30 Release Date details Video Review
INSANITY vs INSANITY MAX 30 – Quick Review and Overview
The big question I'm already getting is: What is the difference between INSANITY and INSANITY MAX 30 and is one harder than the other? In the bullet points below I'll explain some of the details between both for you!
TIME: INSANITY Max 30 is only 30 minutes, but the original Insanity is anywhere from 45-60 minutes per day.
TOTAL LENGTH OF PROGRAM: Both are 60 day programs focused on endurance training. They are also both on a 6-day schedule.
INTENSITY: So which one is more intense? OK folks…we are talking about INSANITY here…they are both INSANE. But the big difference is INSANITY Max 30 means you push yourself to max (aka, Failure to the point where you have to RECORD your time that you failed – this is huge for improvement). 30 minutes per day doesn't mean Max 30 is easier or less impactful than INSANITY…in fact, we'll soon see how it lives up to possibly exceeding in it's effectiveness compared to the original INSANITY.
Another great benefit? You can FREEZE Frame the modifier! This is HUGE and offers you a chance to follow along throughout the entire workout, as I mention above in my video review: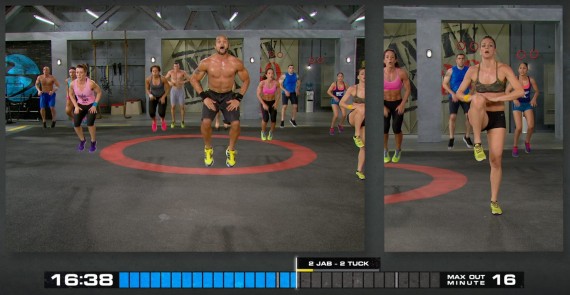 INSANITY Max 30 Release Date Details and List
INSANITY Max 30 Release Date is now available! Come join our private online support group today. Click the button below to get started today with your INSANITY Max 30 Review:


For more information on INSANITY Max 30, check out the INSANITY Max 30 Details on this page.
Yours in Success,
Coach Bob
P.S. – I'm looking for leaders who want to build an income part time at home with P90X, INSANITY, and Beachbody. Sound like you? First, Learn More here!