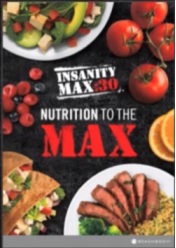 If you are looking for a plan that is easy to follow and doesn't require a ton of calorie counting madness, then you'll be pleased with the INSANITY Max 30 Nutrition Plan. I was excited from when this program was first announced that it would take on a similar approach to the 21 Day Fix Meal Plan.
In this post you will get the three steps necessary to succeed with the INSANITY Max 30 Nutrition Plan. This nutrition plan is easy, and I have seen the importance of success (In week 1, I lost 8 pounds of body fat!). The secret, as you'll see in this post, is about dialing in and nailing this plan daily.
INSANITY Max 30 Nutrition Plan Video Walk-Thru
Hate reading? Check out the Max 30 Nutrition guide video walk-thru instead!
INSANITY Max 30 Nutrition Plan Step 1
The nutrition guide made it fairly easy to determine which plan to follow. Simply put:

*IMPORTANT NOTE: This plan focuses on cutting body fat/losing weight. If you aren't looking to use this program in conjunction with weight loss/temporary body fat cutting diet, first focus on your Calorie Needs in this post, and determine your macros manually, and last but not least, plug it into myfitnesspal.
INSANITY Max 30 Nutrition Plan Step 2
The second step is to take the plan that best fits you in Step #1 and plug them into the daily food chart. Here is the daily food chart for your reference: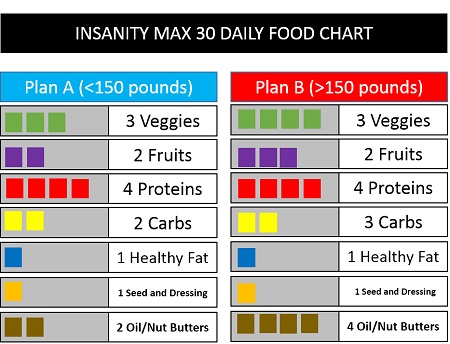 You may ask yourself, why the split on all of these foods? At least, this is something I asked myself. In the past, I only focused on hitting my major macro nutrients each day (Protein, Carbs, and Fats). As long as I hit it would be A-OK.
But now that I have been following the INSANITY Max 30 nutrition guide for 3 weeks now, the balance is AMAZING. I have a new found energy, and feel so much better than before with the appropriate balance of fruits, veggies, and proteins. Be sure to track your food each day with the Daily Food logs that you can download here:
=>Click to download your INSANITY Max 30 nutrition food logs<=
Notice how the log above has colored boxes? This is meant to go along with the portion control. This is what I personally use, and if you don't yet have them, you can get the container system here for a good price. This helps ensure you aren't eating TOO much (too much healthy can also work against us!).
INSANITY Max 30 Nutrition Plan Step 3
The INSANITY Max 30 Nutrition Plan suggests that you eat 5 meals per day in Step #3 of the guide.
Simply: Breakfast, Lunch, Dinner, and two snacks. It is up to you how often you eat, but the guide suggests spreading this out through the day and have a balance at each meal. Here are some pointers on why this is important:
Regulates Blood Sugar/Insulin Response: This is a huge deal and why most people struggle with fat loss. When you spike your insulin with a large amount of food all at once (aka skipping breakfast and having a large lunch or dinner), your body stores extra surges of sugar as body fat. Eating small meals that are balanced every 2.5-3 hours helps keep insulin response level.
Avoids Hunger: Keep in mind that hunger can be a good thing and happens when your body is changing. BUT, eating balanced meals 2.5-3 hours can help keep that hunger feeling at bay a bit.
Ok, but I'm TOO Hungry (or too Full) – What do I Do??
It all depends on where you start out. There may be times that you need to add or subtract foods if you are either too hungry or too full. Check out
these general guidelines:
Add (+) Foods If you:
Lack energy during your Max 30 Workouts
Feel tired or dizzy throughout the day
Are losing too much weight too quickly
Subtract (-) Foods if you:
Are not very fit (yet) and can't give 100% intensity in your workouts
Modify most of the workout
Are not losing weight
So here are the necessary steps as discussed in the INSANITY Max 30 Nutrition Plan:
STEP 1 – Add (or Subtract) a FRUIT

Fruit is where you begin. It is natures energy and natures candy! Add one fruit and it can help you push through in the workouts and reduce hunger a bit.

STEP 2 – Add (or Subtract) a Carb or Protein

Carbs are great for energy and protein is good if you aren't as active outside of your Max 30 workouts. You can always try one or the other out and see which one helps you feel better. Of course, what I highly recommend (because it has HELPED me) is Shakeology. That adds a protein into the diet and gives you vitamin balance as well.

STEP 3 – Add (or Subtract) Veggies

Veggies are legit. LOL. You can add veggies and really can't go wrong (plus they are generally low in calories anyway). So start by adding one to any meal and go from there.

STEP 4 – Add (or Subtract) another Protein or Carb

If you are still feeling woozy after Steps 1-3, add another protein or carb source and see if that helps (really monitor your daily activities, how your feel through the day, and your hunger to assess if this is necessary at this step).

STEP 5 – Add (or Subtract) Healthy Fats or Seeds & Dressings

This is last on the list because these help with the essential dietary fat that is needed both for calories and balance. Don't add or subtract these unless absolutely necessary.
Are you doing INSANITY Max 30? MAX OUT with the Team Sweet Life Community
Since 2013 we've helped each other get the results we deserve with Beachbody's fitness programs. Click the link below to learn more about how you can team up with us! Anyone on the team gets access to our private community for additional tips, motivation, and support!


Yours in #IMAXEDOUT Success,
Coach Bob
P.S. – If you found value out of this INSANITY Max 30 Nutrition Plan post, share it on your favorite social media network like Facebook or Twitter today!