One week of the Perfect Storm Hybrid is completed. While I didn't do a vlog for every day, I did want to make sure I wrapped up the week with the good stuff! That is: MAX 30 Friday Fight Round 1 VLOG!
Friday Fight Round 1 is no joke at all. In fact, there are very few breaks (I think 2 or 3 at tops?) that are only a few seconds long. It pushes you past your limits.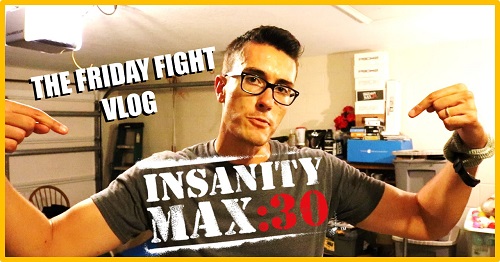 Max 30 Friday Fight Round 1 VLOG
From my initial transformation and INSANITY Max 30 Review <= click to learn more, I've come a LONG way. I've tried a few other programs such as 22 Min Hard Corps (which was super fun) and also a few weight lifting exclusive programs.
But ladies and gentlemen…
There is NOTHING like a good butt kicking PERFECT STORM workout. Seriously!
So today is the VLOG of the day, enjoy it, share it, love it, and COMMENT! I want to hear from all of you, especially if I can help you out in getting the RESULTS they deserve, and living YOUR Sweet Life!
That's it for today friends…
KEEP MAXING OUT!
Yours,
Coach Bob