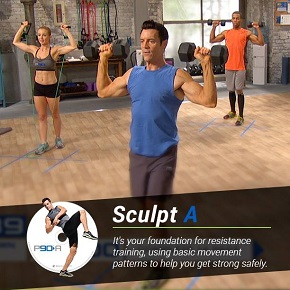 Onward to our P90 Sculpt A Review from the newer P90 workout program. If you thought P90X was too hard and you are looking for a legitimate starting point that isn't too easy yet not too challenging, will P90 do it? Today we will touch on that in our P90 Sculpt A Review video below.
I have to personally admit that I wasn't sure if P90 was going to be worth the time or money. After completing P90 Sweat A on our very first day, my mind was decided. P90 IS actually a good and legitimate starting point. I really wish it was available when I first started with P90X (I struggled a LOT, see my P90X Review). Beyond just the "starters" approach, I think this is also a good program to consider if you are looking to maintain your fitness results without consistently beating up your body with the harder programs.
P90 Sculpt A Review – Our YouTube Video Review
Check out our YouTube video review for more information on P90 Sculpt A! Also see the details on whether P90 is a good program if you thought P90X was too hard to start.
P90 Sculpt A Review – What was this Workout all About?
First off, it was a BEAUTIFUL day here in Florida when we did our P90 Sculpt A workout. We decided to open the garage door (where we normally do our workouts). There is something about sunlight and warm yet cool brisk days that just gives you a boost of motivation and positivity about life.
With Sculpt A I found a few things that I absolutely loved. Here are just a few:
Ease of Moves – The moves are challenging but yet they aren't insane. I think about P90X and how fast they move from exercise to exercise. With P90 there is a gentle approach to each move.
NO Pull Up Bar Needed – With P90 you use the resistance bands and the provided door attachment. You do not need to buy a pull up bar and struggle. Build yourself up to success versus getting so darn frustrated!
Short Workout – So far Sweat A was 25 mins and Sculpt A was right around 28 minutes long. I LOVE the effectiveness of a shorter workout that still gives you results. This is also the best when it comes down to a busy day with little to no time to workout for 60 mins a day.
Preparing you for P90X – For those of you who read up on my P90X3 journey, P90, I feel, gets you ready for the advanced moves of the "X Series". You can absolutely lose weight and look AMAZING with P90, and then take it to the next level with something like P90X or P90X3.
What Equipment Do You Need for Sculpt A? – P90 Sculpt A Review

Luckily you do not need much equipment!
Resistance Bands with Door Attachment – Already comes in the P90 kit!
Resistance Bands OR Dumbbells for the Resistance Moves – here is what is SUPER cool: for dumbbells, if you want you can go light or heavy depending on what you want to do. I chose 15 pounds and Cristen used 8 pounds. It is totally up to your fitness level if you use dumbbells.
Jump Mat or Yoga Mat – If you have a tile or concrete floor your needs might hurt for the push ups or the pull down moves where your knee is on the floor.
Join us for P90 and get free support and motivation:


What are some of the moves in this P90 Sculpt A Review?
1/2 Push Ups – You do not have to do full push-ups in Sculpt A. Tony even mentions through Sculpt A that he is preparing you for Sculpt B and C by building the foundation.
Skier Squats – 16 reps of squats that are form focused on skiing. Tony does pause when you are squatted down in between a few of the reps, so be ready for that!
 Standing Curls – As I mentioned in above in this P90 Sculpt A review, what I love about this program is the instructional information it provides. In moves such as the Standing Curls you put your leg forward. The reason this is important is that it protects your lower back from lower back pain issues. Brilliant as I tend to struggle with lower back pain from time to time!
Step Back Lunges – Whew this works the quads quite a bit! If you struggle with balance issues or leg problems, remember that focusing on your leg muscle development will help you improve balance (and that is a GREAT thing!)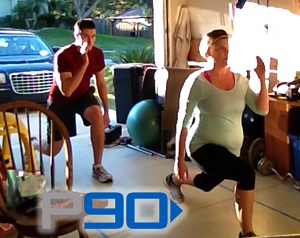 If you are doing P90, come join us for free! You can Join Sweet Life Fitness for free and get access to our online community to help support your quest for the results you deserve!
Thanks again for checking out our P90 Sculpt A Review. If you found value out of this post, share it with others by using the social media buttons below.
Yours in Fitness Success,
Coach Bob
P.S. – Get paid to get fit with the makers of P90 and P90X. Check out our Free Webinar to see who we are looking for on the team.