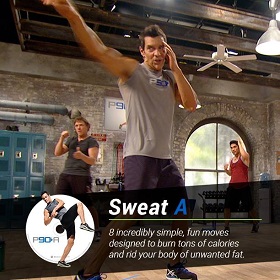 Thanks to Beachbody, we were able to get the P90 program delivered to our door recently. Today we are doing a P90 Sweat A Review and Ab Ripper A Review. Some of the biggest questions I get surrounding the P90 Workout Program is:
Is P90 a better start for people who can't do P90X or P90X3?
Is P90 too easy?
What are some of the moves that you do in things like P90 Sweat A?
We'll answer all of those questions in this P90 Sweat A Review and Ab Ripper A Review.
P90 Sweat A Review and Ab Ripper A Review – Our Video Review
Check out our video review on our first experience with P90 Sweat A.
P90 Sweat A Review
To start off with our P90 Sweat A Review, here are the good things to know:
Only 25 minutes long
8 simple to master moves that burn a good deal of calories and body fat
No real equipment needed
What you DO need: Tape. Blue painters tape would work best and align it as an "H" (see the "How to Hit it" DVD that comes with the program to get the details).
This is another workout that proves you don't need to spend hours working out to get great results. I was SO excited to see only 25 minutes for this particular workout.
One important tip that we wanted to mention is the "H" with the blue painter's tape (or any similar tape). Tony Horton uses this as a guide/marker for a lot of the different moves within P90 Sweat A, and of course I was a clown and decided not to use the "H". Trust me, the H is important and will help make sure you are doing the moves the best way.
There are a total of eight (8) moves that you do twice during the 25 minute Sweat A Review workout. Some of our favorites, as noted above in the video, were things like the Lateral Runs, Fast Feet, Hook Upper Elbow, and the knee pulls (super fun!)
The one move that I really was concerned about, thinking of someone who is just starting out is: SPRAWLS (sprawls are the moves that were in the recent P90X3 MMX workout).
Let's face it; these are not an easy move (even for someone who is relatively fit). I would definitely follow the modifier here if you are just starting on your fitness journey (that is OK!). In fact, even if you can't do the move on the floor at all, go back into a lunge. Your GOAL in order to get results is to NOT keep up with Tony and everyone all the time. The best is to PUSH yourself outside of your comfort zone daily and do the very best YOU can do!
P90 Ab Ripper A Review
Immediately following P90 Sweat A is the Ab Ripper A workout. I was super excited about this one also. Why? 8 minutes long.
Seriously, time is no longer an excuse not to workout in my house!
I was a bit skeptical on if I would get a good ab workout in only 8 minutes, but much to my surprise (again…), it was legit!
There was one point in the P90 Ab Ripper A that made me really laugh:
How Old is that one guy? (Cristen: He said he was 52). 52!?!?! *Immediately I work 10x harder*
My biggest tip to everyone is to really focus on your CORE (abs) and not your lower back. I have a tendency to focus on my lower back during ab workouts and it just messes me up (have some lower back pain? Check out these tips to prevent lower back pain)
P90 Sweat A Review and Ab Ripper A Review Final Remarks
I actually ENJOYED this workout. I never thought I would say such a thing, but it's true. Instead of beating up myself as I tend to do with the extreme programs, this one was highly effective and still made me feel like I was burning fat!
If you aren't on a fitness journey yet and aren't ready for the extreme, come join me and the Sweet Life Fitness group with your P90 program. I coach everyone for FREE and help you get the results you deserve with my online support. All you have to do is get the program!
Keep rocking out with P90 and we'll see you next time!
Let's HIT IT,
Coach Bob and Coach Cristen