I must say I'm excited to share this P90 Workout Review with all of you! As you know, we often talk about P90X, and my recent P90X3 Journey here on Sweet Life Fitness. But now I am SO happy to have something that isn't old school (like the original "Power 90") and provides a smart and effective approach for first time fitness-goers (I sure wish I had this when I first started!).
I speak to a lot of people who are interested in something like P90X3, but aren't sure they are ready for it yet. But where do you begin? Walking or using the elliptical is boring (in my honest opinion), and won't get you the results you deserve. P90 is the onset to fitness, and can prepare you to tackle the world (and P90X, P90X2, and P90X3!).
Ready to get P90 and join our FREE online support group? Click Here to See the P90 options
P90 Workout Video Review
In this video, you'll see what makes the P90 workout valuable for people looking for that first step into getting in shape!

And now, I present you with some frequently asked questions about P90! Please be sure to comment below if there is a question that you have that has NOT been answered!
How LONG is the P90 Workout?
P90 is a 90-day fitness program, separated into three separate months. Each month you will progress to help you lose weight and get the results you deserve. Even more exciting, in as little as 25 minutes per day you can get your P90 workout in, and be done for the day!
What kind of Equipment do I need for P90?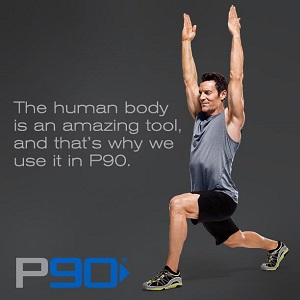 The body is a beautiful tool, and that is what you use in P90! You will use different moves without hauling around a ton of weight. The only real things you need is:
A light set of weights (dumbbells, 5s, 10s will do)
Resistance bands (great alternative to dumbbells too, and serve as your back workout so you don't have to do the bloody pull-ups!)
Towel and Water (cheap and practically free anywhere LOL)
Wait…Isn't P90 just the Old Power 90 program?
This is a popular question, and it is a GREAT question. Power 90 was the original program that came out way back in 1999. A LOT has changed since then.
Seriously, it's intelligent to take what Tony learned over the years in making P90X-P90X3 and make a smarter beginner program that can help someone change their life. That is what the P90 program serves to do.
So no, this isn't the old school Power 90 program. Instead, it is a redefined introduction to fitness.
What are the Results with P90 and is it really for everyone?
This is for anyone at any fitness level and any age. You don't need to be young and fit. You can be older, you can be doing a program for the very first time. Or, you could be someone who IS fit and doesn't want to do the extreme programs like P90X.
Here are some typical results from the program. Obviously results may vary, but this is a great opportunity to see what to expect:

P90 Workout Review – Get your P90 Workout with FREE Added Support
You are NOT alone. All P90 program purchases come with FREE Support and bonus workout DVDs just by ordering from Coach Bob here at Sweet Life Fitness. I can't wait to help you achieve the results you deserve!
BEST VALUE – P90 Challenge Pack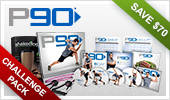 Want undeniable results? The P90 Challenge Pack is the best value to get both the nutrition and the workout program combined. You'll also save on shipping and receive a FREE bonus workout in the package (P90X3 Dynamix). Now you don't have to go to the extreme to get dramatic, visible results! Tony Horton's all-new 90-Day Body Transformation for EVERYONE features workouts that are simple, doable, and made to change your body right away—regardless of your age or fitness level.
Your Discounted Price: $180


P90 Base Kit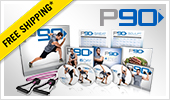 The P90 Base kit will come with all three phases of the program, the meal and fitness plan, and the two FREE bonus workouts that you don't normally get otherwise.
Be sure to check out the details on the next page to see all of the other goodies you get with the P90 Base Kit.
P90 Deluxe Kit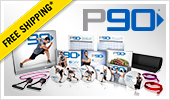 You get everything in the P90 Base Kit, designed to give you dramatic, visible results—plus three additional shorter workouts for when you're short on time, results-enhancing tools that take your workouts to the next level, and an additional FREE bonus gift. That's how the Deluxe Package makes it even easier for you to get results!
Last but not least, the MOST important part about the P90 Workout is the support. On Team Sweet Life Fitness, I don't just let you buy something and deal with it. You get put into our Private Facebook Group, you get support, you get the RESULTS you DESERVE. Once you get on the list and get your program (or any program within Sweet Life/Team Beachbody), I'm here for you. You are NOT alone!
Yours in Fitness Success,
Coach Bob