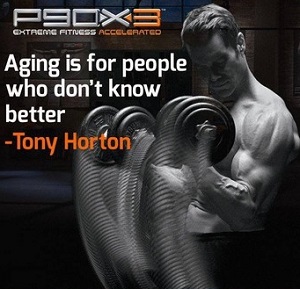 P90X3 can be a great program to get in shape. With only 30 minutes a day, time isn't a problem anymore like it was with P90X. But, in order to make sure you are ready, do the P90X3 Fit Test first. In this post I'm going to walk through how to do the P90X3 fit test.
It is so important to track your progress. If you flip to page 22 of the P90X3 fitness guide, you'll find the fit test. You will put down what you are capable of doing  in the beginning. Then, when it's all done, you can see how far you've come!
Also, you can use this P90X3 fit test to learn more about if you are ready for P90X3. If you feel that you need more work before jumping into X3, consider a good starter program like Power 90 or Focus T25.
Tools to Start your P90X3 Fit Test
You'll need a few tools to start the P90X3 Fit Test:
Stopwatch and heart rate monitor
Body fat tester or caliper
Tape measure
Scale
Partner to record the data
Chin-Up Bar
Dumbbells or Resistance bands
Towel
Water
Click for more information on P90X3 Equipment.
P90X3 Fit Test – Step by Step Guide on How To Do It Right
To see how to do some of the moves in the fit test, use the video I have posted below. Within each move I have the suggested target. Do NOT get discouraged if you don't hit the target. If you are significantly below all targets, you may want to consider a different program, but if you meet at least 50% of the targets you'll be quite alright!
1. Take Your Resting Heart Rate
This is the easiest move! I suggest laying on a bed for 2 minutes and chilling. After 2 minutes, see what your heart rate is (beats per minute). That is your resting heart rate. I strongly suggest a Heart Rate Monitor to ensure you aren't trying to figure it out with the old school wrist method (math…ugh).
2. Warm-Up
Take about 10 minutes to warm up. Jog, march in place, do some low-impact jumping jacks.
3. Pull-Ups
Don't let this one stress you out. Pull-ups are difficult at first. As you progress, you will improve. (See my YouTube Video for Tips on Pull-Ups). Just do as many as you can until FAILURE (Failure = when your body can't physically do another one. Don't let your mind rule on the failure concept. It will hurt, but your body must tell you when to stop, not your mind).

Guys: 3 Pull-Ups (but you're fine if you only did 1/2 of one like I did….)
Girls: 1 Pull-Up
4. Vertical Leap
All you have to do for the vertical leap is stretch your arms up, record that height. Then jump (without huff an puff) and record that height. The difference between the two is your vertical leap (refer to the video for more info).

Guys: 5 inches
Girls: 3 inches
5. Push-Ups
Do a normal push-up while keeping your body straight. Lower your chest to the floor and back up. If you want, you can choose to do these on your knees if you struggle with push-ups.

Guys: 15 push-ups
Girls: 3 push-ups (or 15 if you use your knees)
6. Toe Touch/Flexibility Test
If you are tall like me, you'll learn to hate this one (haha). Sit on the floor with legs fully extended. Bend forward at the waist and extend your arms over your legs toward your toes. Don't bend your knees. Record the distance your fingers reach past your toes. If it's past your toes, use positive numbers. If you can't reach your toes, record the inches as negative.

Guys & Girls: no less than -6 from your toes.
7. Wall Squat
Place your back flat against a wall. Then, lower you body into a seated chair position (think of a 90-degree angle when doing this move). Wait until failure, which means your butt literally hits the floor. Don't scoot yourself back up, because if you do, you technically could have more time on the squat.

Guys & Girls: You should be able to hold the wall squat for about 1 minute.
8. Bicep Curls
Good old fashioned bicep curls! Men should use 20 pounds minimum, and girls should aim for a minimum of 8 pounds.

Guys: 10 curls with 20 pounds
Girls: 10 curls with 8 pounds
9. In and Outs
Use the video below if you aren't sure the right move for this workout. You start seated with your hands on the floor at your sides. Raise your feet off of the ground and bring knees toward your chest. Straighten your legs back out and repeat movement without feet touching the floor.

Guys & Girls: Should be able to do around 25 in and outs.
10. Heart Rate Maximizer
Get ready to huff and puff here. You will do 2 minutes of jumping jacks at a steady pace. But, for the final 30 seconds, go crazy! Maximize your heart rate with this effort. Then, record your heart rate immediately after the jumping jacks, then 1 minute after, 2 minutes after, 3 minutes after, and 4 minutes after. This won't seem like much now, but wait until day 91, you may just be surprised.
P90X3 Fit Test – Video Walk Through
Check out my video walk through of the fit test as well. Then, feel free to peek into my Fit Test Day 0 results (trust me, they are not impressive by any means).
P90X3 Fit Test – Coach Bob's Results
Here are my results from my P90X3 Fit Test. I have a lot of improvement that needs to happen. But after a year of cardio-based workouts, it's time to get built!
Resting Heart Rate: 85 bpm
Pull-Ups: 1/2 (yup…)
Vertical Leap: 7 inches
Push-Ups: 13
Toe Touch/Flexibility: -11 inches
Wall Squat: 1 minute 9 seconds
Bicep Curls: 15 reps / 25 pounds
In and Outs: 25
Heart Rate Maximizer: 171 bpm, 129 bpm, 111 bpm, 110 bpm, 103 bpm
Thanks for visiting and check out the P90X3 Fit Test Guide. For more tips and tricks, join me and the Team Sweet Life coaches over on Team Beachbody (Click here to get your free account).
Yours in P90X3 Success,
Coach Bob Sharpe