Today I'm excited to share my P90X3 Results with all of you. If you have followed my P90X3 blog for anytime, I want to first thank you, and hope that it brought value to you in your current (or future) X3 journey. But this is NOT the end of the awesome P90X3 journey!! I will continue to post new tips, tricks, and of course results from those who are in (and will be  in the future), our P90X3 online support group!
I'll start by sharing my YouTube video on my P90X3 Results. Afterwards I'll share the details on my P90X3 transformation numbers including the stats and what I did from nutrition and eating.
P90X3 Results Video Review
Here is my P90X3 results video that I posted to my YouTube channel:
P90X3 Transformation Stats and Details
Here are the stats and details behind my P90X3 results:
Weight – 201 / 200: Yes, I only lost 1 pound from doing P90X3. Judging by the pictures below, doesn't it look like I would have lost more? This is why I don't suggest using the scale as your point of measure!!
Waist – 39 / 33.5: YAY! Lost 5.5 inches on my waist. I personally think this is the best place to start tracking your progress (vs the scale). After all, we are after body fat, right?
Hips – 38 / 35.5
Chest – 39 / 37.5
Body Fat – 16% / 11%
NUTRITION
For P90X3 I followed Plan E (2700 calories) on the P90X3 nutrition guide. Trust me, I know it sounds insane to eat so much, but it helps. As your body burns fat, it needs food to fuel the source to become more efficient (as long as you are CONSISTENT with your daily workouts).
For the program, I followed the macronutrients of 30% protein / 40% carbs / 30% fats and used MyFitnessPal to track my daily eating. For VICTORY WEEK, however, I adjusted my eating. The reason I did this is because the final week of the program is not as intense (so you don't need as much energy from calories and carbs). Secondly, this is a good way to flush any excess stress hormones and water weight from the body for the final photo. For victory week I did: 1900 calories at 50% protein / 20% carbs / 30% fats.
I still have more body fat to lose, but I remember that I am in competition ONLY with myself. I will continue to push play on my Beachbody Workouts every day to live a healthy and fulfilling life.
P90X3 Results Photos
Here are my photos from my P90X3 transformation journey: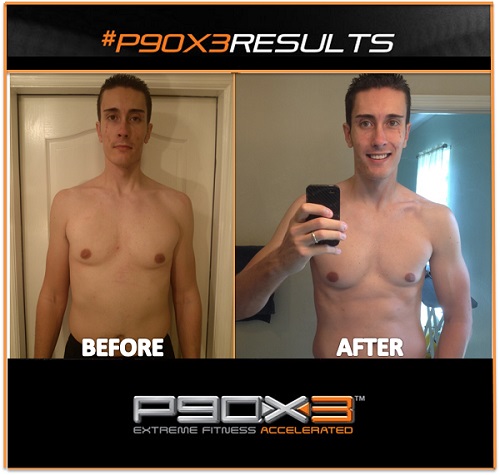 The Journey Continues – Join us on YOUR P90X3 Transformation
I am here to help you as your Coach. From motivation to nutrition to being here for your questions!
Team Sweet Life Fitness hosts an online support group thru Facebook for your P90X3 (and many other programs) transformation. You do not have to do this alone, and we are here to help you get the results you DESERVE!
Check out the P90X3 package by clicking the link below. My best recommendation is the P90X3 Challenge Pack since it has the best value and you get the nutritional shake (which I use every day). Once you get your P90X3 package, I'll give you access to our online group for free (of course…all of my coaching and website is here for you for no charge!).
Thanks for checking out my P90X3 results. Now onto my next big transformation journey with Body Beast!
Yours,
Coach Bob