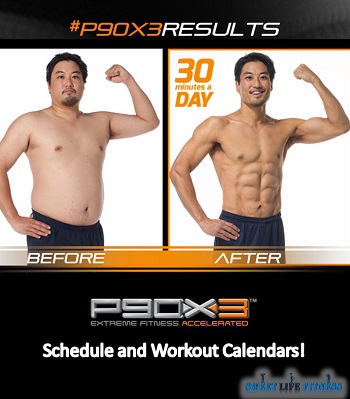 When it comes to the P90X3 Schedule, there are four different plans you can choose from. On this post I'm going to share the FREE PDF downloads of the different P90X3 schedules. I'll also share some insider tips along the way on the P90X3 workout program.
P90X3 Schedule – Your Choice: Classic, Lean, Mass, Doubles
There are three phases, or "blocks" in P90X3. Each block lasts around 4-5 weeks. Depending on which P90X3 schedule you choose, you will do a variety of different workouts in each block. Below are the different PDF P90X3 Schedules along with a brief description to help you decide! If you are in search of the P90X3 Worksheets, Click Here.
P90X3 Classic Schedule (Download It Here) – This is the program that I follow with my P90X3 journey. It is total body fitness. If you are looking for all around good results, including fat loss, muscles, toning, and getting ripped, this is the schedule for you. This schedule is for beginners to elite. Don't worry if you haven't done a program like this before (or in a while), it will introduce you well.
P90X3 Lean Schedule (Download It Here) – The Lean Schedule does not mean it is easier and better for weight loss. The Lean P90X3 Schedule is designed for those who want a more toned look. Keep in mind, if you are skinny and hoping to "round out" your muscles, you will need to build muscle first. In this case, I'd recommend the Classic Schedule.
P90X3 Mass Schedule (Download it Here) – This is a new schedule that we haven't seen before in P90X and P90X2. This schedule is for those who are looking to bulk up versus get ripped. This usually isn't the goal of most people in P90X3 (I would recommend Body Beast); however, this program can help you get there! Keep in mind that each set should be no more than 6-15 reps to ensure you consistently build muscle. Also, be sure you eat a LOT of healthy, lean protein and food. For women I would recommend Plan D, and for Men Plan F at minimum using the P90X3 Nutrition Guide.
P90X3 Doubles Schedule (Download it Here) – According to my man Tony Horton, P90X3 Doubles should only be done after you completed a round of P90X3 successfully. More isn't always better. But in the case that you have done X3, feel like a champ, and need an advanced challenge, the Doubles Schedule is here for you!
Also, don't forget to pick up your Elite Block, the advanced P90X3 training after you're done!
Got your P90X3 Workout Schedule? Now Get your X3 On with Us!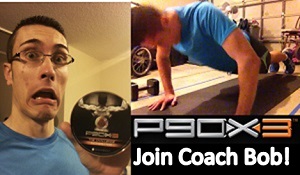 Which version of the P90X3 Schedule are you doing? Comment below and let me know!
Also, be sure to join us on your P90X3 journey. If you don't already have P90X, get it HERE with free bonuses when ordered.
If you already have your copy, join me and let's keep each other motivated, and I'll help Coach you through the program – Click Here for your Free Account.
Thanks for stopping by Sweet Life Fitness and getting your P90X3 Schedule
Yours in Fitness Success,
Coach Bob Sharpe
P.S. – I'm looking for leaders with Passion! If that's you, learn more about joining Team Sweet Life Coaches.