The WAR continues between what will get you the BEST results. What you DON'T KNOW about the difference can hurt your fitness results!! So, Today, let's do an official Sweet Life Fitness review of P90X3 vs INSANITY Max 30 – which one will get you the results you want?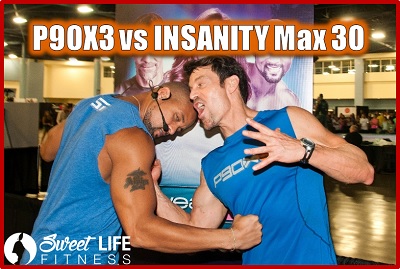 30 Minutes Each. It's like the express rendition of our original P90X vs INSANITY post, which got a lot of great questions and success stories. Just like the original, if you choose the WRONG PROGRAM, you might regret it! It really depends on your goals, preferences, and what you will like best.
Let's get started!
P90X3 vs INSANITY Max 30 – The Basics
Before we get into the TWO things you should know about P90X3 vs INSANITY Max 30, let's first take a look at the basic differences between the two: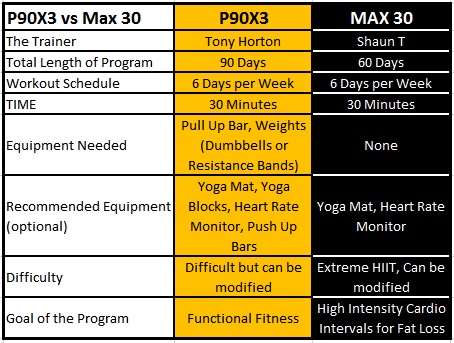 Now that we know the basics, let's talk about the two steps to determine which one is best for YOU!
#1 – What do YOU Like to Do? What Do you Prefer?
When it comes to exercise, you may just HATE it in general. That is OK. But think about your goal. Think about what you want to achieve. Are you looking to lose body fat? Building muscle? Both?
How Much do you LOVE (or hate) Cardio workouts? Does the idea of running and cardio make you happy or suicidal?
How much do you LOVE (or hate) lifting weights and doing push-ups and pull ups? If you got excited about this #2 bullet point, keep it in mind. If you went running away, come back and sit down, focusing on the #1 bullet point above.
If you like Bullet #1, INSANITY Max 30 might be a better fit. If you like #2, P90X3 would be a better fit. If you want a mix of BOTH, then certainly P90X3 would win as well.
#2 – What is YOUR Level of Commitment?
Would you rather go easier and have a well-rounded approach to fitness? Things such as:
Weights
Cardio
Yoga
Pilates
Stretching
Or, would you rather kick ass and take names right from day one? Things like:
Intense Cardio
Bodyweight Exercises
Burning a TON of calories in a short period of time
No breaks to catch your breath
If you were excited about the top bullets, then P90X3 would be best. If you like the second set of bullets, INSANITY Max 30.
BUT WAIT….
One last thing to consider is equipment. If you have no room or budget for equipment needs (see the comparison chart above), then you may want to consider INSANITY Max 30 because of the No Weights option. Or, something lighter like 22 Minute Hard Corps.
Ready to get started?
Get P90X3 with Free Bonuses | Get INSANITY Max 30 with Free Bonuses
P90X3 vs INSANITY Max 30 – The Video Review
It's Time for YOU To Decide: P90X3 vs INSANITY Max 30
You've seen the details. You know the reviews. Now it's GO Time!
I'm here to support you every step of the way. It's my goal and my vision in life. Check out the Sweet Results for just a small glimpse of the results from the Sweet Life Fitness community.
Now, it's your turn, my friend.
Click the link, get your program, indicate me (Coach Bob) as your Coach, and you'll be invited into my private online support group. Every step of the way we will help you with the resources you need to SUCCEED….and land your spot of fame on the Sweet Life Results!
Get P90X3 with Free Bonuses | Get INSANITY Max 30 with Free Bonuses
Yours in Fitness Success,
Coach Bob