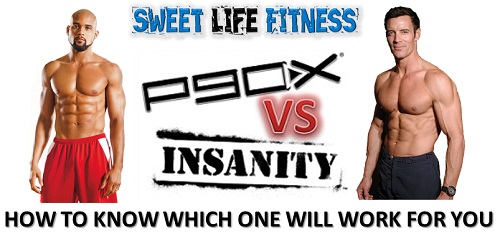 If you are ready to start your next at-home workout program, and have heard all about P90X and INSANITY, I have created this page to help you! When it comes down to deciding which one is better, P90X vs INSANITY, it's important to know WHY these programs are quite different.
In fact – if you choose the WRONG PROGRAM – you might regret it! I say this because through all of the amazing people I have met and helped with these programs, I have seen people come in and pick the wrong program. What happens? They get mad, they lose motivation, and/or they quit on their goals and dreams. So here are THREE simple tips for rocking and rolling with your decision of P90X or INSANITY.
P90X vs INSANITY Basics
Before we get into the three steps, let's look at the basics. This is a chart of the basic differences between the two programs. While some of these facts can help you decide, there is more coolness to come in the next section!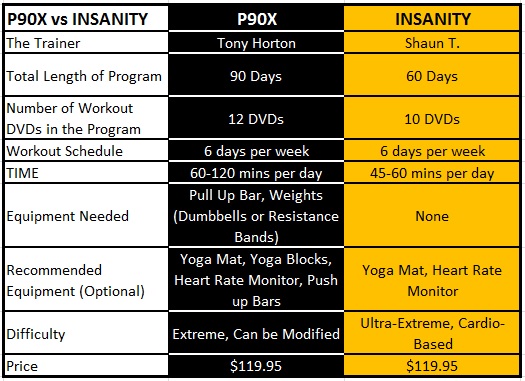 OK – now it's time to go through the steps to see which program is right for you! If they both are NOT right for you, I will also share some alternatives that you can consider.
First – What is your Preferred Exercise?
Think about your goal. Do you want to build muscle? Do you want to lose fat? Both? This is an important part of the first step between P90X vs INSANITY that you need to consider.
After you think about your goal, think about these two things:
How much do you LOVE (or HATE) Cardio? Does the idea of running and cardio make you mad or happy?
How much do you LOVE (or HATE) lifting some weights and doing Push-Ups? If you aren't "good" at things like push-ups and lifting dumbbells, that is OK – the bigger question is, how much would you enjoy it, and would you stay committed if you learned the right ways to do it?
If you prefer bullet #1, INSANITY. If you prefer bullet #2, P90X.
People that hate cardio and cry and cringe when they think about running might end up hating INSANITY (same goes with weights/resistance with P90X).
P90X was originally created as an extreme version of Power 90 Bootcamp, and was to help people who were clueless in the gym get better results. INSANITY was originally created for marathon and sprint runners who wanted to improve their endurance and training.
Second – What is your Level of Commitment (Time & Space/Equipment)
Both P90X and INSANITY don't really require a ton of room, but Time and Equipment are different.
I am going to come straight out and say that P90X is 60 minutes on average. Yoga X is 120 minutes. If you do not have TIME for that kind of lengthy program, INSANITY is around 45-60 minutes per workout.
As I mention in the first section above, P90X needs more equipment than INSANITY. If you travel a lot, or hate the idea of buying additional equipment, do not do P90X.
Last but not least, if BOTH workouts sound ridiculous in regards to the time commitment, there is an ALTERNATIVE to P90X vs INSANITY. Both of these workouts have a shorter companion. P90X has P90X3 (30 Minutes per Day). INSANITY has Focus T25 (25 minutes per day). Check out P90X3 vs T25 for a comparison of which shorter workout would better suit you.
Third – What is your Desired Intensity for P90X vs INSANITY?
By now in steps 1 and 2 above, you should have a good idea which one you are more interested in doing. But one last thing to consider, are you OK with certain intensity levels?
With INSANITY, Shaun T tends to layer on the intensity pretty hard. Between yelling "I NEED FOR YOU TO DIG DEEPER" to pushing yourself mentally and physically, it is no joke.
With P90X, Tony Horton is intense at times too, but also incorporates light-hearted jokes to keep you going. Tony is part comedian (and used to be a mime too!), so his jokes can lessen the intensity if you feel hardcore efforts will scare you off.
P90X vs INSANITY – It's time for YOU to decide!
If you have any questions about the programs, just comment below and let me know and we can chat. You can also Contact Me and we'll chat more! If you are interested in getting a program and don't have any more questions, click the links below to get your favorite program.
All programs comes with the Team Sweet Life Coaching support for Free. I'll help you along with our other coaches stay on track, stay motivated, and grab free tips and tricks to get the best possible results with P90X vs INSANITY. Looking for the 30 Minute rendition? Then check out the latest P90X3 vs INSANITY Max 30 post!
Already have the program? Then join Team Sweet Life for free and I'll help you with the programs! Want even more info before you decide? Check out my Video on P90X vs INSANITY
Thanks again for checking out the post on P90X vs INSANITY. If you have questions, comment below!
Yours,
Coach Bob
P.S. – I'm looking for leaders who want to take their fitness to a new level – CLICK HERE to check out our Team Sweet Life Coaching!