Wow P90X3 Week 2 already! This week was very different from my first week in so many ways. The biggest change is the fact that I already feel that I'm getting better at the moves (some of my P90X3 challengers feel the same way!).
There are some workouts that I'm still struggling with, like the good old X3 Yoga. I have set out to improve my balance over these next 90 days with P90X, and I will conquer it!
P90X3 Week 2 Review
P90X3 Week 2 (classic schedule) is very similar to P90X3 Week 1 since the first block (block = 3 weeks) is the same moves (see my P90X3 Week 1 Review here).
Sunday – Total Synergistics – Absolutely love this workout! I feel like I get a total body wake-up for the start of each week now. This week I didn't feel as sore as the first week, even though my numbers improved on the push-ups and certain moves. (But man oh man Warrior 3 move kicks my butt! Balance Balance Balance!)
Monday – Agility X – I set my tape and targets further apart this week just to challenge myself. For those who haven't done it yet, the tape has three targets (front, middle and back). These targets are where you land for certain moves. Yowza!
Tuesday – X3 Yoga – Ahh the calmness of Yoga. Well, not so much for me. I was a wussy and skipped the original P90X Yoga too much, so now I face my punishment with X3 Yoga. This one is perfect for challenging and improving my balance though, and I'm slightly seeing a good improvement.
Wednesday – The Challenge! – Love this workout, and it guarantees to get you ripped and sore in just 30 minutes. I set my numbers to 8 pull-ups, and 12 push-ups. I plan on doing 12 pull-ups and 20 push-ups for Week 3!!
Thursday – CVX – Cardio with weights! Still didn't need anything more than an 8 pound weight. I did use my 10 pound medicine ball though on the moves that felt like we were shooting basketball (and I thought that was fun)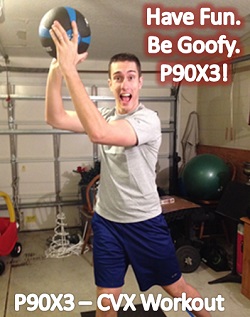 Friday – The Warrior – Last week the Warrior was a mess for me (I was too sore). During Week 2 of P90X3 I felt a total improvement here. I have a new appreciation for this workout, and it's total body plus cardio benefits. Afterwards I felt my abs and felt stronger muscles in the core. OMG is this thing actually working!?!?
Saturday – Dynamix – While this is a rest day for some, I use the optional Dynamix workout. A great way to stretch and improve foundation strength. But I never thought I'd sweat so much doing a "lower impact" workout. Who's with me!?
P90X3 Week 2 Nutrition
I lost another inch off of my waist this week! I gained an additional 2 pounds, which looks like it's due to some muscle I'm packing on (say HEY HEY HEY!). So all in all things are working according to the plan.
Some of you asked me about my P90X3 Nutrition. I have a "daily mode of operation" when it comes to what I eat. I actually eat pretty much the same thing everyday, and never really get bored with the meal selection. In fact, I sometimes wake up looking forward to what I'm going to eat! Feel free to join me on MyFitnessPal (sn CoolRunLT) to see the day-by-day eating.
Here is my Standard eating procedure for P90X3 and P90X3 Week 2:
Breakfast: 5 Egg Whites & 1 Whole Egg scrambled with 1 cup spinach and 3 whole mushrooms. Sprinkle in a little Colby Jack cheese
AM Snack: 1 Reduced-Fat Sargento Colby Jack Cheese Stick
Lunch: Shakeology (Chocolate of course), mixed with 1 tablespoon all-natural peanut butter and 2 scoops Optimum Nutrition Whey Protein (total calories: 615 with over 50 grams of protein! Super shake that I highly recommend).
PM Snack: Pure Protein Chocolate Bar, 25 raw almonds
Dinner: Usually chicken (about 5 oz), peas, carrots, or whatever my lovely wife cooks up!
Workout: E&E Pre-Workout Formula, P90X Post-Workout Formula mixed with 1 teaspoon Pure Creatine Monohydrate
Normally this comes out to about 2700 calories (Plan E according to the P90X3 Nutrition Plan).
Are you doing P90X3 or interested in joining me on P90X3? Join me anytime, now or into the future! I will help Coach you to get the results you are looking for with the program. Click the banner to get P90X3 Challenge Pack that includes the program with the monthly Shakeology nutrition shake (which I highly recommend as you see above in my standard eating each day). Once you order I'll reach out to you to get you on our new Challenge Group for free Coaching!
Thanks for reading my P90X3 Week 2. If you are doing P90X3, comment below now and let me know how you're doing!
Yours,
Coach Bob