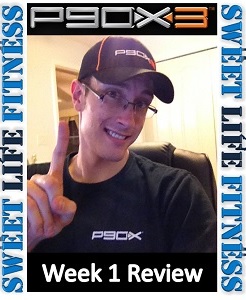 Week 1 of P90X3 is in the books! But guess what?? I GAINED WEIGHT! Wow, after such great marketing and good tactics for the P90X3 program, right off the bat I gain weight. Really!?! P90X3 Week 1 treated me like crap!
Actually….that is OK.
Huh? Yes, my weight gain makes complete sense, and today I'm going to share it all with you. If you experienced a bit of weight gain in your first week of P90X3 (or any program), there may be a real reason for this gain. To start off, let's check out my P90X3 Week 1 review video where I explain the weight gain and why it happened.
P90X3 Week 1 Video Review: Why I Gained Weight
P90X3 Week 1 Review – Cortisol Hormone Explained
I get a lot of questions and frustrations about this hormone, so I want to dedicate a quick second to explaining it more. I will be talking about cortisol as it applies to a P90X3 Week 1 Review. You can get a bad cortisol production from job stress and being obese, which can be cured by being healthy, but this is just about the temporary cortisol with fitness.
The cortisol hormone is released when the body is under physical stress. The goal is to protect the body naturally through a survival method while holding on to a bit of water weight while regulating blood sugar. This can cause weight gain (of course, if you are trying to put on weight through mass muscle building, that is a different story!)
So picture this: You just started a new program (like P90X3). It's tough! You're bringing it. Your body's response:
"WTF!?!?!"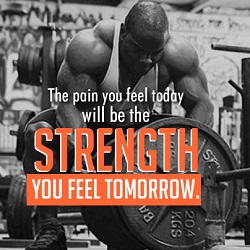 So what does it do? Starts production of the cortisol hormone to store water weight and protect you.
The bit of good news is this type of cortisol is temporary!!! As your body begins to adapt, even though the workouts might still be harder, your body will rid some of the excess water weight.
In fact, the P90X3 Fitness Guide mentions the importance of the final week, known as VICTORY Week. This is a lighter-impact week before your final results. The goal is to let your body reduce cortisol and flush the excess water weight to get you the desired results. Don't stress the bulge and don't stress the weight gain!! It will go away in time.
But you might be asking – how can I make SURE that it goes away and I am not gaining "bad weight"? Keep these facts in mind:
BRING IT – This is the motto of all P90X-based workouts. Go to your failure and breaking point on all moves. If you aren't bringing it, your skipping workouts, and/or your stopping early, you might be getting less of a workout while still eating more calories. Follow the plans to a T.
Eat Healthy – Don't just "know you have to do it", make it a practice (if you want results). Follow the P90X3 Nutrition Guide and track using MyFitnessPal
Consistency – try to do workouts everyday. Don't skip a day, and don't let yourself keep "starting over" if you fall off track. Get pumped, and when the days seem long and the results seem impossible, keep doing it anyway. I'm here to support you through those times!
Last but not least, if you want those incredible results to last forever after your 91 days, keep a fitness journey as a lifestyle! I really recommend getting more involved as a Beachbody Coach or picking your next program to ensure your results are life long (and not just another New Year's fad).
If you have any more questions about this, feel free to comment below and let's chat!
P90X3 Week 1 Review of My Stats
As I mention in the video on P90X3 Week 1 Review, taking measurements is VITAL. Take measurements so that if you do gain weight, you can track your progress elsewhere. If you don't see inches dropping either, I would look deeper into your nutrition (and contact me through your Free Team Beachbody acct with questions so we can discuss).
So here they are!
Weight: Before 203 / Week 1: 206
Waist: Before 39 / Week 1: 36.5
Hips: Before 38 / Week 1: 37.5
Chest: Before 39 / Week 1: 38.5
Also, be sure to check out my day-to-day P90X3 Week 1 Reviews that I posted:
P90X3 Day 1: Total Synergistics
P90X3 Day 2: Agility X
P90X3 Day 3: X3 Yoga
P90X3 Day 4: The Challenge
P90X3 Day 5: CVX
P90X3 Day 6: The Warrior
P90X3 Day 7: Dynamix
Did you just complete P90X3 Week 1? Are you close to completing it? Comment below and let me know how YOUR P90X3 journey is going! Feel free to ask any questions also.
BRING IT,
Coach Bob