I can't believe I'm already into my P90X3 Week 3 Review post already! Where has time gone?
Similar to P90X3 Week 1 and P90X3 Week 2, P90X3 Week 3 follows the same course of workouts:
Total Synergistics
Agility X
X3 Yoga
The Challenge
CVX
The Warrior
Dynamix
P90X3 Week 3 Review – My Balance is Improving!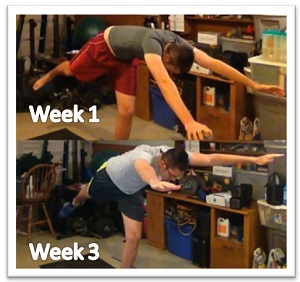 The one thing I'm most proud of in P90X3 Week 3 is my balance. Check out the picture, I'm finally able to hold Warrior 3 straighter! Warrior 3 move is my arch nemesis, so the idea of having to do this move always scares me.
But P90X3 Week 3 was different! I was actually able to hold it up without falling over like a blubbering idiot hehe.
Some other stats for Week 3 includes another inch off the waist, and another pound added on. See my video below for some explanation on the weight gain, especially if you experienced weight gain.
Weight: Before – 201 / Week 3 – 209
Waist: Before – 39 inches / Week 3 – 36 inches
Hips: Before – 37 inches / Week 3 – 36 inches
Biceps: Before – 14 inches / Week 3 – 15 inches
P90X3 Week 3 Review – My Video Review
Check out my video review on P90X3 Week 3 here:

I hope you enjoyed my P90X3 Week 3 review. Please let me know if you have any struggles, questions, or just want to chat. Comment below and let's talk.
Other than that, if you are doing P90X3, join me on Team Beachbody for Free. I can help Coach you and join you in our quest to get results.
Yours in Fitness Success,
Coach Bob Sharpe