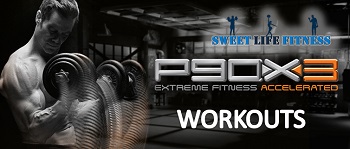 All 16 P90X3 Workouts are only 30 minutes long. Gone are the days of 60 minute workouts and 1 ½ hour Yoga workouts with the original P90X. But are 30 minute workouts as effective?
Today I'm going to share all of the details on the P90X3 Workouts that you wanted to know. I'll also share how you can make the 30 minutes benefit you MORE than any other workout. Read all of these details if you are serious about learning what you need for P90X3 to be highly successful at the program.
How do we know the P90X3 Workouts will Work?
I get these types of questions all of the time. I have been doing P90X3 myself and I'm pleased with the program. However, that doesn't answer the question of "How do we know the P90X3 workouts will work?"
According to the Test Group, it turns out people tend to get better results in 30 minute workouts versus longer 60+ minute workouts. Why? According to studies, the most dramatic body transformations happen in the first 30 minutes of exercise. A few reasons include why I like the program so much, which are:
30 Minutes Means more BRINGING IT: Because the workouts are only 30 minutes, I have found I'm pushing myself harder. When I start feeling tired, I look at the clock and realize I only have 10-15 minutes to go, and feel myself pushing harder. I can say that from experience, the old 60 minute P90X workouts would be where I slow down and slack off, not getting the true benefits of the program. The same experience is happening to the team members that I've been working with in this program.
More Variety: This program has 16 different P90X3 workouts. Based on the P90X3 Schedule, the three blocks (months) of workouts have a different DVD each day. This means you won't get bored with the same old, same old day after day.
Test Group: I like the program because of the awesome results of the test group. I mean honestly, look at these people! In just 90 days, and 30 minutes per day, they got amazing results.
What are the 16 Different P90X3 Workouts?
Here is a list and brief description of all 16 P90X3 workouts.
Resistance Workouts
Total Synergistics – this is a full body resistance program that triggers fast and powerful changes to your body. I like it most for the upper body and core work that I feel out of this program. You can modify this one well and work your way up to it.
The Challenge – This one is push-ups and pull-ups. Don't let that intimidate you, Tony makes this workout fun. The best part is, you are challenging andcompeting with yourself. Set your goal numbers, and each week, do better! Results? Yes, this one is geared towards total transformation.
Incinerator – This workout is about bringing it until you can't anymore. In order to succeed, you must fail. This is a full burnout session that will push you past your limits.
The Warrior – This workout was first introduced and used with Active Duty Marines. Now it's part of the P90X3 Workouts. This workout targets your total body and can be done anytime, anywhere.
Eccentric Upper – Eccentric Upper focuses on building lean-muscle growth faster. Focused on the upper body, this workout uses time under tension to bring you results in your muscles.
Eccentric Lower – Similar to Eccentric Upper although this one focuses primarily on your lower body (legs, glutes, etc).
Power Workouts
Agility X – A great workout that has a mix of aerobic and anaerobic moves to help with flexibility, balance, and agility.
Triometrics – A great speed and power workout that includes next-generation plyometrics (jump training).
Decelerator – a great deceleration training with multiple angles that balances your ability to go up strong and come down safe.
Cardio Workouts
CVX – Otherwise known as Cardio Vascular X-treme. This is a full body burn and powers up your core through cardio with weights! Cardio is OK, but did you know that weight training and muscles burn more fat?

MMX – This stands for mixed martial-arts. This is a martial-arts based cardio workout that uses your strength, endurance, and flexibility to a maximum.
Accelerator – Increase of cardiovascular and muscular efficiency, which results in more bang for your fat-burning buck!
Core, Flexibility, and Balance Workouts
X3 Yoga – Yoga is back, but only 30 minutes instead of 1 ½ hours long! This is a flow-style practice that improves your musculoskeletal flexibility, balance, stamina, and core strength.
Pilates X – New for P90X3, this is the powerful Pilates workout in only 30 minutes. This workout will power your core, gain muscle elasticity, and stabilize joints.
Isometrix – Isometric contraction and instability! What does that mean? Overall strength, which means you'll have an unshakable platform…yourself!
Dynamix – this workout helps create and increase a large-scale range of motion, flexibility, and stabilization. This workout is a great "end of the week" routine to help you maximize results out of every workout.
How to get the BEST Results with the P90X3 Workouts
So you've done your research, reviewed the P90X3 Workouts, and are ready to press play. But how can you get the best results?
Here are a few tips that I have for you to get started right with your P90X3 Workouts:
1.       The Basics – learn about the P90X3 Nutrition Guide, and P90X3 Equipment that you need to start the program.
2.       Embrace all 90 Days – The reason I see most people fail is they are mad they don't get results right away. This isn't P30X3, or P7X3 – it's P90X3. My biggest suggestion is to go into this program with the strongest mind possible, and don't stop until you complete ALL 90 days without missing. You want the best results right? This is one of my biggest suggestions.
3.       Always live on the Edge – It is OK to modify and not keep up with the workouts. Your personal goal should be to "live on the edge". This means going to your point of failure, wherever that may lie. Then, as you get better with the workouts, keep pushing yourself to the new point of failure. The end result is that you will continue to improve, and then guess what? You'll have results to go with it!
It's not that it got easier, you are just getting better!
Are you interested in trying P90X3? My suggestion would be to get the P90X3 Challenge Pack. This will come with the program AND Shakeology Nutritional shake. I will show you, as your Coach, how to maximize the program and nutrition appropriately. My goal is to help YOU achieve your Sweet Life of Fitness.
If you're ready to get results in just 30 minutes per day, along with free Coaching from me (Coach Bob), click the banner below and let's get started.
I hope you enjoyed this page on P90X3 Workouts. Let me know if you have any questions, or check out more info on P90X3 here.
Yours in Success,
Coach Bob