In just 3 short days, you can get your health, energy, and vitality back on track—all without starving. You'll conquer your cravings, all with a 3 Day Refresh. New update! See my personal 3 Day Refresh Review today!Get a flatter belly. Feel lighter and more energized. And your clothes will fit better. The Complete Kit comes with 3 packets of Shakeology®—your choice of 6 flavors (I recommend Chocolate Vegan or Tropical Strawberry Vegan because plant-based proteins are often easier for the body to digest during this type of program), 6 packets of Vanilla Fresh (high-protein shake), 3 packets of Fiber Sweep (digestive health drink), and 1 Program Guide.

3 Day Refresh Informational Video
Check out this great video on what the 3 Day Refresh is all about, and how it can benefit you in your results.

The 3-Day Refresh Complete Kit includes:

Shakeology for breakfast – Packed with potent superfoods, Shakeology starts each day of your Refresh with Your Daily Dose of Dense Nutrition® to help improve and support all your body's vital functions, while also helping to maximize energy and maintain healthy blood sugar levels (available in your choice of 6 flavors, including vegan options—recommended).*
VANILLA FRESH shakes for lunch and dinner – This patent-pending, delicious, and protein-rich formula helps curb your hunger with more than 20 grams of wholesome plant-based protein, 22 essential vitamins and minerals, probiotics for digestive health, and a patented potato protein extract clinically tested to satisfy your appetite.*
FIBER SWEEP drink – Gently and naturally eliminates waste from your digestive system with its patent-pending blend of whole ground flax, chia, and psyllium seed husks.* As part of a healthy diet low in saturated fat and cholesterol, Fiber Sweep can help lower cholesterol, support healthy blood sugar levels, and may even reduce the risk of coronary heart disease.*
PROGRAM GUIDE – This comprehensive guide walks you through how this program works, what to expect, and how to prepare your shopping list, as well as your body, for the 3-Day Refresh. It also contains a menu planner with numerous easy-to-make, nutritious, and delicious meals, a list of fruit and veggie options, guilt-free flavorings, and recipes for fresh-pressed juices.
30-Day Money-Back Guarantee
We're so sure that you'll see the benefits of the 3-Day Refresh for weeks to come that we're backing the program with a 30-Day Money-Back Guarantee. Do the Refresh and if you're not still feeling lighter, leaner, and cleaner 30 days from now, return it for a full refund of the purchase price (less s&h).
Supplement Facts for Vanilla Fresh
Supplement Facts for Fiber Sweep
Supplement Facts for Shakeology
Get your 3 Day Refresh at the Best Price Here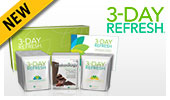 3 Day Refresh Complete Kit
This kit includes everything you need to get started. This includes the Fiber Sweep, Vanilla Fresh, and Shakeology. It also includes the program guide so you know exactly what to eat and how to eat it for the best results in your 3 day cleanse to success!