Recently Cristen and I took on THE GREAT INFLATABLE RACE in Orlando! This was an interesting experience and a lot of fun. Today I'm sharing our full Great Inflatable Race Review with you!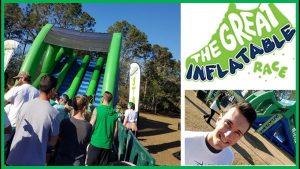 The Great Inflatable Race Review – Orlando 2018
If you've been following The Sweet Life Fitness journey over any period of time, you'll know that I've been on Spartan Races before. But don't panic! This is in NO way a Spartan Race. In fact, the Great Inflatable Race is a great beginners race that is FUN!
As part of making 2018 Your Best Year Yet – the Great Inflatable Race is a nice beginner race that isn't stupid.
What do I mean by "stupid"?
No meat heads.
No timed chip (aka it's not really a "race" for competition).
People of all shapes, sizes, and backgrounds.
This was the start of our Great Inflatable Race. You'l notice that this brings out the KID in you – I mean who doesn't want to jump around on a ton of bouncy houses!!
There were a total of 15 different bounce houses that included slides, run-throughs, and bouncing around. It was a ton of fun, and overall 2.5 miles made for a beautiful day.
What to Wear for your Great Inflatable Race
I would recommend wearing comfortable walking/running shoes. Also, shirts and either long athletic pants or shorts are recommended. If it is hot out, the inflatables do get hot, so I wouldn't recommend letting your skin rub against the slides (ouch!)
Also, you can bring your phones and take pictures and have a great time. If you are going to try and run and be serious, less is always better (plus they do have water stations throughout the course).
The Great Inflatable Race Review – YouTube Video
Check out the YouTube video review which also shows some footage from our race!
Overall this was a fun and enjoyable experience that I would recommend to beginners and veterans alike!
Then, after you conquer this – it's on to the Spartan Race! You know you want to – in fact, check out my Spartan Race Beginner Tips.
Yours in Success,
Coach Bob
PS – Love working out and spending time with your family? Then check out DOUBLE TIME by Tony Horton – it brings the workout and family together!